The UK may not have voted for Brexit if it had not been for "cheating" by the Leave campaign, a former employee of Cambridge Analytica (CA) has claimed.
A whistleblower who blew the lid off Cambridge Analytica's (CA) links to Facebook, and the sharing of millions of people's data, has opened up about the company, appearing in front of British MPs at the DCMS committee.
Accusations of fake offices, suspicious deaths, and collusion have emerged in the explosive questioning of the whistleblower, Christopher Wylie. Former CA director Wylie spent a year working with the British press over how the company obtained people's personal information from Facebook.
The UK may not have voted for Brexit if it had not been for "cheating" by the Leave campaign, a former employee of Cambridge Analytica (CA) has claimed.
Christopher Wylie said Vote Leave and other pro-Brexit groups had a "common plan" to get round spending controls.
He told MPs they all used Aggregate IQ, a "franchise" of the data analytics firm, to target swing voters, using information drawn from CA's databases.
CA said Mr Wylie had stopped working for them long before the 2016 poll.
"Christopher Wylie was a part-time contractor who left in July 2014 and has no direct knowledge of our work or practices since that date," Cambridge Analytica said in a statement.
And Vote Leave have denied accusations that they broke the spending rules during the UK's 2016 referendum on whether or not to stay in the European Union.
MPs are currently debate an activist's claims the Vote Leave campaign exceeded spending limits in the referendum by co-ordinating their activity with other like-minded groups.
Labour MP Frank Field said that although he supported Brexit, he believed that if offences had been committed "the full weight of the law" should be thrown at anyone found culpable.
But Conservative Sir Edward Leigh suggested the claims of undue influence had been "grossly exaggerated" and the British electorate had had "the good sense to make up their mind" when it came to backing Brexit by a 52% to 48% margin.
Ex-volunteer Shahmir Sanni has claimed Vote Leave may have used a different pro-Brexit group, BeLeave, to get round spending controls by giving it £625,000 but requiring it to spend the money on Aggregate IQ – a Canadian data firm Vote Leave used for its digital advertising.
Aggregate IQ has been linked to Cambridge Analytica – the firm facing claims it amassed the data of millions of Facebook users without their consent and used it to influence the outcome of the 2016 US Presidential election.
Vote Leave, which would have gone over its campaign spending limit of £7m if it had spent the money itself, has denied the claims, which are being investigated by the Electoral Commission. It says that it only donated the money to BeLeave after the Electoral Commission gave it the go ahead.
Appearing before the Commons Media Committee, Mr Wylie said he was "absolutely convinced" that Vote Leave, BeLeave and other groups were working together and had a "common plan".
"All of these companies somehow, for some reason, all decided to use AIQ," he said.
"When you look at the accumulation of evidence, I think it would be completely unreasonable to come to any other conclusion other than this must be co-ordination."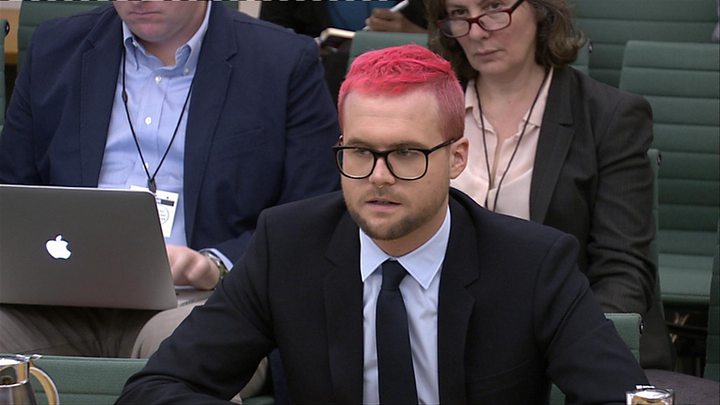 Mr Wylie told MPs he had met Dominic Cummings, Vote Leave's campaign director, in November 2015, and that shortly afterwards the campaign group had hired Aggregate IQ.
He rejected Cambridge Analytica's assertion that it was not linked to Aggregate IQ, saying that although they were separate corporate entities, Aggregate IQ was essentially a "franchise" of Cambridge Analytica and its parent firm SCL Group.
At the time of their meeting, he said, Cambridge Analytica was working for rival Brexit group Leave.EU and Vote Leave had got the "next best thing" by hiring a firm "that can do everything that Cambridge Analytica can do but with a different billing name".
He said he was sure Aggregate IQ had drawn on Cambridge Analytica databases during the referendum, saying it "baffled" him how a firm in the UK for only a couple of months had "created a massive targeting operation" without access to data.
"You can't have targeting software that does not access the database," he said.
'Specific cohort'
The data, he suggested, was used to aim material to between five and seven million people Aggregate IQ believed could be persuaded to vote for Brexit.
"They were targeting a very specific cohort," he said. "They posited that if x per cent of these people turn out, they can win. I think it is incredibly reasonable to say AIQ played a very significant role in Leave winning."
On the basis of Aggregate IQ's use of data and political activities in other countries, he said questions had to be asked as to whether it was "compliant" with the law during the referendum.
"I think it is completely reasonable to say there could have been a different outcome of the referendum had there not been, in my view, cheating."
Lawyers for Aggregate IQ have said the firm had "never entered into a contract with Cambridge Analytica" and it had "never knowingly been involved in any illegal activity".
In a blog on Friday, Vote Leave's Dominic Cummings said the claims were "factually wrong" and the Electoral Commission had approved donations in the run-up to the referendum.
During Tuesday's hearing, Mr Wylie was challenged over leaked e-mails suggesting he made an unsuccessful pitch for work with Vote Leave following his departure from Cambridge Analytica.
"You tried to set up in business as a type of CA, hawking your wares to Vote Leave and they said no, and now you are here in front of the committee, making suggestions about Brexit," said Tory MP Julian Knight.
Cabinet Office minister Chloe Smith said ministers should not pre-empt the findings of the independent Electoral Commission's investigations into whether any campaigners breached political finance rules.