Nato could have a problem?
From Berlin to Washington, Germany's role in the trans-Atlantic alliance has taken center stage. But what does Germany actually do for NATO? DW examines its strategic role amid a spat prompted by US President Trump.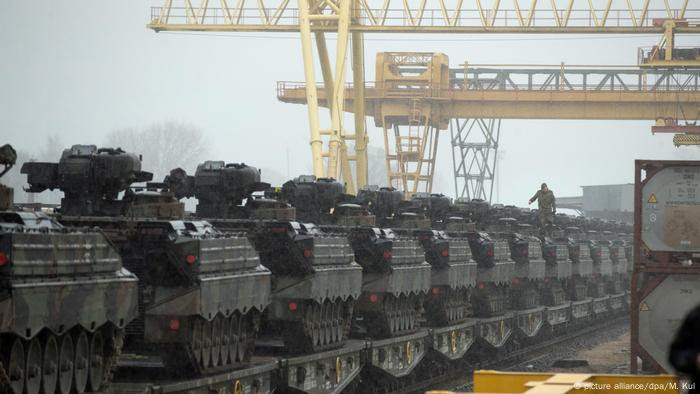 Since West Germany officially joined the trans-Atlantic alliance in 1955 and integrated the former East Germany in 1990 during reunification, Berlin has contributed significantly to the North Atlantic Treaty Organization (NATO).
However, its defense expenditures have come under scrutiny since US President Donald Trump assumed office last year. In Germany, the question of defense spending is a contentious topic, with differences often falling along party lines.
Read more: Germany defense spending gets political
German Chancellor Angela Merkel and Defense Minister Ursula von der Leyen of the Christian Democratic Union (CDU) have vowed to increase defense spending and meet NATO's target of 2 percent of GDP by 2024.
On the other side, Merkel's coalition partners, the Social Democrats (SPD), have repeatedly questioned the 2-percent target, leading Merkel to complain that Germany cannot be a "reliable alliance partner" if the target that had already been agreed upon would now be called into question.
Issue: Trump's ultimatum
The divisions stem from US President Donald Trump's ultimatum that NATO member states meet the defense spending target of 2 percent of GDP. If they fail to do so, Washington has threatened to withdraw its full commitment to the alliance.
This created a tense situation across the trans-Atlantic alliance, and seemed to ignore the fact that NATO member states had already agreed in 2014 to meet the target by 2024. The commitment agreed upon in Wales that year stemmed from a pledge member states made in 2006 "to commit a minimum of 2 percent of their GDP to spending on defense."
Read more: Is Europe bold enough to counter US ambivalence?
Tensions flared in the wake of Merkel's visit to Washington last year, with Trump tweeting that "Germany owes vast sums of money to NATO and the United States must be paid more for the powerful, and very expensive, defense it provides to Germany."
The US president once again renewed that claim on Thursday, saying Germany and other NATO members "owe billions" for their defense-spending shortfall. "If you look at NATO, where Germany pays 1 percent and we are paying 4.2 percent of a much bigger GDP — that's not fair," he said.
But German politicians have had to clarify his views on how NATO funding and defense spending work. German Defense Minister Ursula von der Leyen, who supports the 2-percent target, issued a statement last year, saying: "There is no account where debts are registered with NATO."
Responding to Trump's remarks, analysts have pointed out that the alliance doesn't work in that way, and that no cash is in fact owed to the organization for defense purposes or otherwise.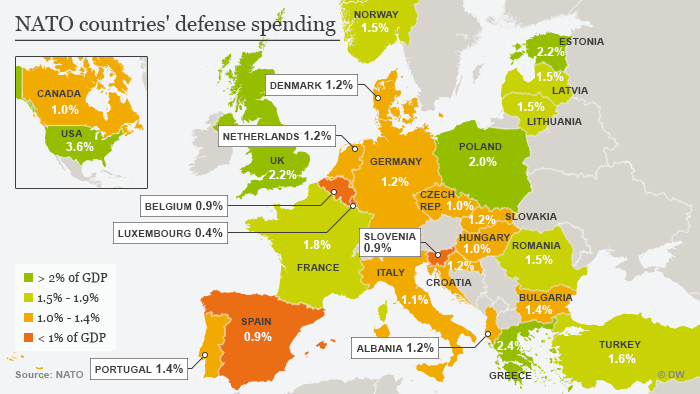 Berlin spends on alliance
US defense expenditure represents 72 percent of defense spending across the trans-Atlantic alliance, according to NATO.
"This does not mean that the United States covers 72 percent of the costs involved in the operation running of NATO as an organization, including its headquarters in Brussels and its subordinate military commands," NATO said in a description of defense spending across the alliance.
"But it does mean that there is an over-reliance by the alliance as a whole on the United States for the provision of essential capabilities, including for instance, in regard to intelligence, surveillance and reconnaissance; air-to-air refueling; ballistic missile defense; and airborne electronic warfare," it added.
Read more: What would Europe's 'fate' be without the US?
While Washington is the largest contributor to "NATO common-funded budgets and programs," funding 22 percent of them, Berlin comes in second, paying for nearly 15 percent of the civil and military budgets and NATO's security investment program for 2016 and 2017.
Germany boosted defense spending by 5 percent last year, according to NATO, but because economic growth has been strong, spending remains at 1.22 percent of Germany's GDP.
France and the UK, the third and fourth-largest contributors to NATO, trail behind Washington and Berlin, providing 10.6 and 9.8 percent of the cost-sharing budgets and programs, respectively.
Support: More than money
But Berlin has offered more than monetary resources to the alliance. "Germany is contributing some 4,700 personnel for ongoing operations for whom the security architecture of NATO, the EU, the United Nations and the Organization for Security and Co-operation in Europe (OSCE) form the frame," according to NATO headquarters.
In February of last year, 450 Bundeswehr soldiers and 30 tanks arrived in Lithuania as part of NATO's "enhanced forward presence" in the Baltic region.
Read more: Why the 'fake rape' story against German NATO forces fell flat in Lithuania
Germany provided the main support ship for NATO's deployment to the Aegean Sea to "conduct reconnaissance, monitoring and surveillance of illegal crossings" in Greek and Turkish territorial waters at the height of the migration crisis.
Berlin has approximately 980 soldiers stationed in Afghanistan for NATO's Resolute Support mission, which aims to "train, advise and assist the Afghan security forces and institutions" after the end of the decade-long International Security Assistance Force (ISAF) mission.
Germany also represents the second-largest contributor to NATO's Kosovo force (KFOR) with 550 troops deployed to maintain a "safe and secure environment in Kosovo."
As such, Berlin continues to make significant contributions to the alliance, including supporting its administrative and operational framework. However, how defense spending is measured and to what extent Berlin contributes to the military budget will remain contentious topics for the country's political parties to tackle.
In recent history no European nation has demonstrated greater military prowess then Germany. That competence had tragic consequences in World War II and colors Berlin's approach to the world today. However, more than seven decades after that horrendous conflict's end Germany should take on the defense responsibilities appropriate for a significant power.
For years American officials have urged, asked, and even begged the Europeans to spend more on their militaries. Six years ago Defense Secretary Bob Gates argued: "The blunt reality is that there will be dwindling appetite and patience in the U.S. Congress, and in the American body politic writ large, to expend increasingly precious funds on behalf of nations that are apparently unwilling to devote the necessary resources." But Europe's governments consistently refused, even during the Cold War when facing what Ronald Reagan called the "Evil Empire." Like the domestic welfare cheats of political lore, they consistently preferred dependency to work.
In fact, the Europeans long were reducing military expenditures. Only four of the European members currently spend at least 2% of GDP on the military, NATO's admittedly arbitrary standard. They include just one of the three Baltic nations which profess to be so concerned about potential Russian aggression. Only one of the largest states with the most proficient militaries, the United Kingdom, hits the mark, and only through statistical legerdemain. An independent analysis concluded that despite claims to the contrary, Poland, too, fell short, despite claims to the contrary, leaving only Estonia and Greece at 2% or above.
France lags as well. But Germany, further east and most closely connected to the nations bordering Russia, does even worse. Last year Berlin devoted 1.19% of GDP to the military. Either Germans are cheap-riding or believe they face no serious security threat. In either case, Americans shouldn't be expected to subsidize Germany's defense.
In fact, President Donald Trump and his officials have been pressing the issue. Defense Secretary James Mattis said, "America will meet its responsibilities, but if your nations do not want to see America moderate its commitment to this alliance, each of your capitals needs to show support for our common defense." The president recently made much the same pitch: "We strongly support NATO, we only ask that all NATO members make their full and proper financial contribution to the NATO alliance, which many of them have not been doing."
Of course, that's an unpopular argument to Europeans. They tend to dismiss this as a grubby preoccupation with money. First, if you just look at NATO costs—$2.8 billion in common funding, for instance—the Europeans argue that they look better. Of that amount, Washington provides 22%, followed by Germany at 15%. But common funding is not force structure. NATO only has manpower and weapons to the extent that its members have manpower and weapons. Which for effectiveness means mostly the U.S.
Second, contend the Europeans, the relationship should be about trust and solidarity. Thus speak advocates of nations that deny trust and solidarity with the country they expect to defend their own. Cynics might point out how such an attitude is more than a little convenient. Why don't the Europeans show trust and solidarity and promote America's security?
The position of Germany is of particular note. It simultaneously bears the greatest historical responsibility for Europe's current make-up, possesses the most abundant resources available to protect the continent, and has the most at stake in today's European order. Berlin has spent the last seven decades atoning for its past. If Germany will not step up militarily, then who will? And if no one will, why should the U.S. continue to fill the gap?
A large German increase is necessary for Europe to come anywhere close to the extra $100 billion sought from the continent. Some countries, such as Italy, continue to retrench, while others which are spending more are minor contributors. Noted Fabrice Pothier, a former NATO staffer at Rasmussen Global, "Now more than ever, $100 billion is a long shot. Other important European players—such as Italy, Spain and the Netherlands—are either too small or too economically weak to have much of an effect on the European defense budget. In this scenario, Germany's $30 billion could make all the difference between a stronger Europe or a weaker one."
Secretary Mattis apparently worried after his first meeting with German Defense Minister Ursula von der Leyen that the administration's message was not clear. Noted Der Spiegel's Konstantin von Hammerstein and Peter Mueller: "Mattis had opted for a polite formulation, saying diplomatically that there was a certain amount of 'impatience' in Washington regarding the German contribution to the Western alliance. In other words: It's time to finally pay your share or things will get uncomfortable! It seemed as though von der Leyen had been lulled into complacency by the friendly atmosphere and hadn't recognized the urgency of Mattis' message."
However, it now appears that the Trump administration has achieved what none of its predecessors could—a commitment from Berlin to meet the NATO 2% standard. Although German officials deny responding to Trump, the timing looks more than a little coincidental.