Mesut Ozil's shock departure from the German national team amid a torrid reaction to his meeting with Turkish President Recep Tayyip Erdogan has prompted a divide in reaction from sports stars and commentators.
The midfielder brought his international career to an abrupt over the weekend, citing what he called "racism and disrespect" for his Turkish roots and claiming he had been made a scapegoat for the team's World Cup failures after a controversial meeting with Turkish leader Erdogan in May.
READ MORE: 'Racism & disrespect': Germany's Mesut Ozil announces shock international retirement
Ozil has been generally praised by members of the football fraternity for speaking out on the matter. Former Manchester United defender Rio Ferdinand, capped 81 times by England, laconically tweeted his support for the Arsenal player, with the word "Respect" quoting a tweet of Ozil's statement.
'He's been s*** for years': Bayern Munich chief Hoeness slams Ozil after shock retirement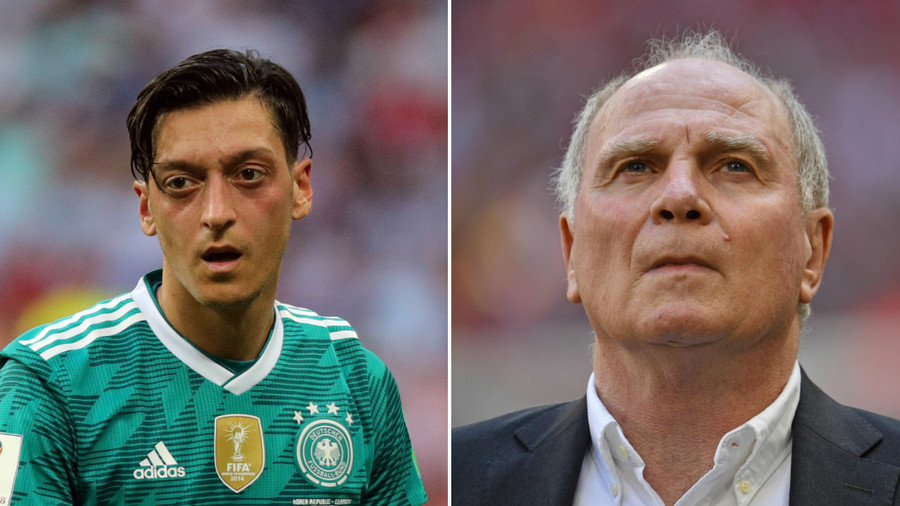 Bayern Munich president Uli Hoeness says he welcomes Mesut Ozil's retirement from the German national team, claiming that the midfielder has been "playing s*** for years."
Ozil, 29, announced his retirement from international football on Sunday in a series of lengthy statements, hitting out at what he perceived as "racist and disrespectful" treatment following a scandal over a meeting he held with Turkish President Recep Tayyip Erdogan in May.
The Arsenal star, who is of Turkish descent, in particular targeted German football association (DFB) chief Reinhard Grindel, whom he felt treated him unfairly amid the fallout from the controversial meeting with Erdogan.
Ozil also said he had been made a scapegoat for Germany's disastrous recent World Cup campaign, when they crashed out at the group stage.
However, Bayern Munich president Hoeness, himself a former West German international, has hit out at Ozil, issuing a scathing attack in which he welcomed the player's retirement from the national team.
(Ozil is a good and clever player, no thanks is there)
I am glad that this scare is now over," the Bayern chief told Bild. "He had been playing s*** for years."
"He last won a tackle before the 2014 World Cup. And now he and his s***** performance hide beyond this picture."
Hoeness also claimed that whenever Bayern had faced Ozil's club team Arsenal, the Germans had targeted the midfielder as a weak link.
"Whenever [Bayern] played against Arsenal, we played over him because we knew that was their weak point," the 66-year-old former striker said.