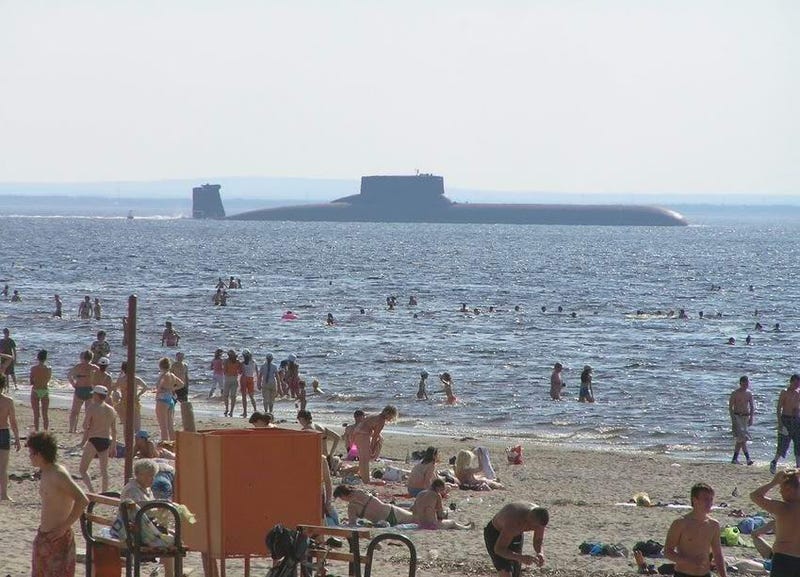 Massive and oddly innovative, yet at the same time totally antiquated by western standards, the Soviet built ballistic missile nuclear submarine, code named "Typhoon" by NATO, was in many ways a perfect metaphor for the USSR's military capability during the 1980s and thus the perfect fodder for informed fiction.
Built primarily for long missions under the polar icecap, the sheer size of the Typhoon, known indigenously as the Akula Class, was simply mind blowing. She was half the length of an Nimitz class aircraft carrier and about 2/5ths its displacement. A submerged Typhoon was said to reach 
48,000 tons
, while its western equivalent, the almost as long Ohio Class "boomer," displaced "just" 19,000 tons.
The Typhoon's massive tonnage comes from the fact that they were basically two Delta Class submarine hulls mated together and built outward from there. They could carry 20 R-39 SLBMs, each with 10 multiple reentry vehicle (MIRV) warheads. In other words, this sucker could rain two hundred nuclear warheads down on western cities and military installations in a single barrage. Seeing as the ship was designed with arctic patrols in mind, she could break through the ice and fire all of her missiles while surfaced if need be. Additionally, she possessed six 533mm tubes that were capable of launching Type 53 torpedoes and SS-N-15 "Starfish" cruise missiles, although these were tertiary capabilities in comparison to her primary mission as a nuclear "second strike" deterrent.