September 06, 2018
Contagion Risk is Now Spreading, And the US is NOT Immune

As we noted yesterday, the global financial system is beginning to experience its first taste of "contagion" risk in years.
US stocks remains clueless to this… but it's doubtful that will continue
China (black line in chart below) has imploded and is in a full-blown bear market. The odds that the US stock market (blue line in charts below) can avoid what's affecting China are low.
This is not just a stock story either, this is a GROWTH story. Both Lumber and Copper (two of the most economically sensitive commodities) have collapsed. Here again, the US stock market is clueless. Will it continue?

Copper vs. the S&P 500:
Lumber vs. the S&P 500: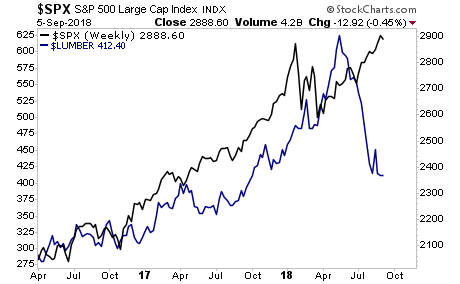 If you think this can't spread to the US, think again. The market has is about to test the downside of a rising wedge pattern. A break here targets the mid 2600s.
This is the biggest risk right now in the market: CONTAGION.