The all clear just sounded…the Russia diner had a bout of flatulence…….
Salisbury gets all clear after two people taken ill in restaurant
Major incident stood down as earlier fears of a third exposure to Novichok prove unfounded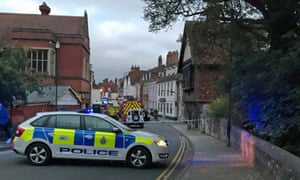 A major incident was stood down in Salisbury on Sunday night after police said two people who fell ill in a restaurant had not been exposed to novichok.
A cordon had been set up around the Prezzo Italian restaurant, close to where the former Russian spy Sergei Skripal collapsed after being poisoned with the nerve agent.
Fears had been high in the city after the poisonings, but police confirmed there was nothing to suggest novichok had caused the man in his 40s and woman in her 30s to fall ill.
Wiltshire Police said that, due to recent events in the city and concerns the pair had been exposed to an unknown substance, a "highly precautionary approach" had been taken by emergency services.
Police said: "Both were taken to Salisbury district hospital and were clinically assessed. We can now confirm that there is nothing to suggest that Novichok is the substance. Both people remain in hospital under observation."
Streets were closed off and people were told to stay inside as experts in hazmat suits worked in and around the restaurant.
Investigators were trying to establish if the pair had been victims of a crime and the restaurant remained cordoned off on Monday morning.
A source briefed by the emergency services told the Press Association that medics alerted the police because the symptoms were consistent with novichok poisoning, but stressed the symptoms could have other causes.
Tensions have been high in Salisbury since two Wiltshire people, Charlie Rowley and Dawn Sturgess, were poisoned in June apparently after finding a bottle containing novichok discarded following the Skripal attack. Sturgess later died.
Police have consistently said they cannot be certain there is no more novichok in Salisbury.
This month British police named two men they allege carried out the attempted murder on Skripal and claimed they were officers from Russia's military intelligence agency, the GRU. The men, Alexander Petrov and Ruslan Boshirov, came forward to say they were tourists in the city to visit Salisbury Cathedral.
Two people claiming to be witnesses said the two who fell ill in the Prezzo Italian were Russians. This was not confirmed by the authorities.
The restaurant is between the bench where the Skripals collapsed in March and the cathedral. It is also close to a park that was sealed off after it emerged that Rowley and Sturgess had been there the day before they were poisoned.
The Skripals visited a different Italian restaurant, Zizzi, in Salisbury before they were taken critically ill, although the police are convinced they were poisoned at Sergei Skripal's house.
South Western ambulance service said medics were called at 5.38pm. Four ambulances were sent, including a hazardous area response team, a spokeswoman said. Initially the service said the patients were conscious and being treated at the scene. The ambulance service alerted the police at 6.45pm.
A witness, Sam Proudfoot, 16, tweeted a video of emergency services gathered at the scene:
On Facebook a woman called Amanda Newton said she had been at the restaurant and claimed she had been sitting next to the pair who had fallen ill. She wrote: "We are being taken to a safe place and may need blood tests at Salisbury hospital … will keep everyone updated … I'm sure we'll be fine."
The BBC said it had been told by someone in Prezzo that the scene was "like armageddon". The diner, who did not want to be named, said one of those taken ill was a blonde woman in her late 20s.
The woman appeared to be at the table on her own and "kept going away, getting up and coming back again", it was claimed. The witness added: "When she came back she was hysterical. She called paramedics and the next thing an ambulance turns up and they come rushing in.
"It materialised he [the man who has been taken ill] was up in the toilet. He'd had a fit and they came back in all gowned up with all the white and the masks on."
The witness told the BBC she had called the police. "Suddenly we had sirens and it was like armageddon."
Both the unnamed BBC witness and Newton suggested the pair were Russians but the police have not commented on this.
Gill Cleary, who lives close to Salisbury, came into the city to find out what was going on. She said: "I saw one person in a hazmat suit coming out of the restaurant about 20 minutes ago. I think they're just bring cautious but I can't help being apprehensive because we don't know what else is out there."
The leader of Salisbury city council, Matthew Dean, previously urged the public not to leap to conclusions, pointing out there have been a number of false alarms since Skripal and his daughter, Yulia, were poisoned.
Thanks God for that!