Three German youths reportedly stabbed a local journalist in the eastern town of Naumburg, performing a Nazi salute after the incident. The reporter narrowly escaped death despite sustaining a 6cm-deep stab wound
.
Klaus-Peter Kruemmling, a reporter working with Naumburger Tageblatt, found himself in the wrong place at the wrong time, his newspaper reported on Tuesday. The 59-year old has just finished shopping at his local Rewe supermarket on Friday evening when the brawl started.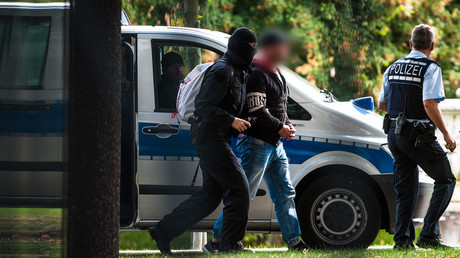 While heading for his car, the reporter came across three youngsters – and one of them allegedly spat at him and gestured with his middle finger. Insulted by the obscene gesture, Kruemmling confronted the trio about their behavior near the pedestrian crossing – and this is where the brazen attack happened.
One of the teenagers stabbed the journalist in the stomach, while another performed the Nazi salute, local media reported, citing police. It took some time before Kruemmling realized that he had been stabbed with a knife. "Only later in the car did I notice that my stomach was wet and everything turned red," he told the Naumburger by phone.
The reporter returned home and called the police before he was taken to hospital. Kruemmling narrowly escaped death, it seems – the paper reported that he sustained a 6cm-deep wound but, fortunately, it did not prove to be life-threatening.
Naumburg, home to some 30,000 people, is located in the eastern state of Saxony-Anhalt. Germany's east has recently seen a wave of far-right demonstrations triggered by the killing of a 35-year-old German man who was fatally stabbed in the town of Chemnitz.
Germany has seen a sharp rise in the number of violent attacks on journalists throughout the 2018, according to a latest survey by the European Centre for Press and Media Freedom (ECPMF).
It said that a total of 28 journalists have suffered 22 verified physical assaults during 2018, while they were photographing, filming, or holding cameras during demonstrations or events.