Former chief superintendent says violence could worsen amid police cuts and social inequality.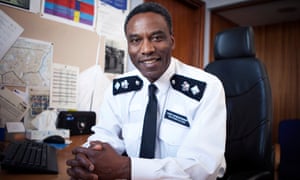 Victor Olisa, in 2015, in post as a chief superintendent in north London
A former senior police officer has warned that Scotland Yard appears to have lost control of London's streets and has accused the Metropolitan police leadership of a "deafening" silence as the capital's murder toll for the year moved past 50.
The day after two further murders in Hackney, east London, Victor Olisa, the Met's former head of diversity and head of policing in Tottenham, said he feared that the violence could get worse.
He warned that budget cuts and new demands on police were taking officers off the street and away from gathering intelligence. "Communities are saying we don't see the police around any more," he said. "It appears to people I have spoken to as though the police have lost control of public spaces and the streets."
Olisa said Met chiefs should have been more visible after recent rise in violence.
"The silence from senior officers in the Met is deafening," he said. "They should say we need more information from the public; this is what we are doing; this is what the results are."
On Thursday, the Met's commander, Cressida Dick, attempted to take control of the crisis by launching a taskforce of 120 officers and telling the public: "You will see us being even more proactive out on the streets."
But Olisa said that wider cuts were making police officers' jobs harder. "You don't have as many officers available to patrol or spend time in public spaces as you did five years ago. There is less time to build conversation lines so you can get information back."
The retired officer was speaking as investigations began into two more killings in the capital, taking the suspected murder toll in London to more than 50 in three months. On Wednesday an 18-year-old man, named as Israel Ogunsola, collapsed in the street after being stabbed and a man aged 53 died after a betting shop fight.
On Thursday night, reports emerged that two more people were in hospital after a stabbing attack in east London.
Olisa's intervention was the latest in a week of fierce exchanges over the factors behind the increase in violence in London. They come against a backdrop of sustained reductions in policing numbers. By September 2017, the number of officers in England and Wales was down by 16%, against a 2009 peak, amounting to a cut of more than 22,000 officers.
Figures released in November showed a 20% annual rise in gun, knife and serious violent crime across England and Wales, even as the crime survey estimated there had been a 9% overall drop in crime. The Home Office claims that "traditional crime" nationwide has dropped by almost 40% since 2010.
London murders so far….There have been (over) 100 homicides in the capital this year