What if he had given up then??
We would never have known his treasures…..
Years before he was the Man Who Fell to Earth, David Bowie was the man who failed his BBC singing audition.
The withering verdicts of corporation executives on one of Bowie's first bands have been unearthed by the makers of a documentary about his formative years. "A singer devoid of personality" was the conclusion of one talent judge in 1965. "Singer not particularly exciting. Routines dull," complained another. "I can't find fault with them musically — but there is no entertainment in anything they do," lamented a third.
The BBC executives who so bluntly dismissed a man who went on to become one of the most influential musicians in pop history were members of the long-forgotten Talent Selection Group.
On July 3rd, 1973, David Bowie sat backstage at the Hammersmith Odeon theater in London, wait­ing. Assistants, makeup artists and costume design­ers were preparing him for the most anticipated performance of his career: the final date of a triumphant first world tour with his extraordinary band, the Spiders From Mars. As he waited, hundreds gathered into the theater's auditorium. Many of them were followers — they dressed like Bowie, in daring and glamorous outfits; they cut and dyed their hair to duplicate his shock-red mane; they made their faces pallid, and painted their eyes with radiant shim­mer. These were the people, the outcasts, whom Bowie spoke to in "Changes," when he sang, "And these children that you spit on/As they try to change their worlds/Are immune to your consultations/They're quite aware what they're going through."
Two years before, few attending this event knew who David Bowie was. He had been singing and playing rock & roll since 1962, and making quaint and eccen­tric albums since 1967, to little attention. His progress had proved so fitful that he wondered if he wanted to continue with it. He saw himself, he said, as an actor; he wanted to use his face and body, his voice and songs to play roles, outlandish ones. Then, in 1971, he realized he could com­bine it all — music and theater — into one character: Ziggy Stardust, an otherworld­ly being who came to Earth to save it, but instead found rock & roll; who sang about change and pain, and played the music better than anybody; whose vanity soared out of range, and who had the charisma to fuck anybody he desired, woman or man; and whose aspirations delivered him to ruin, his best purposes unfinished. That character had made David Bowie famous, and it formed an audience and communi­ty around his singularity.
This night, though, David Bowie would undo Ziggy Stardust. Years later he said, "I couldn't decide whether I was writing the characters, or whether the characters were writing me, or whether we were all one and the same." He was afraid this con­fusion would lead to madness, and there was nothing he feared more. When he left the Odeon that night, he intended to leave Ziggy Stardust behind, but he would also leave behind the most important deed of his life: He had provided a model of cour­age to millions who had never been em­braced by a popular-culture hero before. He helped set others free in unexpect­ed ways, even if he couldn't do the same for himself.
David Jones — 'devoid of personality'
The makers of a new BBC documentary about David Bowie's early years as a musician have revealed the corporation's dim view of his work at the time. In November 1965, his group the Lower Third failed their audition for the BBC's Talent Selection Group, which was responsible for checking that any act angling for BBC radio play met their quality standards, the Times reports.
One judge described Bowie – then known as Davy Jones – as "a singer devoid of personality". Another said: "Singer not particularly exciting. Routines dull." A third said: "I can't find fault with them musically – but there is no entertainment in anything they do." Bowie was described by one as an "amateur sounding vocalist who sings wrong notes and out of tune".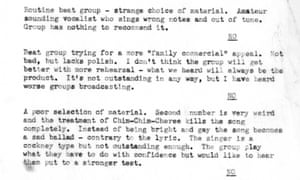 The Lower Third comprised Bowie, joined variously by guitarist Denis Taylor, bassist Graham Rivens, drummer Phil Lancaster and Tony Hatch on piano and background vocals. Their tracks Out of Sight, Baby That's a Promise and a cover of Chim Chim Cher-ee from Mary Poppins were not deemed fit for public broadcast. One member of the panel expressed no hope for the group's future: "I don't think they'll get better with more rehearsals."
The audition took place four years before Bowie found fame with his eponymous 1969 album and the single Space Oddity. While the BBC's decision looks comic in retrospect, no Bowie aficionado would suggest that his mid-60s output contained much intimation of his future genius.
The documentary, David Bowie: The First Five Years, will be shown on the BBC in 2019 to mark the 50th anniversary of Space Oddity. It features a clip of Phil Lancaster reading the audition report for the first time. The film concludes the BBC's Bowie Five Years trilogy, directed by Francis Whately: The Last Five Years was broadcast in 2017, while Five Years, which focused on five key years in his career, was shown in 2013
David Bowie had been born with a need to move on. It was how he would cope with a his­tory that might otherwise never have been survived. His mother, Margaret Burns (known as Peggy), was the first of six children born to a troubled family in Kent County, England. Three of her sisters suffered from mental illness, and Peggy herself, some thought, might be borderline. Before World War II, Peggy entered into a love affair, and gave birth to a son, Terence Burns, in 1937. (She also had a daughter after a second affair, but gave the child up for adoption.) Peggy was 33 when she met Haywood Stenton Jones, a married man with a daugh­ter of his own. Haywood, known as John, had run a London music hall that failed, costing him his inheritance. When he met Peggy, John was working for a chil­dren's charity organization, and stayed devoted to that job for the rest of his life. In 1946, he divorced his wife, marrying Peggy soon after. On January 8th, 1947, their only child, David Robert Jones, was born in Brixton.
Peggy's first son, Terry, lived with the Jones family off and on into David's adult­hood. Peggy doted on David; she car­ried him on a pillow as a small child and let him wear her makeup. But Terry was somebody that she and John merely pro­vided for. David, though, loved and looked up to Terry, and it was Terry who showed David the most warmth. In 1956, Terry joined the British Royal Air Force for two years. When he came back, he was differ­ent. "Something had happened to Terry while he was serving in the Royal Air Force in Aden during one of Britain's last colonial wars, and whatever it was, it had disturbed him profoundly," Bowie's ex-wife, Angela, wrote in her 1993 autobiography. Terry grew easily upset and didn't care about his appearance. He would be diagnosed as paranoid schizophrenic.
At the same time, Terry proved the first im­portant influence on Bowie: He intro­duced him to 19th-century German phi­losopher Friedrich Nietzsche's view of will; to the writings of the Beats — includ­ing Jack Kerouac and William Burroughs; to the work of Bowie's future friend Chris­topher Isherwood, who wrote about a life of sexual freedom; and to jazz of all sorts. David tried to return the favor. In 1966, he took his half brother to see a Cream concert in Bromley. "On their way home after the gig," wrote David Buckley in Strange Fascination: David Bowie — The Definitive Story, "Terry became increas­ingly agitated until he fell to his knees and began pawing the road. He could see cracks in the tarmac and flames rising up, as if from the underworld."
For years after, Bowie worried that his own psyche might shatter. In 1993, Bowie said, "One puts oneself through such psy­chological damage in trying to avoid the threat of insanity. You start to approach the very thing you're scared of.… There were too many suicides [in my family] for my liking.… As long as I could put those psychological excesses into my music and into my work, I could always be throwing it off."
In 1956, David's father brought his nine-year-old son a present that would help afford some transcen­dence over familial dread: "Tutti Frutti," the explosive first hit single by U.S. rock & roll singer and boogie-woogie pianist Little Richard. "My heart near­ly burst with excitement," Bowie later said. "['Tutti Frutti'] filled the room with energy and color and outrageous defi­ance. I had heard God." After that, David wanted to do what Richard and Elvis Presley had done: He wanted to place himself before an audience as something they had never seen before. It was a way to remake himself.
By the early Sixties, young David Jones was spending hours in record stores, searching for the newest music, and joined R&B bands with a friend, George Underwood — the Kon-Rads, Davie Jones and the Lower Third, and Davie Jones and the King Bees — in which he sang and played alto and tenor saxophone. There's a photograph from 1963 that depicts Bowie posed with the instrument, sitting atop the Kon-Rads' bass drum, an uncanny preview of the famous figure that was to come. In his eyes, however, you see a sin­gularity that marked him. In 1962, in an argument over a girlfriend, Underwood hit his friend in the left eye, causing ter­rible injury. Bowie was left with a perma­nently dilated pupil, and with eyes that appear to be of different colors. As a re­sult, one of Bowie's eyes would forever be looking ahead, flitting, while the other seemed to stare back into him, as if to measure his distance from the past.
Bowie was in and out of R&B and mod groups through much of the decade, but he didn't truly have a band temperament. He tried to take over most of the outfits he joined, and when the music didn't thrive, he believed the bands failed him. By the time he was 16, he was signed briefly to Decca Records. But David Jones saw himself as somebody who should stand apart. Then he met Ken Pitt, a man who saw him the same way.
Better hang on to yourself
Pitt was a sophisticated and well-rounded music manager. He had represented flam­boyant pianist Liberace and British beat band Manfred Mann, and he'd promoted one of Bob Dylan's tours of England. After seeing David perform in April 1966 at London's Marquee Club — where he sang "You'll Never Walk Alone," a song made famous by Judy Garland — Pitt believed he'd found somebody with the magne­tism of Frank Sinatra. He became David's manager and won him a solo contract. Pitt also invited David to share his home, res­cuing him from Peggy's ceaseless harping, and from the tormenting atmosphere that existed between his parents and his half brother, Terry. Some have suggested that Pitt's interest in his new housemate was sexual as well. Pitt denied this, though he later wrote, "David derived comfort from leaving off his clothes, sometimes sit­ting cross-legged on the floor encircled by blaring hi-fi speakers, sometimes loping around the flat naked, his long, weighty penis swaying from side to side like the pendulum of a grandfather clock."
Pitt told David Jones he could no lon­ger use the name David Jones, due to the popularity of another British singer, Davy Jones, who would go on to join the Monkees. The thought of a name change appealed to David's interest in overhaul­ing his identity and asserting a new self. He liked Mick Jagger's surname – it sug­gested danger, a dagger — and he was a fan of Richard Widmark's portrayal of American pioneer Jim Bowie, who had been famous for his prowess with a knife. David settled on Bowie for his new iden­tification. He believed that the surname suggested cutting through to deeper truths.
Staid Britain (at that time) didn't approve of his red hair
Bowie found in Pitt's home books of the erotic and gro­tesque art of Egon Schiele. Pitt introduced him to illus­trator Aubrey Beardsley and the 19th-century Decadent writers, such as Oscar Wilde. Bowie was particularly drawn to The Picture of Dorian Gray, the story of a vain young man who exploited and then dis­carded people. But Pitt's most lasting contribution to Bowie's artistry came in late 1966. In December, when Pitt returned from a trip to New York, he brought with him an advance copy of the first album by the Velvet Underground, a band that had emerged under the im­primatur of pop-art-movement leader Andy Warhol. Bowie was enthralled: The Velvets were play­ing music that was beautiful and cacoph­onous at the same time, and the group's frontman, Lou Reed, was writing about people on the verge of desperate experi­ences. "All I wanted to do was write songs that somebody like me could relate to," Reed later said. "I got off on the Beatles and all that stuff, but why not have a little something for the kids in the back row?"
The Velvet Underground gave Bowie new permissions to explore dark spaces, but his own recordings wouldn't reflect that epiphany for another five years. His first album, David Bowie,released in June 1967, proved a showcase of eclec­tic influences, the heavily lyrical French chanson style of Jacques Brel and the polished show-tune balladry of singer and composer Anthony Newley. The effect, though, was too diffuse to stand out in the psychedelic late Sixties.
But the album attracted the attention of Lindsay Kemp, an abstract mime artist who was also a dance instructor. Under Kemp's tutelage, Bowie learned how to move onstage, how to use dark lighting to help reveal a song's meanings and how to apply a mime's whiteface makeup, as well as about such theatrical styles as Japanese Kabuki and Jean Genet and the Theatre of the Absurd. Bowie later said of Kemp, "His day-to-day life was the most theatrical thing I had ever seen, ever. It was everything I thought Bohemia prob­ably was. I joined the circus." Bowie became Kemp's lover; Kemp took the affair seriously, Bowie did not. When Kemp dis­covered that Bowie was also sleeping with the woman who was Kemp's show designer, the teacher slashed his wrists be­fore the next evening's performance, then went onstage, bleeding through the ban­dages that had been wrapped around him at the infirmary. Bowie danced alongside him, and cried. Kemp later said that he felt he had contributed much to his for­mer student's later brand of rock theater. "Bowie got it all from me," he said. "His dresses, his hair and his makeup."
Bowie was adventurous and ruthless in using what came his way. But he would later say that what resulted from all this — his eventual apotheosis as a rock & roll star — was lamentable and damag­ing. "My commitment certainly has never been… [to] this crazy and filthy rock cir­cus…," he told Melody Maker in 1977. "I should not have been in it." It was a pained protest, and an ungracious one. Rock & roll would uplift Bowie, and in turn he remade the movement's meanings, audi­ence and history. It was a feat that almost cost him his mind.
David Bowie has often been described as disconnected, even by himself. In 1972, he told Timothy Ferris in ROLLING STONE, "I'm a…very cold person. I can't feel strongly. I get so numb. I find I'm walking around numb. I'm a bit of an iceman." It's an inter­esting claim, given the passions he inspired in so many of those who thought they were close to him, including Angela Barnett, the woman who changed his world more than anybody. At first, he called her "the moon and the stars." Later, he would resent her more than anything else in his life.
Angela Barnett was born in Cyprus, in the fall of 1950, the daughter of a min­ing engineer and his wife. She lived with her family on the island during a peri­od of Cypriot revolt against British col­onization in the 1950s. Angela had been raised as a Roman Catholic, and her fa­ther, George Barnett, insisted she promise to remain a virgin until she was 18. When Angela entered into a love affair with an­other woman at college, she felt she had kept the promise. When an administrator confronted her over the sexual relation­ship, Angela panicked and jumped from a fourth-story window.
By the late 1960s, Angela was living in London, where she briefly dated Calvin Lee, an A&R man at Mercury Records. Lee was also fond of Bowie, and in May 1969, he took Angela and the singer to a King Crimson con­cert at the Speakeasy. Angela later wrote in her autobiography, Backstage Passes: Life on the Wild Side With David Bowie, "[He] was very pretty. Beautiful, actually: his hair cut and permed in tight little curls around that fallen-angel's face.… David was a very startling, sexy, unusual and powerful young man."
Lyrics
Don't talk of dust and roses
Or should we powder our noses?
Don't live for last year's capers
Give me steel, give me steel, give me pulses unreal
He'll build a glass asylum
With just a hint of mayhem
He'll build a better whirlpool
We'll be living from sin, then we can really begin
Please savior, savior, show us
Hear me, I'm graphically yours
Someone to claim us, someone to follow
Someone to shame us, some brave Apollo
Someone to fool us, someone like you
We want you Big Brother, Big Brother
I know you think you're awful square
But you made everyone and you've been every where
Lord, I think you'd overdose if you knew what's going down
Someone to claim us, someone to follow
Someone to shame us, some brave Apollo
Someone to fool us, someone like you
Someone to claim us, someone to follow
Someone to shame us, some brave Apollo
Someone to fool, someone like you
Someone to claim us, someone to follow
Someone to shame us, some brave Apollo
Someone to fool, someone like you
We want you Big Brother
David and Angela slept together that night. "He was a right stud," she told author Henry Edwards. "A stallion. He could poke a hole in the wall." Angela knew that she wanted him, but she also knew that he slept with other peo­ple, including men. One night, when the theatrical and sometimes jealous Ange­la threw herself down a staircase, David stepped over her on his way to the door, and said, "Well, when you feel like it, and if you're not dead, call me."
Angela (right)
Bowie would tell Angela that he didn't love her, even as he later married her and they had a son together, Duncan Zowie Haywood Jones, born May 1971 — But for years, he couldn't do without her instincts — she pushed him to go further in his art and in his boldness. She believes she rad­icalized Bowie — if not politically, certainly in sexual ways that had cultural ramifications. Tony Visconti, a producer and occasional bassist for Bowie dur­ing this period, later told David Buck­ley, in Strange Fascination, "She…gave great support to David at a time when he was beginning to grow in confidence as a performer."
Most crucially, Angela was of support to Bowie when his father died of pneumonia in August 1969. Peggy had chosen to nurse her husband during his illness, and called for medical help too late. "In the end, John Jones had asphyx­iated alone in an upstairs room," Ange­la wrote, "trying to get to an oxygen tank just out of his reach." David resented his mother more than ever; he didn't want to take care of her, Angela said. Peggy, for her part, could no longer handle hav­ing Terry in her home. She placed him in Cane Hill, a hospital for severe men­tal illness, and she couldn't bear visiting him. David and Angela welcomed Terry at their home during his releases from Cane Hill, but David would grow more distant from his half brother. He still loved him, but his fear of proximity to schizophrenia was too great.
Just before his father's death, the song that became Bowie's first major hit, "Space Oddity," was released. It was a haunting vignette of a man lost in space, left to his own uncertainty — a portrayal of Bowie's psychic disconnection, but also of how the ideals and hopes of the 1960s were fading out. Around that same time, David and Angela settled into Haddon Hall, a Victorian house with Goth­ic windows. It became the birthplace of David Bowie's legend, and it was an at­tempt to forge new ways of life. (Visconti, who lived there for a time with other mu­sicians, recalled that David and Angela sometimes brought home dates together from the clubs. "I have no idea what went on in their bedroom," he told David Buck­ley, "except we used to be wide awake in our bedroom hearing all the laughter and screams emanating from theirs.")
It was while living in Haddon Hall, in March 1970, that David and Angela married. The night before the ceremony, they shared sex with a mutual friend. The next day, David was surprised to see his mother show up at the tiny wedding. He had told her nothing about the occasion. She in­sisted on signing the register as her son's witness and posing for photos. Angela claimed she didn't expect the marriage to be lastingly romantic, but, she writes, "I certainly didn't want my partner to come in the form of an incorrigibly promiscu­ous, self-obsessed young starlet with a mother out of a nightmare." David would later say that the experience of being mar­ried to Angela was "like living with a blowtorch." It was perhaps a miracle that in the next few years he did so much that was so good for so many.
In 1970, Bowie recorded "The Man Who Sold the World" — a story of paranoia and survival, with music that matched the standpoint: blar­ing and dissonant. Bowie was now work­ing with musicians who helped him make an adventurous soundscape. "I breathed in the excitement of knowing that we had a unit that would really start fires," he wrote later. Guitarist Mick Ronson, in particular, gave Bowie's songs a dynam­ic majesty that became crucial to what was about to take place. "You believed every note had been wrenched from his soul," Bowie said.
When things came together, it all hap­pened fast, like something inexorable. The albums in that period, from 1971 to 1974 — Hunky Dory, Ziggy Stardust and the Spiders From Mars, Aladdin Sane and Diamond Dogs — amount to one of the grand epics of rock & roll: a chronicle about the fall of worlds within and with­out — the disintegration of ego and of society; and about hard-won new values that may or may not be salvation. Most obvi­ously, though, the albums were about sex­ual realizations that popular culture had never permitted before. Sexual expression in rock & roll had provoked outrage for many social moralists since the 1950s, but it was nonetheless a conventional sexual­ity being talked about: the lust, romance and heartbreak between men and women. The territory began to change when the Beatles popularized long hair for young men in the early 1960s. As hair length progressed, it provoked public derision, even hostility; to some, it suggested a disturbing feminization of men.
Bowie had already tapped into the con­cern about feminine masculinity as early as 1964, when he appeared on BBC To­night as the founder of the Society for Prevention of Cruelty to Longhaired Men, with a cohort of other longhaired young men. "For the last two years, we've heard comments like 'Darling' and 'Can I carry your handbag?' thrown at us," David said. "And I think it just has to stop now." But David Jones was smiling when he said all of this. He knew, with his Brian Jones-style hair, that his appearance conveyed an ambiguity: His was a beautiful face, and body, that both women and men might be attracted to.
Now, by the early 1970s, more was allowable — homosexu­ality had been decriminalized in Britain in 1967 — and Angela pushed her husband to make more daring use of his androgynous appeal. She helped him select long, silk men's dresses — like medieval princ­es' frocks, made by Michael Fish, who had also designed clothing for the Rolling Stones — and to wear them at photo ses­sions for magazines. Combined with Mick Jagger's suggestive manner in the Roll­ing Stones' live shows, and with Bowie's friend Marc Bolan, from T. Rex, splashing sparkles on his face and wearing sequins for a BBC performance, Bowie's androg­yny signaled that changes were coming. Glitter rock had been born, and at its best, it wasn't just about music and style; rath­er, it was about a radical new mode of lib­eration. "We were giving permission to ourselves," Bowie later wrote, "to rein­vent culture the way we wanted it. With great big shoes."
Bowie was finally ready to shatter boundaries. He dismissed Ken Pitt — An­gela thought Pitt's ideas were antiquat­ed — and instead hired Tony DeFries, whose promise to make Bowie a star brought him to tears. Bowie's next move, the album Hunky Dory, from 1971, staked his bid for all-or-nothing transfiguration. The cover showed him in a hand-tinted portrait, gazing upward, his long blond hair pulled back in the fashion of a 1940s actress, such as Lauren Bacall or Marlene Dietrich. The music itself was irresist­ibly tuneful, apparent from the opening piano lines (played by Rick Wakeman) on "Changes," a song that was a declara­tion of independence and daring, for both Bowie and the audience he would de­fine.
Bowie had recently started writing on keyboards, and he was inspired by the structural and melodic possibilities that the instrument afforded him. "I forced myself to become a good songwriter," he later said. How far he had come — in all regards — was evident in a performance of Hunky Dory's "Queen Bitch," with the Spiders From Mars, in a 1972 British TV broadcast of The Old Grey Whistle Test. Dressed in tall red boots and an unzipped fatigue suit, Bowie was riveting as he de­livered a Velvet Underground-inflected rave-up sung in the voice of one man wait­ing in his abject hotel room for another man to show, until his jealousy turns him sick. It was a staggeringly bold moment — a manifesto of a forbidden viewpoint — and Bowie delivered it with unflinching self-assurance.
Ziggy Stardust and the Spiders From Mars, from 1972, followed Hunky Dory so closely that the two seem of a piece. Both works are faultless — in effect, they form one of the best double albums ever made. Ziggy Stardust and the Spiders From Mars, though, was a story — or at least the suggestion of one: the tale of an alien who fell to Earth, and who lost everything but a legacy. Bowie took bits of Ziggy from various places. He drew inspiration for the character's name, he later said, from a Lubbock, Texas, psychobilly sing­er, the Legendary Stardust Cowboy. He also had in mind Vince Taylor, an incred­ibly thin, sexy and damaged rock & roll singer from the early 1960s, who enjoyed some success in France, but became delusional on hallucinogens, once declaring to an audience that he was a messenger of Christ. "I met him a few times in the mid-Sixties," Bowie later said. "The guy was not playing with a full deck at all."
(to be continued…)