Fly Jamaica: Boeing passenger plane crash lands at Guyana airport after 'technical problem' on way to Toronto
Aircraft overshoots runway at Cheddi Jagan International Airport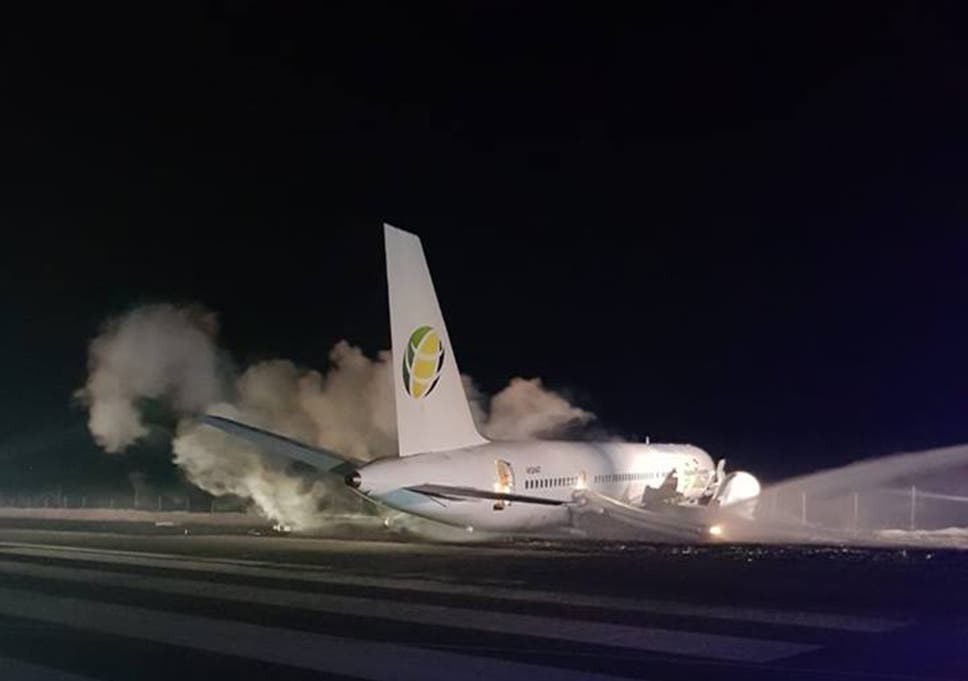 A Fly Jamaica plane has been forced into a crash landing at a Guyana airport after developing a "technical problem" en route to Toronto, leaving at least six passengers injured.
The Boeing 757 was carrying 118 people including two infants and was forced to turn round minutes into the flight due to a "hydraulics problem".
In the emergency landing the aircraft overran the airstrip, crashed through a perimeter fence and came to a rest a few feet in front of a steep ditch. Passengers exited the craft by slide.
The airline issued a statement saying: "We can confirm that flight OJ256 bound for Toronto has returned to Georgetown with a technical problem and has suffered an accident on landing.
"At this time, we believe that all 118 passengers and 8 crew members are safe. We are providing local assistance and will release further information as soon as it is available."
The aircraft was 45 minutes into its flight when it returned to The Cheddi Jagan International Airport in Guyana's Georgetown.
During the landing the aircraft was badly damaged with one jet engine being completely torn off.
Guyana's public infrastructure Minister David Patterson confirmed that six people were injured during the incident and were being treated at the Diamond Regional Hospital.
"They are all stable and are being looked at," Mr Patterson told St. Lucia News Online, adding that all the passengers and crew on board had been accounted for with "no reports of any broken bones or such".
Local reports said upon landing the pilot was unable to apply the brakes to bring the aircraft to a halt.
In 2011 a Caribbean Airlines plane landing at Cheddi Jagan International Airport overran the airstrip, resulting in seven injuries after the plane broke through a fence and crashed across a road.
The runway has since been extended, something which may have prevented a worse crash occurring in this instance.
Where the aircraft veered off is about the exact same place the Caribbean Airlines (plane did)… so fortunately for us on this occasion, the extension was there so they were able to utilise the extension," Mr Patterson said, adding that investigations into the matter had already started.
Fly-Jamaica is a Guyanese-owned airline headquartered in Kingston, Jamaica and operates two aircraft.