Boeing Issues Warning About 737 Max Jet in Response to Lion Air Crash
Boeing Co. is advising airlines on procedures to deal with false readings from an plane sensor that authorities say malfunctioned on a 737 Max jet that crashed off the Indonesian coast over a week ago.
The operations-manual bulletin was issued Tuesday, Boeing said in a statement posted to Twitter, and tells crew to use existing guidelines when dealing with erroneous inputs from the so-called angle of attack sensor. That sensor is intended to maintain air flow over a plane's wings but if it malfunctions can lead to an aerodynamic stall — which can cause aircraft to abruptly dive.
Bloomberg News earlier reported that Boeing was said to be preparing to issue an alert to operators of the 737 Max jet in response to the investigation into the Oct. 29 crash of the Lion Air plane, which saw 189 people killed.
The bulletin is based on preliminary findings from the Lion Air disaster, a person familiar with the matter earlier told Bloomberg. Under some circumstances, such as when pilots are flying manually, the Max jets will automatically try to push down the nose if they detect that an aerodynamic stall is possible, the person said. One of the critical ways a plane determines if a stall is imminent is the angle of attack measurement.
The Lion Air 737 Max 8 jetliner plunged into the Java Sea minutes after takeoff from Jakarta airport, nosing downward so suddenly that it may have hit speeds of 600 miles an hour before slamming into the water. Moments earlier, the pilots radioed a request to return to Jakarta to land, but never turned back toward the airport, according to Indonesia's National Transportation Safety Committee and flight-track data. The committee said the pilots were dealing with an erroneous airspeed indication.
The probe into what happened with the Lion Air plane "is ongoing and Boeing continues to cooperate fully and provide technical assistance at the request and under the direction of government authorities investigating the accident," the company said in its statement.
Read more: Crashed Lion Air Jet Had Faulty Speed Readings on Last 4 Flights
The jet reported discrepancy in its angle of attack sensor during a flight from Bali to Jakarta the day before it crashed. The device was replaced in Bali after pilots reported a problem with airspeed reading, the Indonesian transportation safety regulator said Wednesday.
On Nov. 5, the agency called on Boeing and the U.S. National Transportation and Safety Board "to take necessary steps to prevent similar incidents, especially on the Boeing 737 Max, which number 200 aircraft all over the world."
Boeing has delivered 219 Max planes — the latest and most advanced 737 jets — since the new models made their commercial debut last year with a Lion Air subsidiary. Boeing has more than 4,500 orders for the airliners, which feature larger engines, more aerodynamic wings and an upgraded cockpit with larger glass displays. The single-aisle family is Boeing's biggest source of profit.
SilkAir, a unit of Singapore Airlines Ltd., said it has yet to receive the bulletin from Boeing, but it will comply with the advice once it gets it. A spokeswoman for FlyDubai said the carrier is aware of the notification and "looking at it right now."
Aircraft and engine manufacturers routinely send bulletins to air carriers noting safety measures and maintenance actions they should take, most of them relatively routine. But the urgency of a fatal accident can trigger a flurry of such notices.
After an engine on a Southwest Airlines Co. plane fractured earlier this year over Pennsylvania, killing a passenger, CFM International Inc. issued multiple bulletins to operators of its CFM56-7B power plants.
Aviation regulators such as the U.S. Federal Aviation Administration and the European Aviation Safety Agency often follow such actions by mandating that carriers follow the bulletins.
Pilots raise and lower the nose of Boeing jetliners by pushing and pulling on a yoke in the cockpit, which controls panels at the tail known as elevators. In addition, a system known as elevator trim can be changed to prompt nose-up or nose-down movement.
The angle of attack readings are fed into a computer that in some cases will attempt to push down the nose using the elevator trim system. In the early days of the jet age, the elevator trim system was linked to several accidents. If pilots aren't careful, they can cause severe nose-down trim settings that make it impossible to level a plane.
Such an issue arose in 2016 at Rostov-on-Don Airport in Russia when a FlyDubai 737-800 nosed over and slammed into the runway at a steep angle, according to an interim report by Russian investigators. That case didn't involve the angle-of-attack system. One of the pilots had trimmed the plane to push the nose down while trying to climb after aborting a landing, the report said. All 62 people on board died.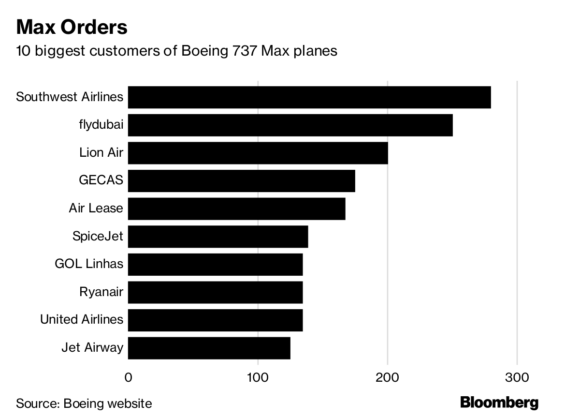 Related: