Summary
Oil prices have tanked in recent weeks, driven largely by fears of growing US output and weaker global demand.
Both of these factors are legitimate concerns that dent the bullish argument, but they are far from enough to warrant such a decline in price.
In addition to Venezuela and Iran adding to the bullish case, you have the fact that OPEC would be wise (and seems committed) to cut further.
This is the new paradigm in the oil markets and investors who see prices south of $60 per barrel would be wise to consider jumping in long.
Looking for a community to discuss ideas with? Crude Value Insights features a chat room of like-minded investors sharing investing ideas and strategies. 
The past several days (and really the past month or so) for oil bulls has been excruciatingly painful. This pain only compounded when, on November 13, WTI crude prices plummeted more than 7% to close at $55.69 per barrel. This is actually the lowest price point for oil since November 2017 and has been driven by fears regarding robust US production, a lack of an impact related to sanctions, and faltering demand growth. Surely, this is a painful time, and at times like this, when there's blood in the streets, investors come to worry that the worst is just around the corner, but that appears unlikely. While prices can and will be volatile in the near term, the vast majority of data points to a world where global oil markets should end up fine from a bull's perspective.
The bearish cases
Rising US production
To be fair, there are concerns globally about output outside of OPEC and some non-OPEC nations growing, but the real concern is always the US, which is and will remain the new marginal producer of sorts. In a recent weekly filing, the EIA (Energy Information Administration), for instance, revealed that new data forced it to increase its estimate on what daily output had been each week. This revision higher amounted to 415,000 barrels per day, pushing daily output for the week ending November 2, up to 11.60 million barrels per day. Monthly data has been even scarier in a sense, with the EIA estimating that production for the month of August climbing to 11.346 million barrels per day. This was up 0.416 million barrels per day compared to July's figures, which in turn was up 0.258 million barrels per day from June.
With growth like that, especially during a period where some capacity constraints in the Permian Basin widened differentials considerably and brought to doubt the ability of firms to transport all the crude extracted (leading to worries that production growth might slow), there are legitimate concerns about the future path that output will take. For instance, in its latest Short-Term Energy Outlook, the EIA said that fourth quarter oil production will average 11.57 million barrels per day, up from 11.24 million barrels per day in the third quarter of this year. Seeing as how at the start of November we already are at or above that level, and if the current trend for material production growth month-to-month persists, it wouldn't be unreasonable to anticipate the EIA's current estimate to be off.
For 2018, given how close we are to the end of the year, this may not matter a great deal, but it will matter come 2019. As of the time of this writing, the EIA anticipates that US output for next year will average 12.06 million barrels per day. In the fourth quarter of the year, this figure should be 12.31 million barrels per day. It's difficult to anticipate such timid growth next year if recent additions are accurate.
To be fair, one positive for oil bulls appears to be the fact that a chunk of this recent increase can be tied to offshore projects coming online. In August, for instance, offshore production in the Gulf of Mexico totaled 1.932 million barrels per day. This was up 68,000 barrels per day compared to a month earlier and was 0.410 million barrels per day higher than the 1.522 million barrels per day seen in May. Over time, offshore output likely will increase, but due to their long-term development cycles, high costs, and the fact that the offshore space is still struggling to recover from the last downturn in prices, it's probable that we won't see the same kind of soaring output next year from the space that we did in recent months. That said, production increases can still be big.
Weaker demand
For a few months now, there has been the expectation that oil demand growth will weaken some. According to OPEC, for instance, global demand next yearshould grow by around 1.29 million barrels per day, but this is 70,000 barrels per day lower than their prior forecast just one month earlier. One part to the demand argument is that the global economy is showing signs of slowing down. GDP growth this year, for instance, should be 3.7% for the world. Next year, that figure is expected to drop to an increase of just 3.5%. The US should see growth fall from 2.9% this year to 2.6% next year, while China and India will drop as well.
Absent a major economic downturn, it's likely that oil demand will, indeed, grow in 2019 compared to this year, and from my experience oil groups have a history of underestimating just how strong demand growth will be. That said, there are real risks facing the market. Besides the cyclic nature of the economy, you have Trump's costly trade wars, plus the full impact of Brexit cannot be determined until after the fact. I suspect that while global demand growth might be weaker next year than it will be this year, that OPEC's own forecast for growth is probably too low, but only time will tell.
The bullish cases
Venezuela will continue to influence markets
Perhaps the most obvious bullish example anybody can point to is Venezuela. For a few years now, the country has suffered from a collapsing economy, and the picture there isn't looking any better today than it was yesterday. In fact, with falling crude prices, it might be worse. After all, in the past, the country has received up to 90% of its export-related revenue from crude, but even with this kind of reliance, the nation has been slammed so hard economically that it cannot lift oil production up, nor can it keep it from falling further.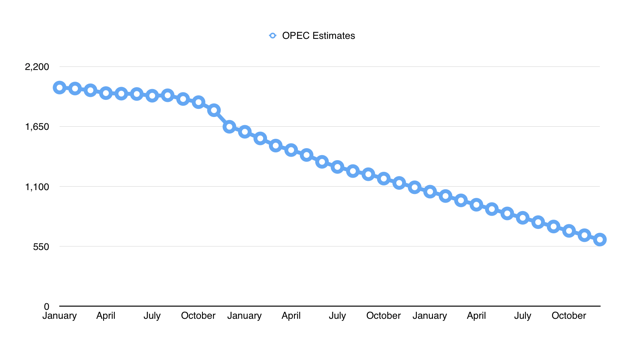 *Created by Author
In the graph above, you can see OPEC's estimate for Venezuela's daily oil output for each month from January of 2017 through October of this year. The graph also goes on to forecast what I think the base case is for the country for the months of November for this year through the end of 2019. In short, I predict that oil output will fall by around 40,000 barrels per day each month for at least the next year. This operates under an assumption where the country itself doesn't completely devolve into a state of open civil war. That would likely be even more bullish for long-term investors.
If my numbers and OPEC's numbers are accurate, Venezuela's oil production in 2019 should average 0.831 million barrels per day, down 0.493 million barrels per day from the 1.324 million barrels per day they will likely produce for 2018 as a whole. By the end of 2019, production should drop to around 0.611 million barrels per day, which is notable since total consumption within the nation is only around 0.50 million barrels per day (which can be seen in the image below). What this means is that, by the end of 2019, it's unlikely that any further decreases in output will add significantly to the oil bull's argument since it would likely be accompanied by a corresponding decrease in consumption from the nation itself.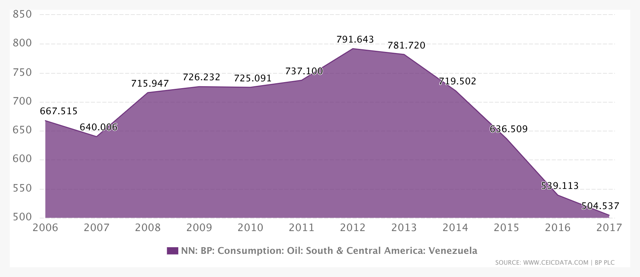 *Taken from CEIC
Iran is a wild card
Over the past several months, a lot of oil bulls were excited about the prospect of falling output caused by renewed sanctions on Iran, but I have mostly been skeptical. I did believe that oil would come offline, but the prospect of exports from the nation falling from 2.7 million barrels per day to the zero target pushed by the Trump Administration never felt real to me. At the start of the sanctions roll-out, I figured we would see an impact to the market of between 0.50 million barrels per day and 1 million barrels per day, likely at the lower end of the range.
Fast forward to today, and we have, indeed, seen some interesting results. Back in the second quarter of 2018, for instance, Iran's total production averaged 3.818 million barrels per day. By October, that figure had fallen 0.522 million barrels per day to 3.296 million barrels per day. Admittedly, all of this occurred prior to sanctions actually being put back into action (that date was set for early November), but the mix of uncertainty there, offset by uncertainty regarding the eight nations that have received temporary waivers allowing them to continue buying oil from Iran, has me thinking that, for now, there's no way to really gauge the impact, on a going-forward basis, of what the US policy has turned into in this case.
One thing we do know is that, according to one source that published on the matter earlier this month, actual exports from Iran have now fallen 1.1 million barrels per day, with a lot of the difference between that and their actual output likely being allocated to tankers floating offshore in the Persian Gulf. During the last round of sanctions, the nation had an estimated 50 million barrels worth of crude being stored offshore, waiting for the day that sanctions would be lifted. If the nation is following that example again, we could see a temporary build-up there, but eventually, likely after a few months, actual production from the nation will have to drop.
Because of all of these uncertainties related to Iran, I don't want to bet too much (at least until we have more concrete data) on it, but I can't imagine any realistic scenario being anything but bullish for long-term investors in the oil space. The worst case for us would be if the nation strikes some deal with Trump, but given recent rhetoric that appears unlikely for the foreseeable future.
OPEC is the biggest bullish case
Though Venezuela and Iran are part of OPEC, they don't comprise the bulk of the group. In fact, while production has plummeted in both Venezuela and Iran, it has risen materially in some key OPEC nations. In Saudi Arabia, it has risen from 9.949 million barrels per day in the first quarter of this year to 10.63 million barrels per day. The UAE (United Arab Emirates) has seen production rise from 2.85 million barrels per day to 3.16 million barrels per day, and Iraq has seen its output soar from 4.441 million barrels per day in the first quarter of this year to the 4.653 million barrels per day it's at now. Russia, while not an OPEC member, has also seen its production rise to pre-OPEC deal levels.
Iraq, in particular, has been itching to grow its production, but the real catalyst for surging output among the group were sanctions against Iran, economic turmoil in Venezuela, and worries that high prices would dent global demand. Now, with crude prices falling and US output jumping higher, it's possible that the group has overshot on the upswing. To adjust for this, Saudi Arabia recently came out and unilaterally declared that it will be reducing its exports in the month of December by 0.50 million barrels per day.
Unless Iran's oil output falls materially from here, it's unlikely that Saudi Arabia's move alone will impact the markets in any real way. Yes, even if October's output from OPEC remains unchanged at 32.90 million barrels per day through the rest of this year, we should actually see a slight global deficit in the fourth quarter according to the group, but the real pain is slated to come in 2019. If OPEC's own forecasts are correct, then the world will need just 31.54 million barrels worth of crude from the group next year. Today's figures place them 1.36 million barrels per day too high, while a 0.50 million barrel per day drop will still leave output too high for next year to the tune of 0.86 million barrels per day.
I still maintain that global demand will probably be higher next year than OPEC forecasts it will be, but let's pretend that they will be right. Is there a way to bridge this gap? The answer is yes. If we were to take Saudi Arabia at its word and apply the 0.50 million barrel per day decrease through 2019, and if the UAE and Iraq alone would be willing to scale their production back to second quarter 2018 levels while all other OPEC nations (besides Iran and Venezuela) would keep their figures unchanged, that would bring OPEC output to 31.94 million barrels per day. If Iran's output remains unchanged from where it was in October (which is highly unlikely) and if Venezuela falls as predicted, that would bring OPEC's output down to 31.45 million barrels per day next year. This excludes any scenario where other OPEC nations might be pressured to chip in and it also excludes Russia, which has expressed its desire to work more closely with Saudi Arabia on oil markets and much more, deciding to cut production by a few hundred thousand barrels per day.
One argument against this is that why would OPEC want to or be willing to cut output just so the US can gobble global demand up. The answer is simple: Math. The group learned the hard way that killing shale would come at too high a cost for their liking, so the only option is to cut output. What's more, as recent months have shown, cutting output even a little, in order to spur prices higher, will ultimately grow revenue for the group. Take a look, for instance, at the scenario I outlined for Saudi Arabia, the UAE, and Iraq. If they cut as I laid out and if everything else falls into place and the result is that their realized price on oil rises from just $60 per barrel to $70 per barrel, the net benefit to those three nations alone (not to mention what it could mean for Russia, other non-OPEC nations, and any OPEC nation besides Iran and Venezuela) would total, even with the reduced output, an extra $42.78 billion per year.
Takeaway
Right now is undeniably a painful time to be long oil or anything tied to it, but the fact of the matter is that the cards are still stacked clearly in favor of the bulls. Yes, prices have dropped amidst fears of higher US output and weaker global demand growth, but when you consider the very harsh realities facing Iran and Venezuela, and when you consider OPEC's commitment (and financial benefit to remaining committed) to ensuring higher global prices, the optimal path forward looks quite clear. At the end of the day, if need be, OPEC will cut, opening the door for US output to continue rising, so long as the price at which they can keep oil at ensures that US production increases, over the long run, match global demand growth. This will continue, if OPEC operates rationally, until such time that shale cannot keep up with global demand growth any longer, at which point OPEC and Russia and other players aligned with them will be able to increase their output accordingly.
A community of oil and natural gas investors with a hankering for the E&P space: Crude Value Insights is an exclusive community of investors who have a taste for oil and natural gas firms. Our main interest is on cash flow and the value and growth prospects that generate the strongest potential for investors