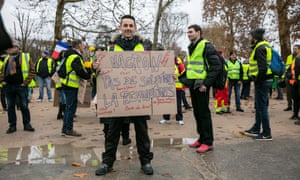 We are here to protest against the government because of the rise in taxes [in general], not just petrol taxes, which is the straw that broke the camel's back. We've had enough. We have low salaries and pay too much tax and the combination is creating more and more poverty.
On the other side, there are government ministers and the president with their fabulous salaries. I'm not against the rich, I just want a fairer distribution of wealth in France. This is the first time I've been on a protest. I'm unemployed; it's harder and harder to find a job and, even when you find this famous job and you think your life will improve, the salaries are so low you find you're in the same situation as before, if not worse.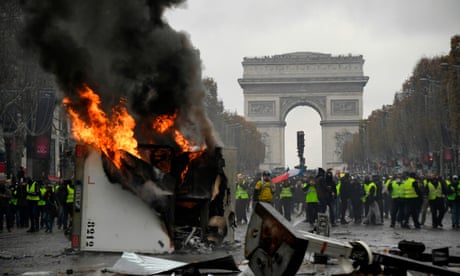 At the last election, I left the ballot paper blank. I don't have confidence in any of the political parties and I don't see that changing until a party emerges that is more interested in the people than in those with huge fortunes. It's unacceptable that people do not have decent salaries, that at the end of the month, they are in the red and can't afford to eat.