The Fed is expected to hike rates today. However, the bulls are hoping that the Fed will ALSO state that it now expects to hike rates FEWER times in 2019.
Let that sink in for a moment.
The ONLY reason the Fed would hike rates fewer times in 2019 is if the financial system is in serious trouble. So… the best we can hope for is that the Fed gets dovish because things are getting horrific?
How horrific?
Oil fell nearly 8% yesterday. According to Oil, there is NO growth anywhere at this point. The entire post-election price move is GONE.
Copper is about to join it… as the economically sensitive commodity is forming a clear Head and Shoulders pattern.
And then there is the yield on the 10-Year US Treasury, which has just broken down from a rising wedge formation. Folks, the only reason Treasury yields would fall at this time is because growth is GONE. By the way, this chart predicts yields are falling to 2.3%.
So… if the Fed DOES wax dovish today, remember it's because the ENTIRE financial system is screaming that growth is gone and something truly HORRIFIC is coming down the pike.
How horrific?

See for yourself.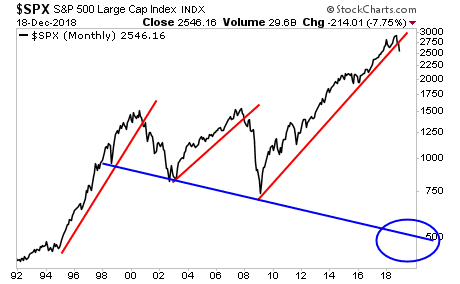 99% of investors will panic when this crisis hits…
GAINS,PAINS….