Defiant Yellow Vest protesters have engaged in scuffles with police during the eighth weekend of protests in Paris. Law enforcers hit demonstrators with pepper spray and tear gas as they tried to breach a police line.
Videos from the scene showed hundreds of protesters in their iconic yellow vests facing off with law enforcement near the National Assembly building. The crowd then tried to walk through a line of riot police, but was pushed away. © Ruptly
Officers fired several smoke grenades, and tear gas was also used. The cameras caught some of the protesters rubbing their eyes and coughing. © RT
However, police also took beatings, as several protesters were seen punching officers, including one right in the face (although they were protected by a helmet).
Demonstrations in other cities across France have remained mainly peaceful, but some scuffles did break out in the city of Nantes, prompting police to fire tear gas.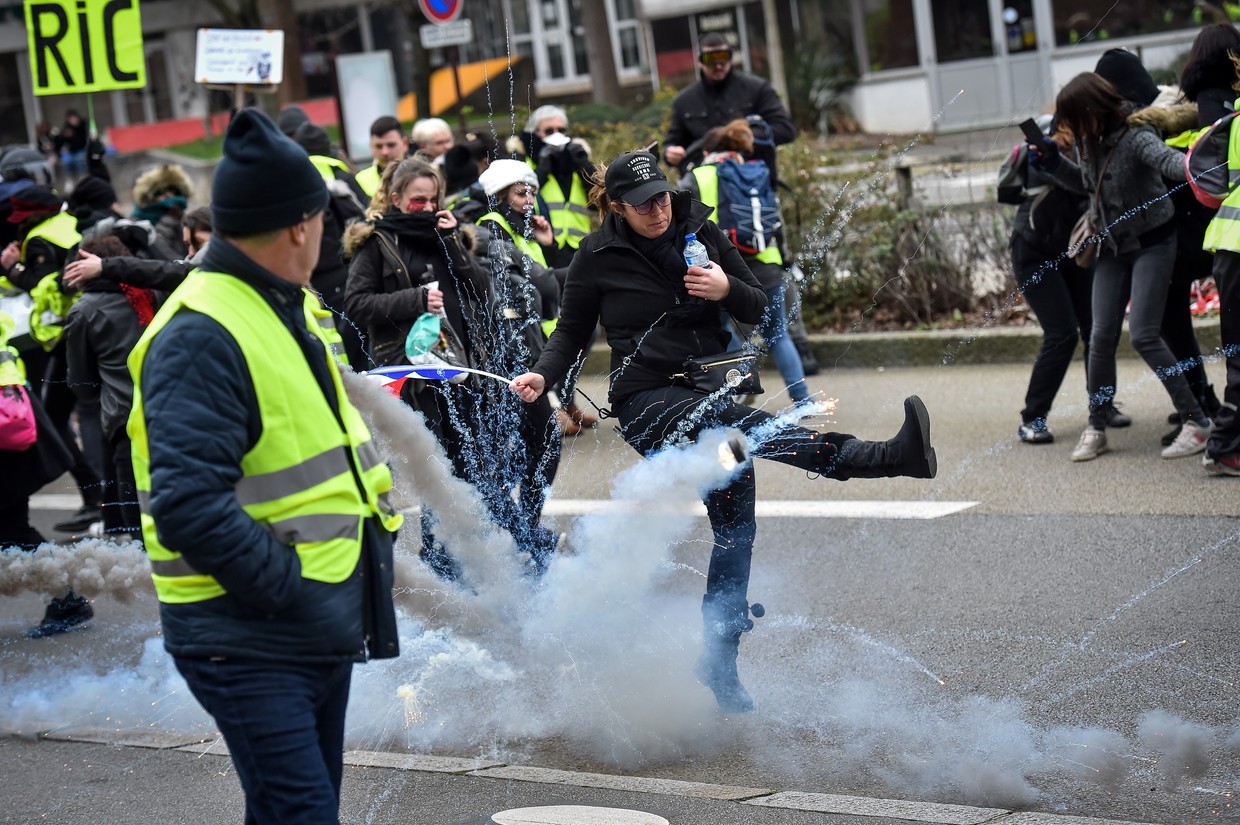 A Yellow Vest protester kicks away tear gas in Nantes, January 5, 2019 © AFP / Loic Venance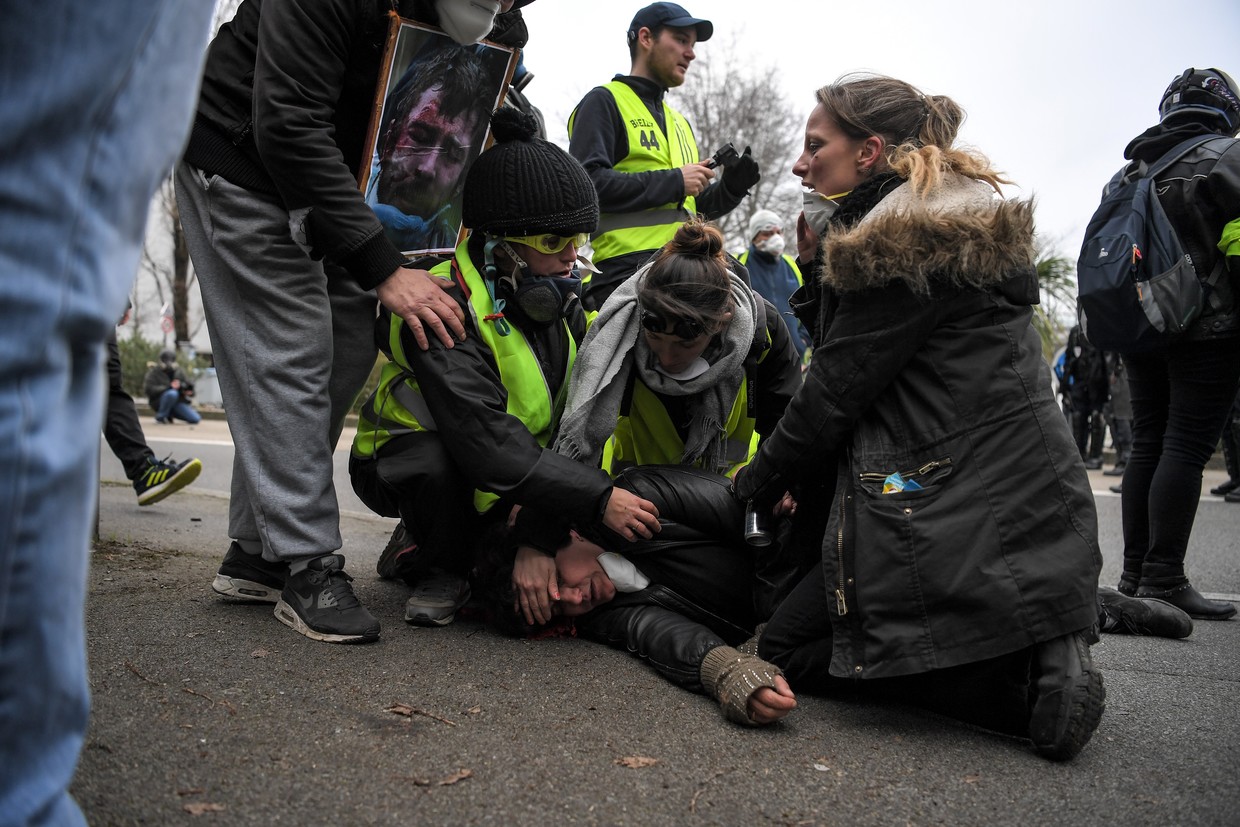 A Yellow vest protester is attended by others after being injured during a rally in Nantes on January 5, 2019 © AFP / Loic Venance
French authorities deployed 3,600 officers including riot police to oversee the rallies nationwide. However, law enforcers in Paris refrained from deploying the water cannon and armored vehicles that were seen at previous marches.
Ahead of the clashes, several thousand yellow vests marched peacefully through the city from the Champs Elysees singing the national anthem, "La Marseillaise." Others held banners calling for President Macron to resign and to "Abolish the privileges of the elite."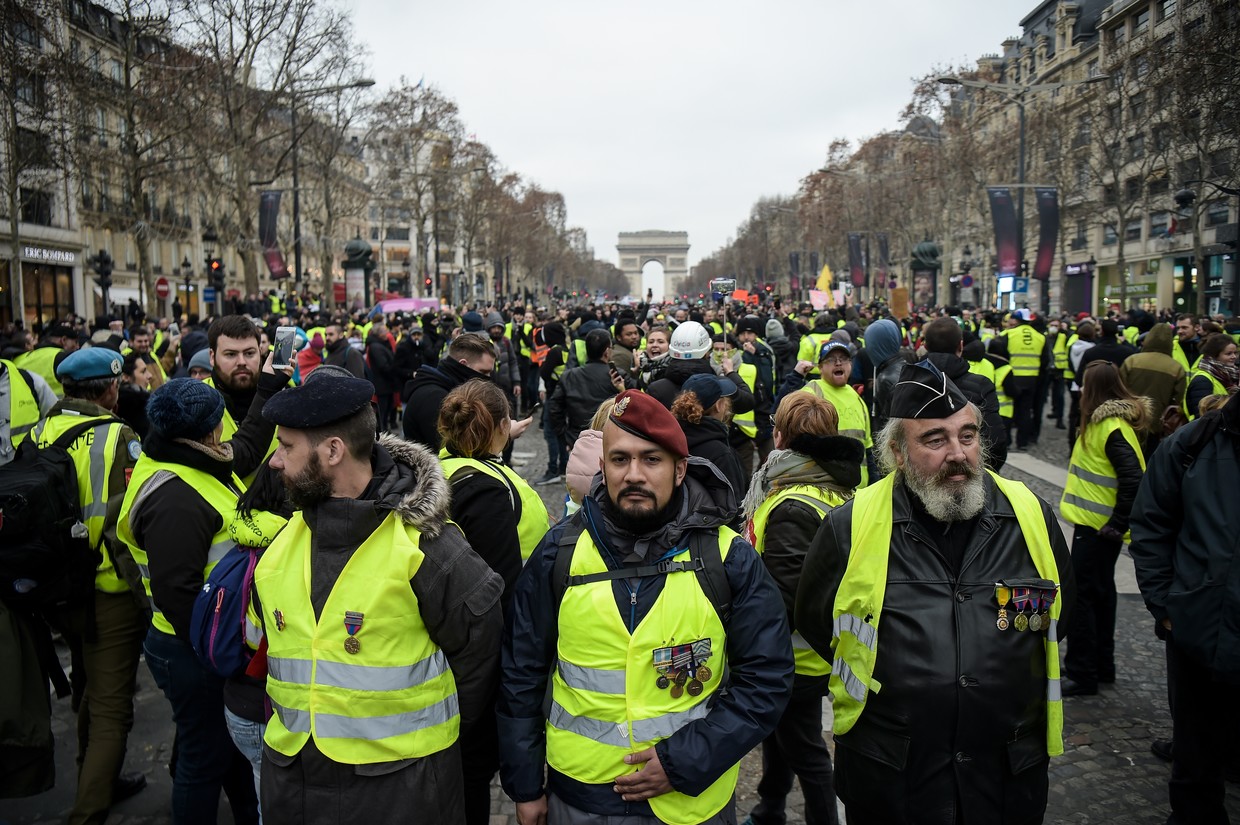 Men wearing campaign medals and yellow vests stand on The Champs-Elysees in Paris, January 5, 2019 © AFP / Lucas Barioulet
The Yellow Vest movement started in mid-November as a protest against a proposed hike in the cost of fuel but quickly broadened to include wider discontent against the policies of President Emmanuel Macron and a fall in living standards. At its height, some 282,000 protesters gathered on the Champs Elysees on November 17.
After initially refusing to give into Yellow Vest demands, Macron backed down on the proposed fuel hike, as well as promising more money for France's lowest earners and pensioners.ALSO ON RT.COMStop treating people like beggars or face hatred – Yellow Vests to Macron
Yellow Vest organizers hope this year will rejuvenate the movement following the festive period. In a three-page manifesto addressed to the president on Thursday, they did not mince words, saying: "Anger will turn into hatred if you continue, from your pedestal, you and your associates, to look at little people like beggars."
On Wednesday, Eric Drouet – one of the leaders of the movement – was detained over organizing an unsanctioned rally. His supporters called the police action a sign of "dictatorship." 
RT
https://www.rt.com/news/448144-yellow-vests-demonstration-paris/