Search for Cardiff City's Emiliano Sala and missing plane called off for night
• Flight from Nantes to Cardiff missing over Channel
• Sala signed for Cardiff for £15m last Saturday
Tue 22 Jan 2019 17.32
The search for Emiliano Sala, the Argentinian footballer who signed for Cardiff City last Saturday, has been called off for the night after a private plane carrying him disappeared near the Channel Islands.
The French civil aviation authority confirmed Sala was one of two people on board a small plane travelling from Nantes to Cardiff that went missing near the Casquets lighthouse on Monday evening.
Guernsey police said a search and rescue operation involving planes, helicopters and lifeboats had covered 1,155sq miles since it began on Monday. The operation is due to resume at sunrise on Wednesday.
"We have found no signs of those on board," police said. "If they did land on the water, the chances of survival are at this stage, unfortunately, slim."
The Channel Islands air search chief officer, John Fitzgerald, had earlier told the Associated Press: "After all this time the weather's quite cold, the water is very cold out there … I am not expecting anyone to be alive. I don't think the coastguard are either. We just don't know how it disappeared at the end of yesterday."
Cardiff's chairman, Mehmet Dalman, said: "We are very concerned by the latest news that a light aircraft lost contact over the Channel last night. We are awaiting confirmation before we can say anything further. We are very concerned for the safety of Emiliano Sala."
Sala completed his move from Nantes to Cardiff on Saturday but returned to France to say goodbye to his teammates. He was set to train with Cardiff for the first time on Tuesday morning and expected to make his debut against Arsenal next week. The 28-year-old, who has scored 12 goals in Ligue 1 this season, joined Cardiff for a club-record fee, believed to be £15m.
Cardiff's executive director and CEO, Ken Choo, said the club were praying for good news. "We were very shocked upon hearing the news that the plane had gone missing," he said in a statement on Cardiff's website. We expected Emiliano to arrive last night into Cardiff and today was due to be his first day with the team.
"Our owner, Tan Sri Vincent Tan, and chairman, Mehmet Dalman, are all very distressed about the situation. We made the decision first thing this morning to call off training with the thoughts of the squad, management staff and the entire club with Emiliano and the pilot."Play Video0:52 Emiliano Sala was 'so ready' to join us, says Cardiff City chief executive – video
Choo added in an interview broadcast on Sky Sports News that everybody at the club was "having an emotional crisis" and that executives from other Premier League clubs had been in touch to offer support.
Choo was with Sala in Cardiff when the transfer was sealed and said the player had described the move as "one of the best days in his life". Choo added: "You could see from the face he was so happy to be here and so ready to start … We really feel sad to hear of this news because we have met such a great person."
Guernsey Coastguard received an alert at 8.23pm on Monday that a light aircraft had gone missing and searches were carried out until 2am, at which point conditions forced a halt. The search resumed at 8am and continued until around 5pm.
Police said the aircraft had requested descent on passing Guernsey but that Jersey air traffic control lost contact with it when the plane was at 2,300ft.
"A number of floating objects have been seen in the water," police said. "We have been unable to confirm whether any of these are from the missing aircraft."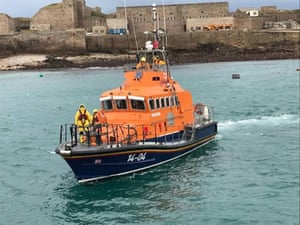 Nantes' president, Waldemar Kita, said: "I'll always have hope, he's a fighter. It's not over, maybe he's somewhere." The club was said to be in a "state of shock". Training was cancelled and several players who turned up went for a run instead. "The world has stopped turning," a member of staff at the club told 20Minutes.
One of Sala's former teammates, Thomas Renault, a goalkeeper who played with him at US Orléans, said: "He was the spirit of football, the kind of professional player who never gives up, who works. Everyone said the same wherever he went."
Sala played youth football in Argentina, latterly at Club Proyecto Crecer, but has spent his whole senior career in France. He joined Bordeaux in 2012 and went on loan to three clubs before signing for Nantes in 2015.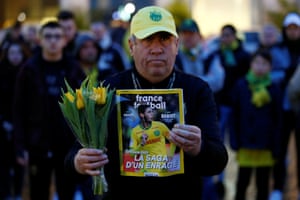 Nantes' Coupe de France match against Entente Sannois Saint Gratien, due to be played on Wednesday, has been postponed, with a new date set for Sunday.