Struggling with new technology has been something of a theme of Williamson's gaffe-prone time in office. His use of the photo-sharing site Instagram landed him in more trouble.
Friends of Syria
Gavin Williamson continues to add to his gaffe-prone reputation
Defence secretary's boast that Brexit could 'enhance UK's lethality' is his latest misstep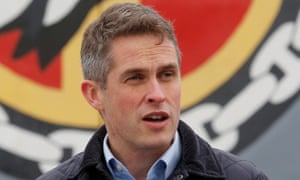 Gavin Williamson's boast that Brexit could "enhance the UK's lethality" is the latest in a string of naive forays by the 42-year-old defence secretary. He may have intended it as a boost to Britain's global military standing but it is more likely to just confirm Williamson's reputation as the cabinet's Private Pike, the hapless youth in the sitcom Dad's Army.
In his first 15 months in the job Williamson's antics have regularly invited the Captain Mainwaring response of "Stupid boy!"
In March, in the wake of the poisoning of the former Russian spy Sergei Skripal and his daughter Yulia in Salisbury, Williamson had a message for the chief suspects. 
View original post 463 more words