Clashes between protesters and police broke out as the Yellow Vest rallies entered their 18th consecutive week, causing more headaches for President Macron, whose "great debate" aimed at pacifying the protests ended on Friday.
Saturday's rally saw thousands of people flooding the streets of downtown Paris, with many wearing black balaclavas and holding French flags.
Violence erupted on the Champs-Elysees in Paris, where protesters congregated to take part in the weekly march which began in November. According to the Associated Press, Paris mobilized more police than in previous weeks in an attempt to stave off unrest.
"From 7,000 to 8,000 people are currently rallying in Paris, and out of them around 1,500 people are ultraviolent, and they have come to destroy and to attack," French Interior Minister Christophe Castaner told broadcaster BFMTV.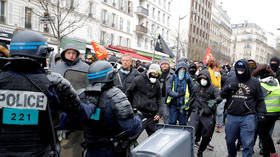 © REUTERS/Philippe Wojazer
Riot police used water cannons and tear gas to disperse the crowd, some of whom were carrying firecrackers.
The demonstration broke out into a riot, with some protesters looting stores on Champs-Elysees, according to reports.
Video taken at the scene shows cafes and shops with smashed windows and broken furniture, as police stand guard in the street. The Yellow Vests have been quick to distance themselves from looters, claiming that the vandalism is carried out by a radical minority.