Rolling coverage of business, economics and markets as sterling hits new 28-month low against the US dollar
LIVE Updated 7m ago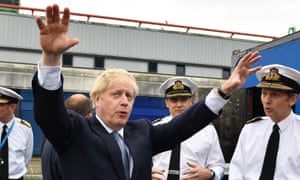 The British Pound to US Dollar exchange rate (GBP/USD) slumped to a fresh 28-month low this morning amid no-deal Brexit fears. Against the Euro, Sterling (GBP/EUR) followed a similar fate, although Eurozone economic data may be sufficient to initiate a rebound if that disappoints later in the session. Elsewhere, the impact of the UK's political woes combined with the current popularity of the Turkish Lira has sent the GBP/TRY exchange rate down to five-month lows overnight, too.
The British Pound to US Dollar exchange rate (GBP/USD) plummeted yesterday as markets factored in the increased likelihood of a no-deal Brexit. The pair hit levels not seen since March 2017, and although the start of Tuesday's trade has offered a little respite, there's nothing to suggest the downtrend will be reversed. Those promises from the US of a 'great' trade deal have delivered no support, and Boris Johnson received a cool reception yesterday as he headed to Edinburgh in a bid to keep the country united.
Pound Slumps upon Brexit fears
Some indication of concessions from European leaders may be sufficient to provide at least a modicum of support for Sterling, but with EU politicians in the midst of their summer recess, and the tumbling fortunes of the Pound likely to shock many a British holidaymaker in the weeks ahead, they have little incentive to intervene early.
An update on banking regulation: the Bank of England has today confirmed plans to make big British lenders publish plans to show that they could go bankrupt without needing the government to step in like it did with the £45bn bailout of Royal Bank of Scotland a decade ago.

The UK will become the second country to force its largest lenders to publicly disclose their "living wills" and prove they can afford to foot the bill for their own failures in order to avoid costly taxpayer bailouts, reports the Guardian's Kalyeena Makortoff.

New rules confirmed by the Bank of England and its regulatory arm, the Prudential Regulation Authority, on Tuesday mean banks will face further pressure to lay out plans that ensure they wind down in an orderly fashion – or risk the scrutiny of both the public and investors.
The public disclosures, due every two years from 2021, will be the first made by major banks outside of the US.

With the new rules confirmed, UK's seven largest high street banks – RBS, Barclays, HSBC, Lloyds, Standard Chartered, the UK arm of Santander and Nationwide building society – will soon start assessing whether they are in a position to continue serving customers and fulfilling existing contracts even if they are headed for a full shutdown or major reorganisation.