Stocks are down a little this morning. After a break out/ bull run like the one we've experienced in the last five weeks, this is a totally normal development. If anything what's surprising is that the dips have been so shallow as of late.
The S&P 500 touched the top trendline running back to prior tops since April. This was always going to be a place for a pause. And the truth is stocks could correct down to 3,020 or so without invalidating the recent breakout.
I've shown the below chart before. Breadth leads stocks and until breadth breaks down from this rising channel, the odds of a major top for stocks remains low. This too suggests a cooling off period here, but the bull market thesis remains intact.

Big picture, stocks are in a major bull run. Economic data looks to be bottoming and credit markets are strong. NONE of those is bearish.
Throw in the fact that the Fed is cutting rates and engaged in QE again, and the stage is set for a major bull market to highs that would shock you.

Case in point, the last time the Fed cut rates three times when the economy was growing was in 1998. Stocks rose ~60% over the next two years.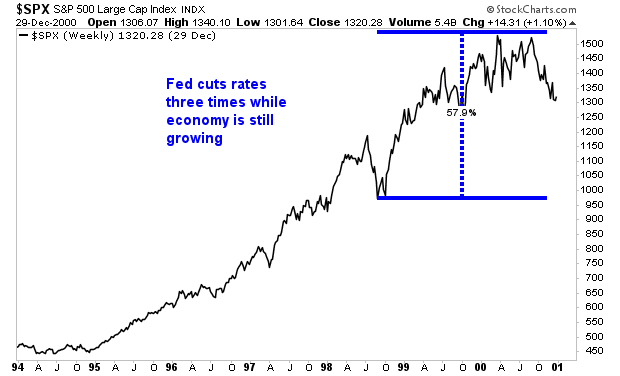 A similar run from today's levels would mean the S&P 500 approaching 5,000.
Interestingly enough, the long-term chart suggests this is possible especially with that recent breakout to the upside.