Evo Morales has announced he will resign as president of Bolivia after the military called for him to step down and the police withdrew their support following weeks of unrest over disputed election results.
In a televised address, Bolivia's president of nearly 14 years said he was stepping down for the "good of the country". but added in an attack on opponents whom he had accused of a coup attempt: "Dark forces have destroyed democracy."
Morales, Bolivia's first indigenous leader, later said on Twitter that the police had an "illegal" warrant for his arrest and that "violent groups" had attacked his home in Cochabamba, a city in central Bolivia.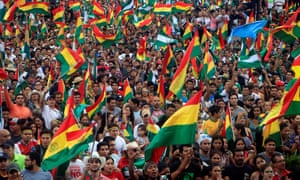 Bolivians celebrate the resignation of Evo Morales in La Paz. Photograph: Juan Carlos Torrejon/EPA
The commander of Bolivia's police force said in a television interview that there was no warrant for Morales's arrest. Video circulating on social media showed people walking through what was reported to be his ransacked home. Advertisement
The announcement by Morales came shortly after the commander-in-chief of the Bolivian armed forces, Williams Kaliman, exhorted him to resign his "presidential mandate allowing the pacification and maintenance of stability for the good of Bolivia".
In Bolivia's main city, La Paz, people poured on to the streets waving the country's red, yellow and green flags. There were reports of patrols by vigilantes guarding businesses in Cochabamba. Morales's vice-president, Álvaro García Linera, also resigned.
The New York Times reported that Morales had flown from La Paz to Chimoré, in Cochabamba state, when it became clear that the military was turning on him. The area is populated by coca leaf growers, many of whom have remained loyal to Morales, himself a former coca farmer. His whereabouts in the early hours of Monday morning were unknown.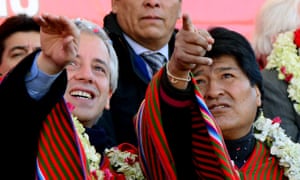 Morales (right) with his vice-president, Alvaro Garcia Linera, in 2014. Photograph: Aizar Raldes/AFP via Getty Images
The departure of Morales, a leftist icon and the last survivor of Latin America's "pink tide" of two decades ago, is likely to send shockwaves across the region at a time when left-leaning leaders have returned to power in Mexico and Argentina.
In a tweet, Mexico's foreign affairs secretary, Marcelo Ebrard, said it would offer political asylum to Morales in accordance with the country's "tradition of asylum and non-intervention", if Morales sought it. He added that 20 other members of the government's executive and legislature were already in the Mexican ambassador's residence in La Paz.