https://friendsforsyria.com/2019/11/26/israel-uses-sexual-blackmail-to-control-western-politicians/
ia in Israeli Murders, Israeli Terrorist, Israeli war crimes
Tags
AIPAC, Benjamin Netanyahu, Israel, Jeffrey Epstein
By David Hilton 4 months ago
I used to love Israel.
I was about as hardcore a Christian Zionist as you could be. I read Rabbi Jonathan Cahn's books about the shemitah and blamed everything on DA MOOSLIMS. I even went there for a pilgrimage in 2011, happily saying 'Merry Christmas' to all G-d's chosen that I met. I couldn't understand why they'd look so pissed off, give me a gold foil-wrapped chocolate coin and say 'Chappy Chanukah' in return.
Now I know.
And the more I've known, the more I've wondered how Israel maintains such tight control over Western politicians, media, academics and cultural influencers. It doesn't make sense.
At AIPAC, the annual ceremony worshipping Israel and all things Jewish in Washington, DC, the slavish homage paid to the Middle East's only ethnostate is staggering.
Note the pentagram and hexagram 'connected for good' on the podium.
Yay Satan.
How do they have so much power?
Maybe now we know.
Jeffrey Epstein was not a 'New York billionaire hedge fund manager'. At least, not according to New York billionaire hedge fund managers.

Paul Graham
@paulg
"The hedge-fund managers we spoke to leaned toward the theory that Epstein was running a blackmail scheme under the cover of a hedge fund."http://nymag.com/intelligencer/2019/07/hedge-funders-have-some-thoughts-on-what-epstein-was-doing.html …
Hedge-Funders Have Some Thoughts on What Epstein Was Up To
He claimed he was one of them, but the people who know the business best don't believe it. They see something else instead.
nymag.com
43211:20 PM – Jul 15, 2019Twitter Ads info and privacy164 people are talking about this
He was a frontman for a compromat operation, getting blackmail material on the US elite. But how?
William Craddick@williamcraddick
Acosta told the Trump transition team that he was forced to back off of the Epstein case because of Epstein's ties to intelligence agencieshttps://www.thedailybeast.com/jeffrey-epsteins-sick-story-played-out-for-years-in-plain-sight …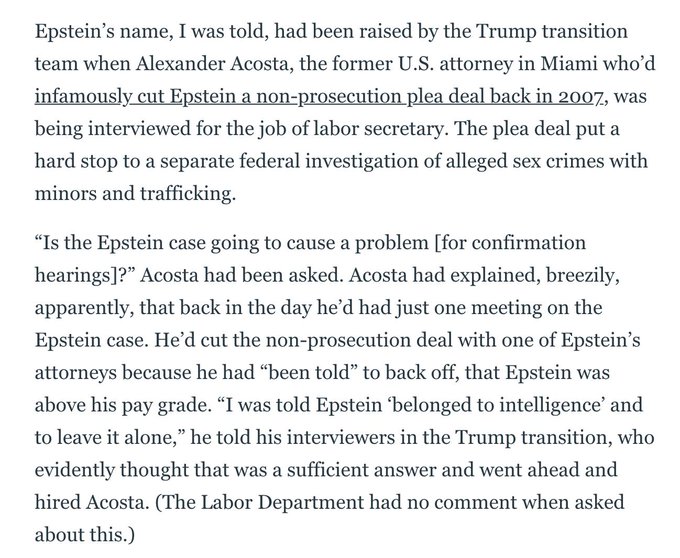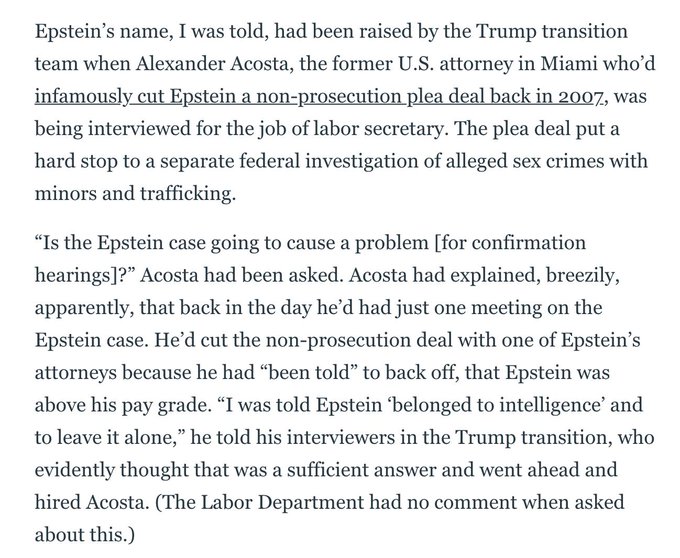 24211:34 PM – Jul 9, 2019Twitter Ads info and privacy259 people are talking about this
I wonder which intelligence agency?
The large cache of videos and images found at Epstein's residences, as well as the recording devices throughout them, makes it clear that Epstein was running a high-level compromat operation. The entire purpose was to capture incriminating evidence of prominent people performing illegal and embarrassing acts so they could later be blackmailed and controlled.

New York Magazine
@NYMag
According to James Patterson's Jeffrey Epstein book, Epstein had a hidden camera in a clock that he used to surreptitiously snap pictures of his victims https://nym.ag/2jCE5CW
What We Learned From James Patterson's Jeffrey Epstein Book
According to Filthy Rich, Epstein has odd physical characteristics, used a camera hidden in a clock, and rejected a 23-year-old as too old.
nymag.com
522:33 AM – Jul 12, 2019Twitter Ads info and privacy31 people are talking about thisBut for whom?
Ann Coulter Thinks Epstein Had a "State Sponsor" & Was Running a "Blackmailing" Operation
Stefan Molyneux
@StefanMolyneux
I wonder
Did Jeffrey Epstein abuse any Jewish girls?
6,2266:20 PM – Jul 8, 2019Twitter Ads info and privacy2,965 people are talking about this
Strewth Stef, that's just a trope.
Cool it with the anti-Semitic remarks.
Just because he had former Israeli PM and father of the phrase 'war on terror' Ehud Barak over for friendly nubile six-ways doesn't prove anything.
Yair Netanyahu ✔@YairNetanyahu
Oh wow https://www.dailymail.co.uk/news/article-7250009/Netanyahu-challenger-Ehud-Barak-hides-face-enters-entering-Jeffrey-Epsteins-mansion.html …Netanyahu challenger Ehud Barak seen at Jeffrey Epstein's mansionEhud Barak was seen hiding his face while entering Jeffrey Epstein's NYC home in 2016. He claims he never met women while with Epstein, but DailyMail.com photos dispute his claims.dailymail.co.uk9976:07 PM – Jul 16, 2019
Prominent Harvard Law Professor and avid Zionist Alan Dershowitz was a lead member of the legal team which got Epstein off in 2008 for trafficking and raping underage girls. He's been formally accused by one of Epstein's underage victims of raping her.
He denies it.
He's lying.
Dershowitz also helped defend Harvey Weinstein and has strong links to the radical Zionist organisation Chabad Lubavitch. He's an unrepentant Jewish racial supremacist.
Dershowitz says he was introduced to Epstein by Lady Lynn Forester de Rothschild.
The same Lynn Forester Rothschild who held a fundraiser with her close friend David Brock for Hillary Clinton during the 2016 election.
David Brock, of course, is ex-boyfriends with James Alefantis, whose creepy pizza shop was at the centre of the Pizzagate scandal back in late 2016.
Of course, saying that the Rothschild family was doing pizzagate long before Eyes Wide Shut made it cool is just another anti-Semitic trope.
And linking the symbolism and practices of the occult elite to the pedophilia and debauchery of Sabbatean-Frankist Judaism and Jewish Kabbalah ritual magic is just yet another anti-Semitic remark.