US manufacturing downturn continues
Newsflash: America's factory output contracted last month, according to the closely-watched ISM survey.
The ISM's US manufacturing PMI fell to 48.1 from 48.3, showing a sharper fall in output, back towards the 10-year low seen in September.
Eurozone factories shrink again
Just in: Eurozone factories shrank again in November, for the 10th month in a row.
The IHS Markit Eurozone Manufacturing PMI has risen to 46.9 in November, a little better than expected, from October's 45.9. That's below the 50-point mark showing stagnation, continuing a contraction that began back in February.
Factory bosses reported that output, and new orders, both continued to fall last month — although at a slower rate than in October.
Only Greece and France posted a rise in manufacturing activity, Markit says:
Germany remained bottom of the table, despite recording its best PMI reading in five months.
Austria and Spain were the next worst performing, but similarly recorded weaker rates of contraction, whilst Italy registered its lowest PMI print for eight months.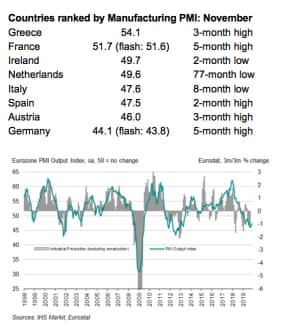 This means Europe's manufacturing sector remains in recession, says Chris Williamson, chief business economist at IHS Markit:
"A further steep drop in manufacturing output in November means the goods-producing sector is likely to have acted as a major drag on the eurozone economy again in the closing quarter of 2019.
The survey data for the fourth quarter so far are indicating a quarterly rate of contraction in excess of 1% for manufacturing.
But… the rise in the PMI is still a positive sign, Williamson adds.
"Although still signalling a steep rate of decline, the manufacturing PMI nonetheless brings some encouraging signals which will fuel speculation that the worst is over for euro area producers, barring any new set-backs (notably in relation to Brexit and trade wars).
In particular, November saw the rate of loss of export sales easing further from July's recent record, helping pull other indicators such as output, employment, order books and purchasing off their recent lows.
On Thursday, China's official manufacturing PMI, released by the National Bureau of Statistics (NBS), stood at 49.3 in October, down from 49.8 in September and below the expectation in a Bloomberg survey of analysts for an unchanged reading. The October figure was the lowest since hitting 49.2 in February.
The Caixin PMI mainly tracks 500 smaller private factories, while the official index focuses on 3,000 larger manufacturers.
The gauge for new export orders returned to expansionary territory and reached the highest point since February 2018, due likely to the US' move to exempt more than 400 types of Chinese products from additional tariffs
The Caixin statement showed new export orders rose at the fastest pace since US-China trade war broke out nearly 16 months ago, pointing to continued improvement in the manufacturing industry
国家统计局(NBS)周四公布的中国官方制造业采购经理人指数(PMI),10月份为49.3,低于9月份的49.8,低于彭博社分析师预期的不变。 10月份的数字是2月份触及49.2以来的最低水平。
财新采购经理指数主要追踪500家规模较小的私营工厂,而官方指数则侧重于3,000家规模较大的制造商。
新出口订单的标准返回到扩张性领域,并达到了自2018年2月以来的最高点,这可能是由于美国采取的措施是对400多种中国产品免征额外关税
钟正生
财新声明显示,新的出口订单以近16个月前的中美贸易战爆发以来最快的速度增长,表明制造业持续改善。