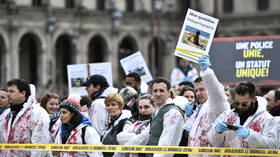 Members of the French forensic police demonstrate in Paris © AFP / Stephane De Sakutin
Follow RT on Striking forensic officers in Paris have thrown overalls daubed in fake blood in front of the interior ministry. The grizzly protest comes amid mass opposition to French President Emmanuel Macron's controversial pension reforms.
France's technical and scientific police say that although they make up only two percent of the national police payroll, they solve a third of the country's investigations. They say that though their job is often physically and psychologically dangerous, the French government refuses to acknowledge this, labeling their work as more sedentary than that of "active" police officers.
Some 80 percent of these technical officers are on strike, union leader Xavier Depecker told RT France. Depecker claims that higher-ups have harassed and intimidated aggrieved workers into returning to work.
With discontent within the ranks at boiling point, a group of forensic officers marched to Paris' Place Beauvau on Wednesday and tossed their white overalls – stained with fake blood – in front of the interior ministry. The protest came after Interior Minister Christophe Castaner allegedly refused a meeting with the striking officers.