Jailed, released, attacked: What we know about 'ISIS-supporting' south London suspect behind Streatham stabbing
2 Feb, 2020 22:07 / Updated 58 minutes ago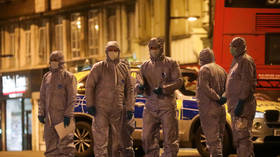 Police forensics officers are seen near a site where a man was shot by armed officers in Streatham, south London, Britain, February 2, 2020. © REUTERS/Simon Dawson
Follow RT on The man who stabbed at least two people in London on Sunday and was then shot dead has been tentatively identified as Sudesh Amman as media reports suggest he was a recently jailed extremism supporter, known to authorities.
Police Deputy Assistant Commissioner Lucy D'Orsi said that London police were "confident" the attacker was indeed Sudesh Amman, after multiple sources have identified the stabbing suspect as a young man who made headlines in 2018 when he was jailed for sharing terrorist manuals, which included a tutorial on home-made bombs.
Aged just 18 at the time, the resident of Harrow, north-west London, was also apparently into knife fighting. In November 2018, he pled guilty to a total of 13 terrorism-related offences, including six counts of possessing terrorist materials and seven of spreading terrorist propaganda. The teen was active in a family WhatsApp group where he would share an Al-Qaeda magazine and incite violence toward Yazidis, insisting that the Muslim Holy book – the Quran – allowed to rape them.
Amman was sentenced to three years and four months behind bars, but apparently was released early.
D'Orsi has confirmed that Amman was closely followed by plainclothes armed officers on foot before the attack. After he charged at passersby, the officers "were in immediate attendence and shot a male suspect dead at the scene," she said.
Police said earlier the attack was Islamism- and terrorism-related.
Several outlets have already released the suspect's mugshot and described details of his conviction. British tabloids said the young man walked free from jail days before his rampage.
Also on rt.com London Bridge 2.0? As police confirm London stabbing Islamist-related, report claims attacker was ALSO on police watch-list
The suspected terrorist shot dead by the law enforcement in the London suburb of Streatham was on a police watch-list when he stabbed two people, and was recently released from prison early. according to a Sky News report.
The knifeman who stabbed and injured two people — one seriously — in Streatham on Sunday was "under active police surveillance at the time of the incident," Sky News' security correspondent claimed.
Sky later added that the man had been released from prison in recent days, after serving less than half of a three year sentence for possessing "extremist material."
London's Metropolitan Police described the operation to take down the attacker as "a proactive Counter Terrorism operation," in which undercover officers "were in immediate attendance" and shot the man dead on the scene.
Video footage captured from a passing bus just meters away showed undercover officers swarming around the man, who at this point was still alive on the footpath. Officers ushered pedestrians away and kept their weapons trained on the suspect.
Police described the incident as "terrorist-related," later adding they "believe it to be Islamist-related."
Armed police units have descended on the London suburb of Streatham, after a knife-wielding terror suspect stabbed and injured two people. Video footage shows the moments after the attack and the scale of the response.
London's Metropolitan Police say they shot a suspected terrorist dead on a shopping street in Streatham on Sunday afternoon, after he stabbed two people. Video footage shared on social media shows officers aiming their weapons at the man's lifeless body, which they later said was strapped with a "hoax device."
Even as the suspect lay motionless on the street, police kept their distance from his body and approached with their handguns drawn.
The 'war on terror' continues on the Capital's streets