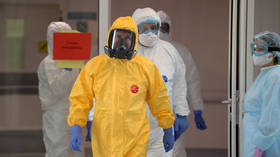 Vladimir Putin in hospital for patients infected with coronavirus disease on outskirts of Moscow, Russia ©
Russian President Vladimir Putin's visit to a coronavirus hospital wearing a full hazmat suit may not be as flashy as some of his many photo ops, but it will earn him more trust than a hundred bare-chested pictures.
When Vladimir Putin announced he was off to check a Moscow hospital treating coronavirus victims, those around him would have imagined a standard photo op – shake a doctor's hand, thank a nurse, then back to the office, pronto.
Foot on the pedal please, driver – there's a killer virus back there!
There would have been a few groans of 'here we go' when he told them he wanted to wear one of those protection suits.
How would the optics look if he turned up dressed like supermodel Naomi Campbell on her Instagram post, wearing pink rubber gloves and looking like she was about to clear a troublesome wasp's nest from her garden?
It's what all those who have chuckled at Putin's numerous other photo ops may have expected. But he was serious this time, donning the full yellow kit complete with respirator, heavy duty boots and gloves as he talked with hospital staff and toured the wards to chat with victims of the global pandemic. Also on rt.com Putin dons hazmat suit to visit hospital treating coronavirus patients in Moscow (VIDEO)
And while over the years we've been treated to the sight of Putin horse-riding, grappling with the national judo team, playing badminton, football and ten-pin bowling, diving in a submersible to the bottom of the Black Sea, soaring the skies in a gyrocopter alongside migrating cranes and tranquilising a tiger in a Siberian nature reserve, this was something a little different.
While I'm not saying it will never happen, I find it hard to imagine British PM Boris Johnson or US President Donald Trump volunteering in the middle of this mess to adopt a hazmat suit, tour a high-risk hospital, and visit patients infected with the deadly coronavirus – some of whom, almost inevitably, will die.
Boris did drop in on a Kettering hospital dealing with some Covid-19 patients in late February, but the effect of the danger he may or may not have faced was somewhat diminished by the fact that the only precaution he took was to roll up his shirt sleeves and tuck his tie between his buttons.
He simply looked more dishevelled than usual.Not really.
(This little guy is great)
Russian President Vladimir Putin traded his usual shirt and tie for protective gear as he visited patients receiving treatment for the Covid-19 virus in a Moscow hospital.
Surrounded by hospital staff, Putin climbed into a yellow hazmat suit and was fitted with a respirator before paying a visit to patients at the treatment center in the Kommunarka area of Moscow.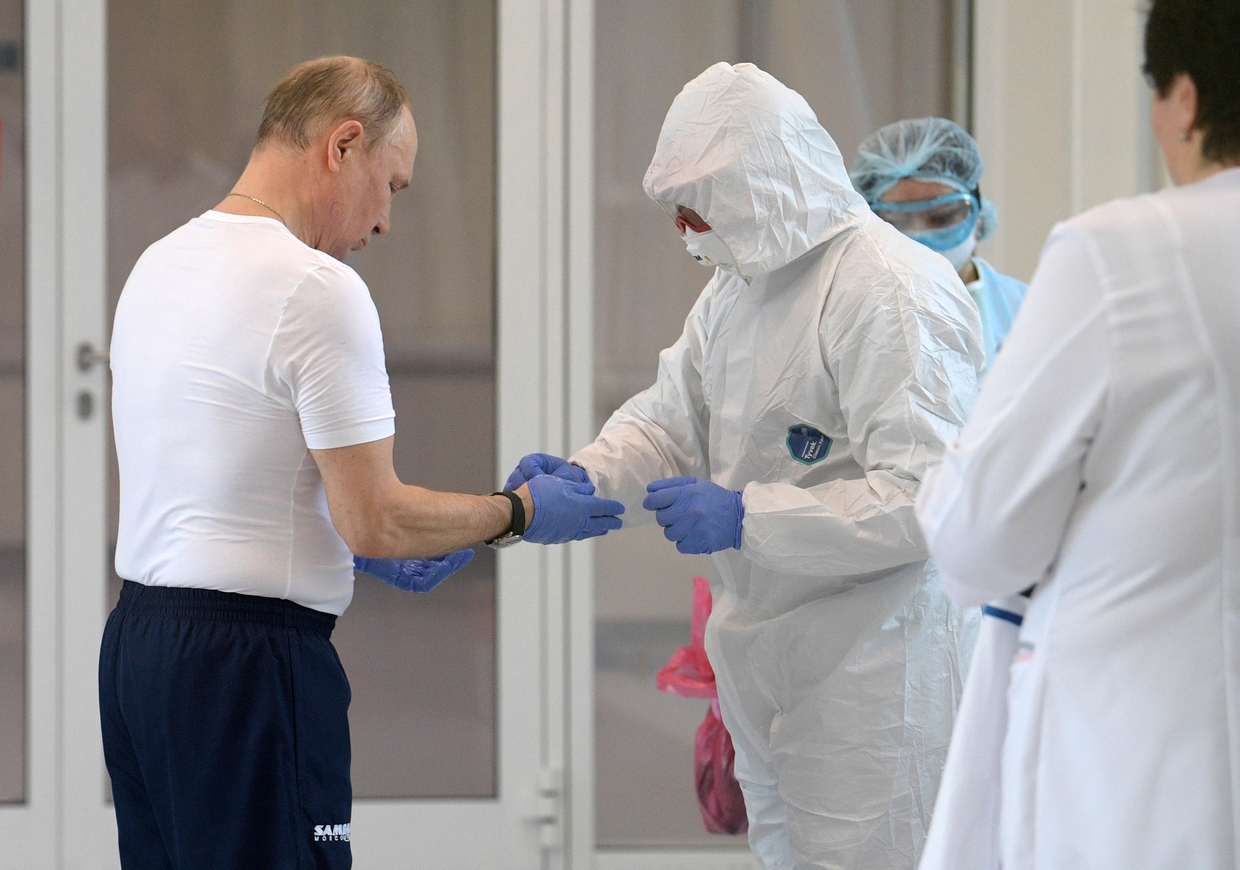 © Sputnik / Alexey Druzhinin
He was also kitted out in a pair of protective plastic boots and blue gloves before heading into the higher-risk area of the hospital.
Before his trip, Putin held a meeting with members of Russia's taskforce for combating the Covid-19 outbreak, which was attended by Moscow Mayor Sergey Sobyanin, Deputy PM Tatyana Golikova and Health Minister Mikhail Murashko.
Following the meeting Putin decided he wanted to check out the new facility and told colleagues: "Let's go see Kommunarka."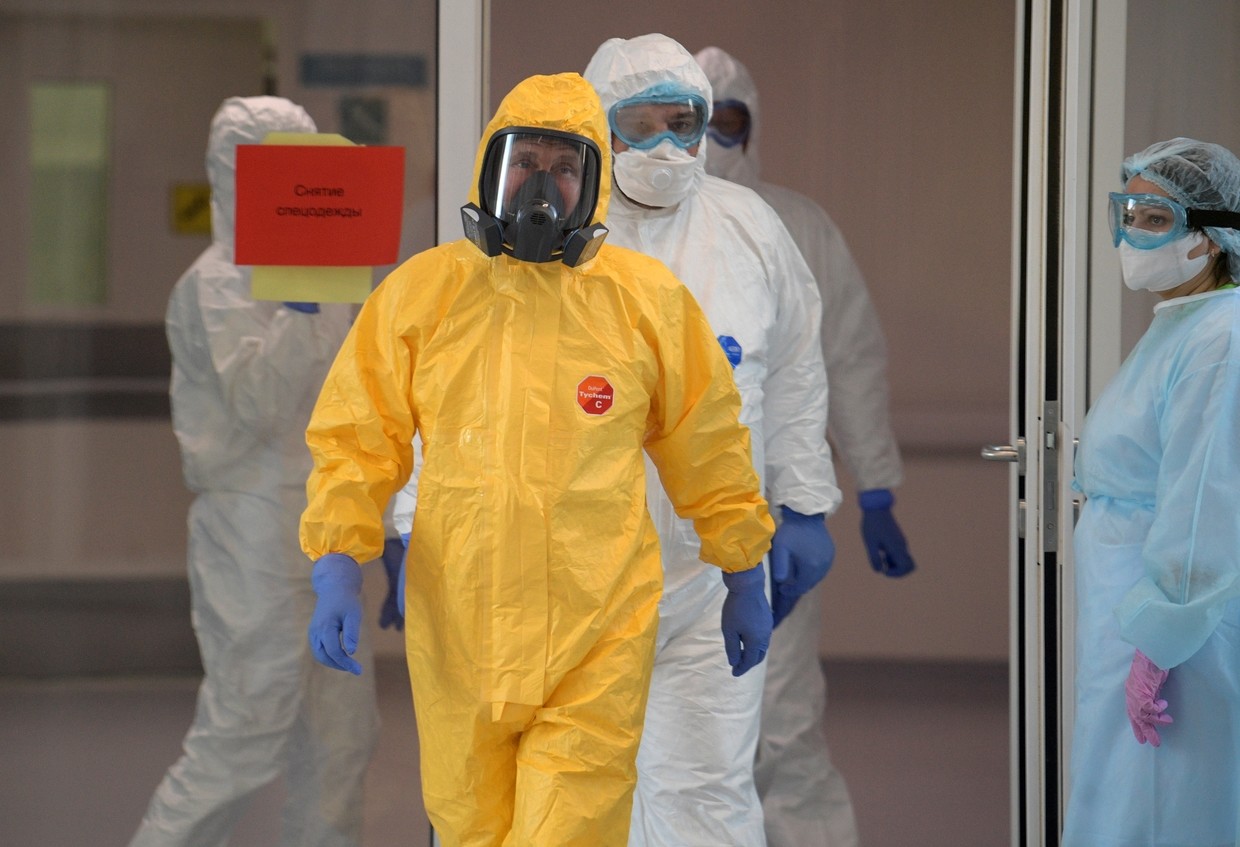 March 24, 2020. Russian President Vladimir Putin during a visit to a hospital intended for patients with suspected coronavirus © Sputnik / Alexey Druzhinin
Putin was accompanied on the tour of the facility by the hospital's head physician Denis Protsenko. Putin told Protsenko that he was pleased with how the work was progressing and offered his gratitude to the team at the hospital.
He said the hospital was well-organized and that people there "know what to do, how to do it, have everything they need and can effectively use existing equipment."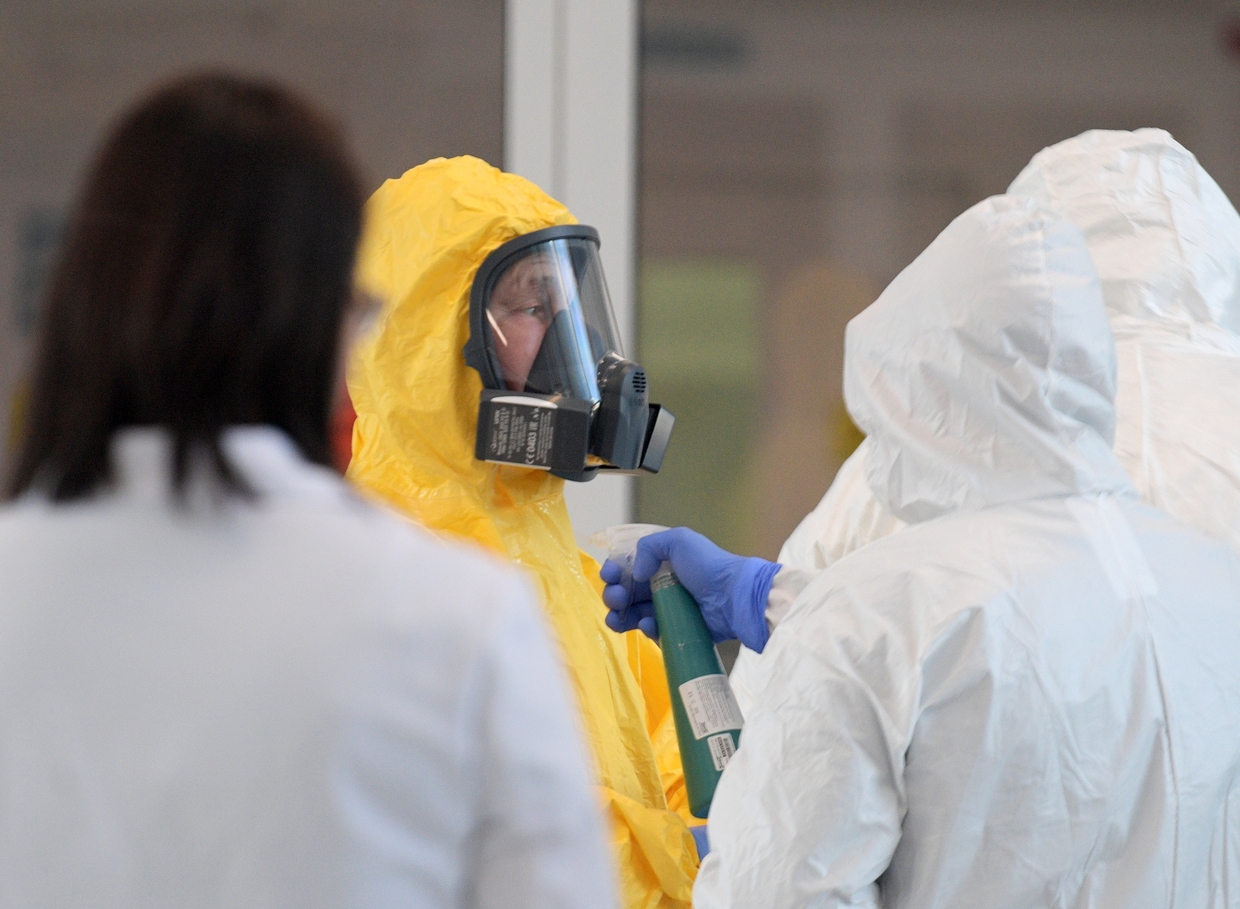 © Sputnik / Alexey Druzhinin
Protsenko told Putin there are two possible scenarios that could play out: either the outbreak follows the Asian pattern and subsides quite quickly, or it mimics the Italian explosion in cases. He said that as a doctor, it was most important for him to be ready to face the latter scenario.
He added that medics would be happier if Russia's outbreak followed the path of China's and ended in April or May.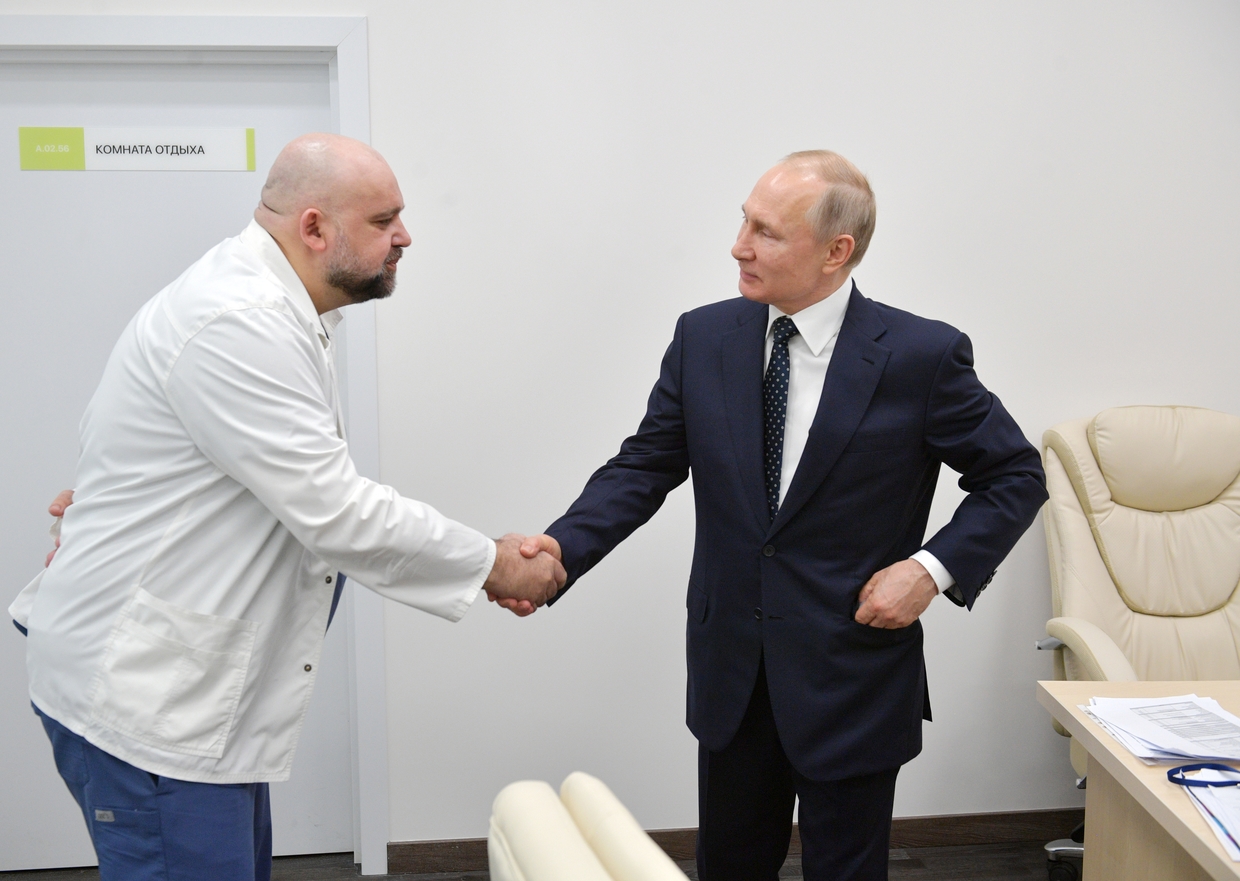 Russian President Vladimir Putin shakes hands with hospital's chief Denis Protsenko during his visit to the hospital for coronavirus patients © Sputnik / Alexey Druzhinin
By the end of this week, it is estimated that 13,000 Covid-19 tests will have been carried out in Moscow. Sobyanin said that Moscow will have 5,000 beds available for coronavirus patients within the next three or four weeks.
Protsenko told Putin that 70 people had been discharged from the hospital in the last 24 hours, with another 29 admitted.
As of March 24, Russia had recorded 495 confirmed cases of Covid-19 and no deaths. Also on rt.com Top Doctor at Moscow's leading disease hospital says current Covid-19 crisis will likely last SIX MONTHS