March 25th, 2020From the desk of Graham SummersPick Up Graham's Best-Selling Book Which Predicted The Crisis in 2017.T

Find Out What's Coming For the Fed and the Markets Here   Two Charts That Will Tell Us When THE Bottom Is InYesterday's action was positive, but we're not out of the woods by any stretch.Stocks roared higher with the Dow closing up 11% for its largest single day gain since 1933. Across the board, the buying was extremely strong with 90% of trading volume being up by end of the day.However, we are not out of the woods yet.As Bill King recently noted, throughout history there are two only two other instances in which stocks crashed this rapidly. Those are the crash of 1929 and the crash of 1987.Both of them featured a swift double-digit decline of over 20% in a matter of days.Both of them featured a MASSIVE two-day rally that saw stocks rise 20%.Both of them then saw stocks roll over to either retest the lows (1987) or fall to new lows (1929).———————————————————-  ————————

The crash of 1929 saw stocks lose 34% in the span of a few days before staging a massive two-day rally of 18%. Stocks then dropped to new lows.The crash of 1987 saw stocks fall 22% in a single day. They then staged a massive two-day rally of nearly 20% before falling to retest the lows.The point is that yesterday's massive bounce doesn't mean the lows are in. We are still in watch and wait mode for the markets.On that note, high yield credit spreads have broken out of their downtrend. However, they have MAJOR resistance right overhead. That HAS to be broken for this rally to have any legs.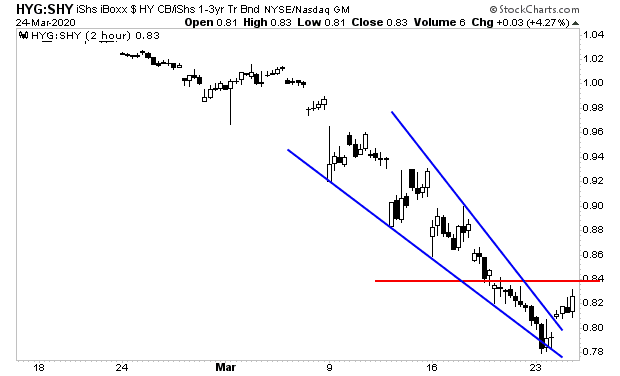 Investment grade credit spreads, which have lead credit during this bounce courtesy of the Fed announcing it will start buying investment grade corporate debt, have already slammed into resistance and rolled over.
My point with all of this is to NOT rush into stock right now. Do not worry about trying to catch a bottom or timing the exact low on the markets. You're much better off waiting for clear signals that the market has DEFINITIVELY bottomed and THEN start buying.Indeed, Private Wealth Advisorysubscribers continue to hold our CRASH trades to profit from the next leg down. I fully expect stocks will retest the lows in the next week or so.We've already locked in FIVE DOUBLE DIGIT winners during the last two weeks. And we'll be continuing our winning streak with these new positions.To find out what they are… and join us in turning this market volatility