URGENT: Iran Studying Possibility Of COVID-19 As Biological Warfare
Posted by friendsofsyria in Corona virus
Tags
Biological weapons, Coronavirus, COVID-19, Iran, USA
Iranian firefighters and municipality workers disinfect streets in the capital Tehran in a bid to halt the wild spread of coronavirus on March 13 2020. – Iranian forces will clear the streets nationwide within 24 hours and all citizens will be checked for the new coronavirus in a bid to halt its spread, the military said. (Photo by STR / AFP)
TEHRAN, Apr. 12 (MNA) – Head of Health Department of General Staff of the Armed Forces of the Islamic Republic of Iran said comprehensive studies are underway to address the possibility of biological warfare behind the COVID-19 outbreak in the country.
In an interview with Mehr News Agency, Second Brigadier General Hassan Araghizadeh said, "Every country is looking into the matter to see the likelihood of any biological warfare behind the issue."
"The Iranian scientific centers are also conducting researches in this regard, however, a definite decision needs more time and effort," he added.
General Araghizadeh noted that the armed forces are equipped with necessary skills and facilities to identify any biological threat in time and carry out treatment procedures, adding that special health sectors are dedicated to carrying out extensive research and taking the necessary measures in countering bioterrorism.
The Iranian armed forces have been playing an active role in combatting the new pandemic.
According to General Araghizadeh, 70% of the capacities of the Iranian armed forces' hospitals are dedicated to the treatment of coronavirus patients.
"We have also committed ourselves to provide about 10,000 beds for the patients recovering from the disease," he added.
The armed forces have also been active in disinfecting public places across the country.
The deadly coronavirus has infected over 1.7 million people and taken the lives of over 100,000 around the world since its outbreak in China's Wuhan in December.
Iran is one of the hard-hit countries with 70,029 infections and 4,357 deaths.
Rate this:
Rate This
Share this:
Related
In "Israeli Terrorist"
In "Corona virus"
In "Corona virus"
Post navigation
technofiend1: You are commenting using your WordPress.com account. ( Log Out / Change )
Notify me of new comments via email.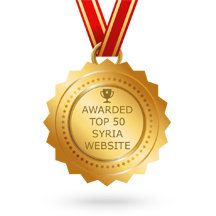 TRANSLATE TO YOUR LANGUAGE
I LOVE SYRIA
FOLLOW US ON TWITTER
FOLLOW BLOG VIA EMAIL
Enter your email address to follow this blog and receive notifications of new posts by email.
Join 35,339 other followers
Follow
RECENT POSTS
ARCHIVES
FOLLOW US
SYRIA
RSS – Commentshttps://widgets.wp.com/follow/index.html#href=friendsforsyria.com&lang=en&blog=22124963&show_follower_count=true
CATEGORIES
FOLLOW THE TRUTH