Skip to contentMenuBloombergSubscribeWorld
Virus Deaths Ease in Europe as Worst-Hit Countries Get Respite
By Laura Millan Lombrana and Iain Rogers19 April 2020, 13:03 BSTUpdated on
Germany takes first steps to re-open some retail spaces
Spain extends lockdown on concern over second infection wave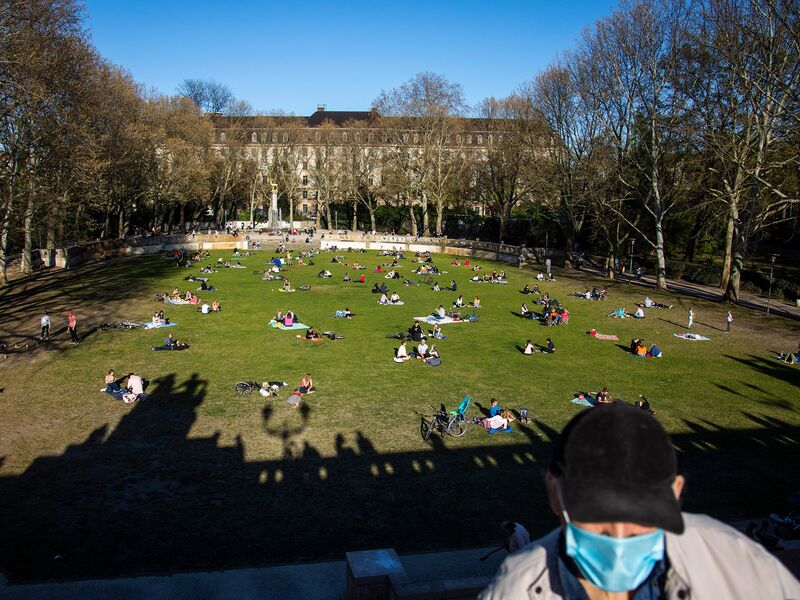 SHARE THIS ARTICLE
In this article
TELLBANK GREECE13.10EUR-0.08-0.61%
Sign up here for our daily coronavirus newsletter on what you need to know, and subscribe to our Covid-19 podcast for the latest news and analysis.
The coronavirus pandemic showed the first signs of easing in Europe as Italy, Spain and France, the region's hardest-hit countries, reported the smallest increases in fatalities in weeks and Germany prepared to jump-start commercial life again.
Coronavirus deaths in Spain rose by 410 to 20,453 on Sunday, the smallest one-day increase since March 22, according to the health ministry. Italy reported the fewest deaths in a week, with 433 deaths linked to the virus, while fatalities in France rose at the slowest pace in three weeks. Data in Germany and the U.K. also showed social-distancing measures taking hold.
Still, emerging from lockdowns isn't following a uniform pattern. Germany is allowing smaller stores, car dealerships, bike shops and book stores to reopen on Monday, and schools will begin readmitting some students in early May in the first few steps to normalcy. In Spain, by contrast, a lockdown that's been in place since mid-March could be extended well into May, Prime Minister Pedro Sanchez said, and Italy won't do any significant easing before May 4. French Prime Minister Edouard Philippe said the government is still working on its plan to re-open the country from its virus-induced hibernation on around May 11.https://www.bloomberg.com/graphics/2020-coronavirus-dash/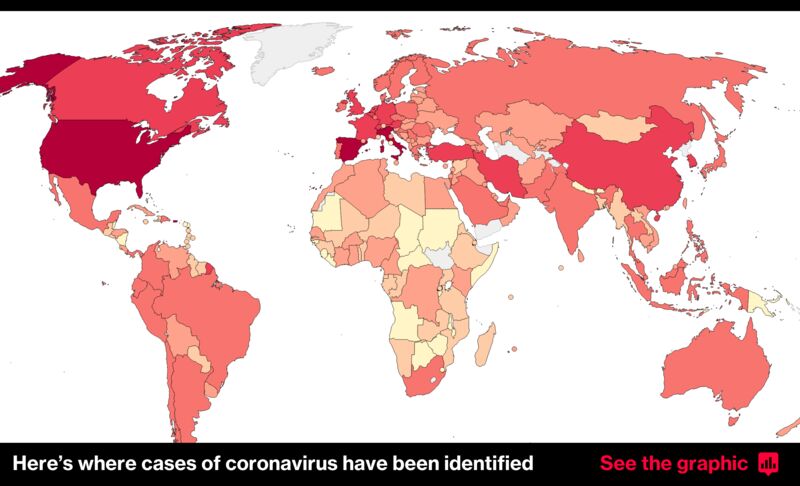 While the numbers reported in some of the worst affected countries, including Spain, Italy and the U.K. are encouraging, governments are wary of loosening restrictions too soon and too widely to avoid a second wave of mass infections. Spain is the second European country after Italy to report more than 20,000 deaths linked to the virus, out of a total of 195,944 people who have been infected.
"Spain has contained the brutal attack of the pandemic," Sanchez said in a nationally televised speech on Saturday. "The gains aren't enough yet, and they are fragile."
Across the border in Portugal, the daily increase in new confirmed coronavirus cases was also the lowest in a month. Compared with Spain, the government has shut down the economy to a lesser degree, with industrial and transport activities allowed to continue. The Netherlands reported 83 new deaths, marking the lowest daily increase since March 26.
Economic Fallout
France has also shown signs of a lockdown bearing fruit. The country reported total deaths of 19,718 . While the rate is slowing, France is close to becoming the fourth country to report more than 20,000 deaths from the virus, behind Italy, the U.S. and Spain.
"Our life, starting from May 11, won't be the life before the lockdown," Philippe said at a press conference. "Not immediately and probably not for a long time. But as we achieved the lockdown together, we will achieve the end of the lockdown together."
Managing the economic and social fallout from the lockdowns is becoming increasingly difficult for governments as the strain on businesses and workers intensifies. The coronavirus is likely to trigger the worst recession in the European Union's history, and some officials warned that slump could be worse than the 7.5% drop predicted for the region by the International Monetary Fund.
To bolster the response, European countries will need at least 500 billion euros ($544 billion) in additional funding in a second round of coronavirus relief, European Stability Mechanism Director General Klaus Regling told Corriere della Sera. That's on top of a 540 billion-euro package agreed by EU finance ministers earlier this month.
Bad Bank
Among steps being discussed is the creation of a so-called bad bank that would shoulder billions of euros in toxic assets from lenders' balance sheets, the Financial Times reported on Sunday, citing officials including Yannis Stournaras, the governor of the Bank of Greece and a member of the governing council of the European Central Bank.
The Italian government's next coronavirus rescue package will include "serious incentives for tourism companies," Minister of Culture Dario Franceschini said on Italian television on Saturday, noting that tourism accounts for about 13% of the economy. The government is also working on ways to help lower-income families afford vacations after the nationwide lockdown lifts, he said.
While the German initiative to re-open some retail space was welcomed, it only applies to outlets with 800 square meters (8,611 square feet) of space. That's frozen out many larger shopping centers and department stores, which complain the approach is arbitrary and penalizes bigger businesses. The government says smaller retailers have less of a buffer to make it through a longer-term hiatus.
U.K. Weighs Options
In Italy, some companies are also resuming activities tomorrow, including shipyards and a work space operated by luxury retailer Gucci near Florence. The U.K. is also examining a staged easing of the lockdown, with the hospitality industry that includes pubs and restaurants among the last to re-open, Cabinet Office Minister Michael Gove said on Sunday. Prime Minister Boris Johnson continues to recover from his covid-19 infection and is in "cheerful spirits," Gove told Sky in a separate interview.
The U.K. government said on April 16 that it would extend the country's lockdown by at least three more weeks. New cases rose by 5,850, figures released on Sunday showed, taking the total number of people who have tested positive to 120,067. Fatalities reached 16,060, an increase of 596, the fewest since April 6 and almost a third down from the number of deaths reported a day earlier.
— With assistance by Ross Larsen, Geraldine Amiel, Robert Hutton, Marco Bertacche, and Rudy Ruitenberg(Updates with statistics from France and Italy in second paragraph.)UP NEXT
Europe Faces 'Devilish Dilemma' Amid Signs Lockdowns Working
by TaboolaSponsored LinksFrom The WebShe pours half a liter of coke in the toilet and then this happensTips and TricksSeniors Over 50 Are Claiming This New BenefitThe Coverage Guru9 Jobs That Will Disappear in 2020WomanitelyU.K Households (With Smart Meters) Feel Ripped OffBillBuddyEconomics
Europe Faces 'Devilish Dilemma' Amid Signs Lockdowns Are Working
By Wout Vergauwen21 April 2020, 19:48 BST
Netherlands to start reopening schools, daycare from May 11
French intensive care patients fall to lowest level this month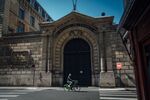 SHARE THIS ARTICLE
Sign up here for our daily coronavirus newsletter on what you need to know, and subscribe to our Covid-19 podcast for the latest news and analysis.
The Netherlands moved to begin easing restrictions after new coronavirus infections dropped, joining a host of other countries relaxing rigid lockdowns, while the number of patients in French intensive care due to the outbreak fell to the lowest in three weeks.
Dutch primary schools and daycare centers will start to reopen on May 11, Prime Minister Mark Rutte said on Tuesday, after the nation reported the fewest newest cases in almost a month. In France, the number of ICU patients fell for a 13th day to the lowest since March 30, adding to signs curbs are combating the spread of the virus.
Against that background, a widening range of governments are laying out plans for a gradual return to normality. Italy will present a blueprint this week to ease its lockdown, joining Germany, France and Austria in relaxing rules as coronavirus infection rates fall and pressure mounts to reopen businesses. With more than 100,000 fatalities in the region, Europe's leaders are seeking to strike a balance between saving lives and securing jobs.https://www.bloomberg.com/graphics/2020-coronavirus-dash/
"I say it outright, we are faced with devilish dilemmas," Rutte told reporters at a televised briefing in The Hague. "I have also struggled with that in recent days."
Within weeks, adolescents up to 18 years old will be allowed to resume group sports under certain conditions, Rutte said. Other schools and universities should prepare for "1.5 meter schools," he said.
Italy Resets
In Italy, Prime Minister Giuseppe Conte aims to roll out a detailed restart program beginning on May 4. On Tuesday, the nation reported an almost equal number of virus recoveries and infections for the first time.
"We must loosen restrictions," Conte told lawmakers in Italy's Senate. "We must do everything possible to preserve the industrial sector. The country's engines must restart."
Serbia eased one of Europe's strictest coronavirus lockdown regimes, allowing small businesses to reopen and relaxing a daily curfew that had kept most citizens indoors since mid-March. In Croatia, citizens can now move within their county of residence and Slovenia opened some businesses on Monday.
Stay Safe
Still, European Union governments must remain vigilant, EU Health Commissioner Stella Kyriakides said, urging caution in easing lockdowns. Quick, uncoordinated exits risk jeopardizing citizens and medical staff, she told members of the European Parliament's health committee.
In the U.K., a further 852 people have died in hospitals from coronavirus, authorities said Tuesday, a sharp increase from prior days, a reminder of lingering dangers.
"It isn't clear there is an enormous downturn at this point," Deputy Chief Medical Officer Jonathan Van-Tam said. "We remain in a situation of danger that we must take very seriously indeed."
Beer Festival
Because of contagion risks, Munich canceled its famed Oktoberfest for the first time since World War II on Tuesday, and Spain won't hold the traditional running-of-the-bulls festival in Pamplona in July.
Irish authorities banned gatherings of more than 5,000 people until at least the end of August even after new cases fell to the lowest since April 8. In the Netherlands, a ban on mass events, including professional football and music festivals, was extended by three months until Sept. 1. Bars, restaurants and barber shops, will stay closed until at least May 19.
"The freedom of one person can't come at the expense of another," Rutte said, adding that "the corona-crisis is probably one of the biggest, most fundamental, most threatening periods in our lifetimes."
— With assistance by Rudy Ruitenberg, John Follain, Fred Pals, and Joe MayesTerms of ServiceManage cookiesTrademarksPrivacy Policy©2020 Bloomberg L.P. All Rights ReservedCareersMade in NYCAdvertiseAd ChoicesContact UsHelp