Where to store the stuff?
US crude price turns negative AGAIN after briefly trading above zero
21 Apr, 2020 07:37 / Updated 2 hours ago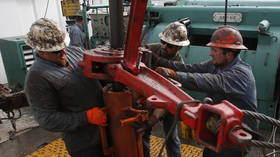 Roughnecks wrestle pipe on a True Company oil drilling rig outside Watford, North Dakota, US. © Reuters / Jim Urquhart
Follow RT onThe price for a barrel of US crude West Texas Intermediate (WTI) continued its downward spiral on Tuesday following Monday's historic crash, which saw prices enter negative territory for the first time ever.
WTI plummeted below zero again after popping up briefly to over $1 per barrel earlier on Tuesday. US crude is trying to recover from Monday's shocking losses, when prices fell as low as -$37.63 per barrel.
The US benchmark was trading at -$3.43 a barrel as of 9:30am GMT.
"What the negative price means is that sellers of oil are actually willing to pay buyers to take delivery of their oil," Peter C. Earle, research fellow at the American Institute for Economic Research, told RT. "Storage is virtually nonexistent, and both the United States and much of the world is now, possibly for the first time in history, oversupplied."'ALSO ON RT.COMWhy did the oil market crash into negative? RT's Max Keiser gives his take on record-low crude prices & broken banking system
The unprecedented price collapse comes as the Covid-19 pandemic keeps people at home and destroys demand for transportation fuel, which has led to an overload at oil storage facilities. The main US storage hub in Cushing, Oklahoma (the delivery point for US WTI contracts) is now expected to be full within a matter of weeks.
According to analysts polled by Reuters, US crude inventories were expected to rise by about 16.1 million barrels in the week to April 17 after posting the biggest one-week build in history.
Adding to global oversupply, a record amount of oil – some 160 million barrels – is being held on tankers at sea, while traders struggle to find onshore storage space.
The International Energy Agency has warned in its monthly oil report that demand in April could be 29 million barrels per day lower than a year ago, hitting a level last seen in 1995. ALSO ON RT.COMIt's a storage problem, not a market problem that is driving down oil prices to historic lows
"Even as OPEC++ oil production cuts are set to kick in May 1, and supply and inventories should tighten significantly in 2H'20, the next 4-6 weeks are seeing severe storage distress, likely to drive wild price realizations and unusual disconnects, including super contango and negative prices," Citi analysts wrote in a note to clients seen by CNBC.
Traders are preparing for Tuesday's expiry of the contract for delivery in May. Contract expiry is traditionally associated with lower than usual trading and more extreme market moves.
Global benchmark Brent also fell sharply, trading more than 14 percent lower at around $22 per barrel.
For more stories on economy & finance visit RT's business section
Trends:Oil newsUS newsFOLLOW RT ON TWITTERby TaboolaPromoted LinksYou May LikeThe Top Divorce Lawyers in Potterne – See The Full List!Divorce Attorneys | Search AdsNot so scary! Russian model says if Covid-19 wipes out half of humanity, the planet will benefitHuge Numbers Of Homeowners Are Unlocking Tax-Free Cash From Their Home – Find Out WhySave Money ExpertRussia seeks to 'create conditions so that NOBODY wants to fight us' – PutinThe best electricians In Wiltshire that you can hireElectrician | Search AdsDon't make me repeat myself again! Soros threatens Zuckerberg must be removed from Facebook 'one way or another'FROM OUR PARTNERSNew Footage Shows Chinese Soldiers Firing Next-Generation Assault Rifle California city dumps 37 tons of sand into a skate park to prevent kidsTrump is fixing the most scandalous event in U.S. policy
Subscribe to RT newsletter to get stories the mainstream media won't tell youSubscribePodcastsAll podcasts
RT News App
© Autonomous Nonprofit Organization "TV-Novosti", 2005–2020. All rights reserved.