Fish and chip shops refuse to be battered by lockdown
Sarah Butler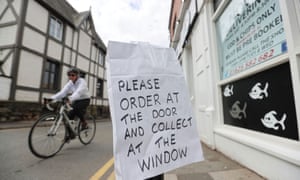 About 70% of the country's 10,500 fish and chips shops have reopened as owners find new ways of doing business under lockdown.
Six weeks ago 80% closed their doors as they moved to protect staff and customers from the spread of coronavirus, according to the National Fish Fryers Federation.
But now chippies are using innovative ideas such as online or app-based ordering systems which give customers a time slot to pick up their freshly-fried dinners and help maintain physical distancing.
Kalyeena Makortoff
Virgin Money is delaying its company wide rebrand– which will involve snuffing out the Clydesdale and Yorkshire bank names – due to Covid-19.
But the bank's chief executive insisted the project has not been derailed due bad press linked to Richard Branson's poorly-received attempts to tap government rescue money to save his Virgin Atlantic airline.
David Duffy told journalists:
"Effectively we are continuing with the implementation of the our rebranding. We think it's a great consumer brand and we're delivering for our customers in a really customer-oriented way, which is in the DNA of that brand. So absolutely no changes to make in terms of that.
And all airlines I think are suffering from the same level of difficulty, so I'm not concerned about that."
The bank currently pays around £11-12m per year in license fees to use the Virgin name. However, Virgin Money's CFO Ian Smith said there were "various provisions on both sides for amending that as necessary."
The comments came as Virgin Money reported a 97% fall in statutory pre-tax profit in the first half of the year, pushing it to a £7m loss compared to a £274m profit a year earlier. The slump was driven by loan loss provisions worth more than £230m, the bulk of which was linked to Covid-19.
The Covid-19 lockdown has knocked the wind out of the building industry, warns Duncan Brock of the Chartered Institute of Procurement & Supply.
He fears it will take many years to recover:
"Only a few civil engineering and infrastructure projects were able to continue in April, but a tentative restart is expected in other areas such as house building and commercial construction in the short-term. As new plans from policymakers are developed over social distancing, building work may continue but not as we know it as restrictions and new safety rules are likely to make progress more difficult.
For a sector still not fully recovered from the skills shortages created by the financial crisis in 2008, the vacuum of output created by the pandemic has knocked the sector back another decade."