BREAKING NEWS
Navigate@Avalon.red
Unions threaten to close Tube network as Londoners packed on trains
0BY LLB REPORTER AT 2:42 PM MAY 11, 2020BUSINESS NEWS, CORONAVIRUS, LONDON NEWS, LONDON TRANSPORT, POLITICS
Pictures have emerged on social media on Monday showing packed Tubes across London and Unions are threatening to close the entire network.
Militant unions will paralyse London as they say this is their solution in solving packed and overcrowded trains, as they refuse to put more trains across the Tube network.Krissie @Kiranyek
Awful these ppl having to risk their lives and lives of their family #shame on @BorisJohnson who feels he doesn't need to be questioned by ANYONE #JohnsonHasFailed https://twitter.com/SkyNews/status/1259773505337425921 …SkyNews✔@SkyNewsCommuters can be seen piling onto tube trains a day after Boris Johnson said those who are unable to work from home should now be "actively encouraged" to go to work from Wednesday.

More on easing the #COVID19 lockdown here: https://trib.al/VCM947c 147Twitter Ads information and privacy101 people are talking about this
On Sunday evening after the Prime Minister's very vague message to Brits to return to work, the Rail, Maritime and Transport union (RMT) told their members not to work if they feel unsafe.
There are many disturbing photos showing people sitting next to each other on packed Tube trains, and very few are wearing face masks.
The government have advised people to "wear a face covering in enclosed spaces" where "social distancing is not possible."Aamer Anwar✔@AamerAnwar
London roads & Tubes this morning as workers return to work in England following that 'speech' by @BorisJohnson #SocialDistancing impossible

2nd wave of #COVID19 inevitable thanks to sheer incompetence of @10DowningStreet #highestdeathrateinEurope #thanksboris #StayHome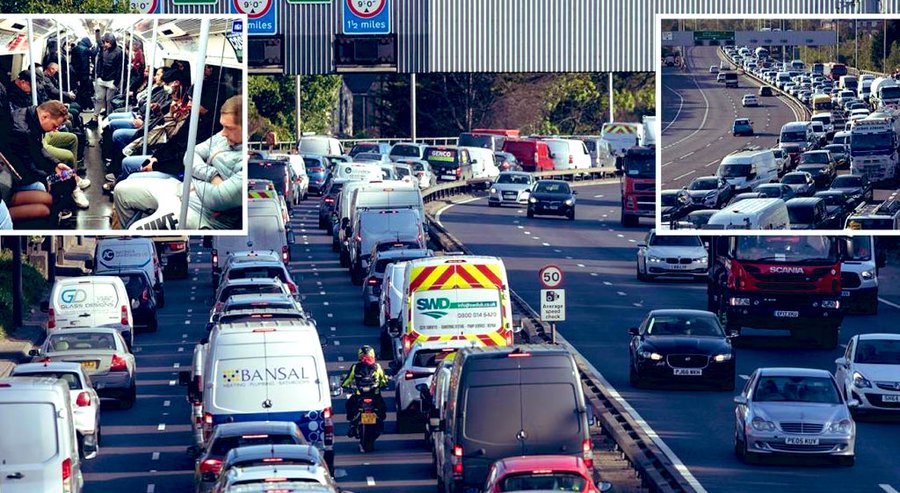 1,674Twitter Ads information and privacy1,289 people are talking about this
There is outrage as there is a lack of safety measures on the Tubes, with no social distancing in place, leaving many commuters "nervous" and "concerned" for their safety.
A commuter took to Twitter and said, "Oh my word. Train is packed with construction workers and NOBODY is wearing a mask and NO social distancing as if theres no danger."
RELATED POSTS
by TaboolaPromoted LinksYou May LikeCloud Storage In The U.K – The Cost May Surprise YouCloud Storage | Search AdsWorkers not allowed to be at work 'until Wednesday' says RaabThis Discovery Off The Californian Coast Has Scared ScientistsAffluent TimesGovernment confirms you can meet your family outside your homeElephant herd does this after men rescue its drowning babyBright StoryReopening schools 'nothing short of reckless' say unionsElectricity Providers – Which one is better? Compare them nowElectricity and Gas | Search AdsOnly 9% of coronavirus deaths reported in working populationMeet gorgeous mature women in BramptonSenior Dating | Search AdsOnly 12% want UK to prioritise economic growth over wellbeing
ABOUTLondonlovesBusinessLondonlovesBusiness.com is the online newspaper for London's business community.
VISIT OUR PROPERTY SITELondonlovesPropertyLondonlovesProperty is the go-to source of news for residential, commercial and investor opportunities in London and the South East
Copyright © 2020 Londonlovesbusiness.comCloud Storage In The U.K – The Cost May Surprise YouCloud Storage | Search Ads|SponsoredThis Discovery Off The Californian Coast Has Scared ScientistsAffluent Times|SponsoredElephant herd does this after men rescue its drowning babyBright Story|Sponsored