Coronavirus: Coast roads 'gridlocked' by cars 'from all over country' as thousands enjoy hottest day of year
Police in Devon said they were "running out of tickets" as they urged members of the public not to abandon their cars on roads.
By Chris Robertson, News reporter @_ChrisRobertson
Wednesday 20 May 2020 23:38, UK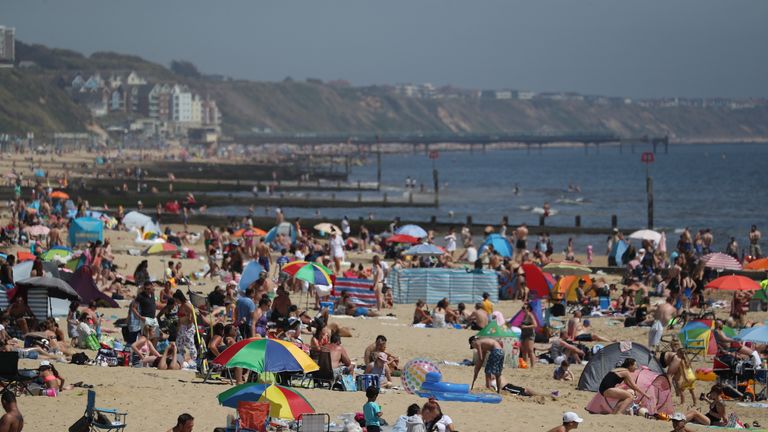 Britain's hottest day of the year so far has led to many people flouting social distancing rules to hit the beach – with some coastal roads left "gridlocked".
The mercury climbed to 27.8C (82F) near Heathrow Airport, as sunbathers across England enjoyed new found-freedom following the easing of COVID-19 lockdown restrictions.
London's St James's Park had recorded a high of 26.2C (79F) on Tuesday – beating 2020's previous top of 26C (78.8F) set last month.
Balmy conditions have tested the nation's resolve in maintaining social distancing in parks and open spaces.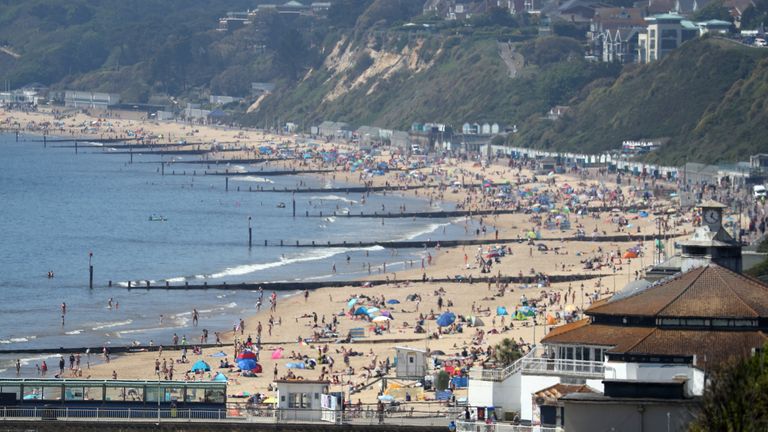 On the north Devon coast, police said roads to the area's beaches were "gridlocked" despite pleas to the public from councils who advise against travelling to the south west of England.Advertisementhttps://tpc.googlesyndication.com/safeframe/1-0-37/html/container.html?n=0
Officers in Ilfracombe and Braunton said they had identified vehicles from "all over the country" in the local area, where toilets and other amenities remain closed.
"Roads towards the north Devon coast are now gridlocked," officers tweeted.
More from Weather
Image:Sunbathers in Weston-super-Mare queue up for ice creams on the hottest day of the year
"We have vehicles from all over the country identified, please do not travel here.
"We will still be here when this is over so come back when it's safe to do so."
One officer said "valuable resources" were being used to police traffic, adding that elderly people in the area would be "very anxious over the selfish actions of these individuals".
Police in Barnstaple said they were "running out of tickets" as they urged members of the public not to abandon their cars, while a road policing unit said that double yellow lines from Woolacombe to Morthoe were "covered with cars and vans".
"Cars mounting pavements to get by whilst pedestrians try to cross the road," police tweeted.
"All the offences have been recorded and will be processed in due course."
Other coastal areas that saw an increase in visitors included Sussex and Dorset.Image:Other areas in the UK were seen to be much quieter
A slight easing of restrictions in England means people can drive to beaches and countryside beauty spots, where they are allowed to picnic, sunbathe and relax.
Weather conditions are expected to become more unsettled on Thursday, with the risk of thunderstorms in the east and south-east of England as a band of rain pushes eastwards.

MORE NEWS BEER WE GO! 
Brits sneak back to the pub as crafty landlords serve takeaway pints to thirsty punters in lockdown loophole
20 May 2020, 20:19
Updated: 21 May 2020, 9:29
THIRSTY Brits are back on the booze after crafty pub owners exposed a lockdown loophole to serve punters.
Bars across the UK are taking advantage of an easing in the rules which allows them to serve drinks in takeaway glasses and bottles.
Queues were seen outside one bar in Bournemouth selling takeaway boozeCredit: w8media
The move, and sizzling temperatures, led to thousands of Brits doing what they love most – enjoying a cheeky drink with their mates.
Pictures posted on social media show people downing their first drinks from their locals since 47,000 pubs and bars were closed on March 20.
Other pictures featured couples sharing drinks in the sunshine and drinkers supping from plastic pub glasses in back gardens.
And queues were seen forming outside one bar in Bournemouth selling takeaway booze.Pubs and bars closed their doors nearly two months agoCredit: w8mediaMany jumped at the chance to have a few drinks with their matesCredit: w8mediaCredit: TwitterCredit: Facebook
One photo showed a punter showing off his pint outside the Old King's Head in Shoreditch, London as temperatures topped 82F.
Fred Johnson posted a photo with the words: "Local pub doing takeaway. First drink out since lockdown."
While Fraser Coleman wrote: "Stuck in the garden with a takeaway beer from the Duke of Wellington."
The pictures emerged as ministers raised the prospect that pub restrictions could be eased in July allowing some to reopen for summer.
George Eustice, the environment secretary, said the government was in discussions with the industry to see what measures may be possible to allow them to reopen.Actor Laurence Fox was spotted enjoying a takeaway pint in Primrose Hill, LondonCredit: FacebookCredit: Twitter
However, any opening will be limited at first to those larger venues with plenty of outside space.
"We are already working with the hospitality and pub sector to identify what social distancing measures they might be able to put in place to make that work," revealed Mr Eustice.
"As the prime minister has outlined, we intend that the hospitality sector, including pubs, would be able to tentatively start gradually opening, hopefully during the month of July — subject to the epidemiology supporting such a move."
On Monday pub operators called on the government to halve the two-metre social distancing rule ahead of pub re-openings.
MOST READ IN NEWS
KNIFE RAMPAGE–'Loving' mum, 32, stabbed to death and hero seriously hurt trying to save her
FRYING SQUAD–Cop banned from police for life for stealing 7 fry-ups in first week of job
Simon Emeny, the chief executive of Fuller's, said the rules went "above and beyond" World Heath Organisation guidelines which advise people "maintain at least one-metre distance".
"I think it's really important that (rules) are relaxed by the time pubs reopen," he said, adding that a one-metre rule would allow four times as many customers.
And Jonathan Neame, chief executive of Shepherd Neame, told The Financial Times keeping two metres apart would be "profoundly challenging" to the industry.At first glance it could have been a normal sunny dayCredit: w8mediaTens of thousands of pubs have been shut since March 20Credit: Rex FeaturesSun visits Betsey Wynne pub to find out what a socially distanced pint could look likeTOPICS