Haftar and Turkey Trade Threats as Libya's War Risks Escalation
By Samer Al-Atrush, Selcan Hacaoglu, and Firat KozokUpdated on
Haftar airforce chief said Turkish sites 'legitimate' targets
Tripoli government says Haftar received jets from Russia base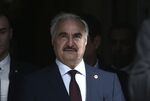 Libyan military commander Khalifa Haftar raised the prospect of a dangerous new escalation in the North African country's war with a threat to target Turkish forces backing the internationally recognized government, prompting Ankara to warn it would retaliate.
The chief of Haftar's airforce, Saqr Al-Jaroushi, vowed to unleash the "largest aerial campaign in Libyan history" with all Turkish positions now "legitimate targets for our airforce." The comments, first made in a statement he later confirmed to Bloomberg, came as the head of security in the Tripoli administration said officials received information that several Soviet-era jets had arrived in Haftar's eastern stronghold from a Russian base in Syria.
Haftar has been stung by defeats over the past week at the hands of the Tripoli government, effectively foiling his yearlong offensive to capture the capital. The strongman's self-styled Libyan National Army, that's backed by Egypt, the United Arab Emirates and Russian mercenaries, was dislodged from a key airbase on Monday and is encircled in one of its few remaining bastions in the country's west.
International concerns have grown as Libya's conflict drew in regional powers, tipping the country ever deeper into a proxy battle that's collapsed peace efforts to heal the country's rifts and shuttered 90% of oil production in the OPEC member state. The possibility of an all-out military confrontation with Turkey will set alarm bells ringing.
What's Behind Nine Years of Turmoil in Libya: QuickTake
Ibrahim Kalin, spokesman for President Recep Tayyip Erdogan, warned Turkey would respond to any attack in the "strongest way." A senior Turkish official said the country's military was well prepared to defend its sites and areas under its protection using Turkish drones and warships deployed near Tripoli.
Turkey has also sent surface-to-air missile defense systems to Libya that have given it an edge over armed drones operated by the UAE, Western and Libyan officials have told Bloomberg. An aerial campaign by Haftar's forces would first have to neutralize air defenses that had effectively ended strikes on the capital since January.
Haftar's forces had made inroads into the capital's suburbs and seemed poised to enter Tripoli before Turkey escalated its intervention at the start of the year, including sending in thousands of Syrian militiamen.
Syrian Base
The setbacks for Haftar were accompanied by a Turkish armed drone campaign that targeted Russian-made Pantsir air-defense systems. One of the batteries was captured intact and paraded in Tripoli on Wednesday.
Haftar's foreign backers aren't going to accept defeat and would look to dig in, a senior Arab official with direct knowledge of the campaign said. Earlier this week, the United Nations acting Libya envoy Stephanie Williams warned of a possible escalation in the war for control of the country, which has seen a series of conflicts since a 2011 revolt ousted dictator Muammar al-Qaddafi.

Fathi Bashagha, the security chief in Tripoli, said at least six MiG 29s and two Sukhoi 24s had flown into the east from the Russian-controlled Hmeimim Air Base in Syria, escorted by two SU-35 Russian airforce jets. It wasn't clear whether those were refurbished jets that had belonged to Haftar's airforce or additions to his fleet.
"The Russians will need to show that they are willing to enter a direct confrontation with the Turks in Libya," said Wolfram Lacher, a Libya expert with the German SWP research center. That didn't necessarily mean a surge in fighting, he said.
"If the Turks believe they are serious about this and can take out air defenses, then I think we're in a situation where the two can again launch a cease-fire."
Turkey and Russia both pressed their local clients in January to sign a truce, but while the Tripoli-based government signed on, Haftar walked out of the meeting in Moscow. After this week's losses, his forces pressed for a pause in fighting and said they'd withdraw from the frontlines in Tripoli, an offer rejected by the now-emboldened government.
"It's hanging in the balance," Lacher said.
---
TURKEY WADES INTO LIBYA'S TROUBLED WATERS
An old man holds flags of Turkey and Libya during a demonstration against eastern military commander Khalifa Haftar, who is based in the east of the country, and in support of the UN-recognised government of national accord (GNA) in Tripoli. Hazem Turkia / Anadolu Agency via AFPREPORT 257 / EUROPE & CENTRAL ASIA 30 APRIL 2020
Turkey Wades into Libya's Troubled Waters
Turkish intervention in Libya's war stopped the besieged Tripoli government from collapsing. But fighting with Field Marshal Khalifa Haftar's forces has since escalated, threatening a protracted conflict. Both Ankara and Haftar's regional backers should urge their allies toward a return to negotiations and a ceasefire.
ALSO AVAILABLE IN
What's new? In January, Turkey stepped up military support to Libya's UN-backed government of Prime Minister Faiez Serraj, stalling an offensive by forces allied with Field Marshal Khalifa Haftar. Its foray, underpinned by its own strategic, political and economic interests, has further complicated the already multi-layered Libyan crisis.
Why does it matter? Turkey's intervention has neither de-escalated the conflict nor yielded productive negotiations between rival political and military factions. It has instead exposed a different risk: the more outside actors provide military hardware and fighters to their respective Libyan allies, the longer the conflict may last and the deadlier it may become.
What should be done? As Turkey's intervention appears not to be producing a ceasefire or a return to negotiations, and since no outside actor is likely to back out unilaterally, Ankara should engage with other external players involved in the conflict to explore potential compromises regarding their respective interests in Libya and beyond.
Executive Summary
By intervening militarily in the Libyan conflict in January, Turkey helped forces aligned with the UN-backed Tripoli government of Prime Minister Faiez Serraj stand their ground against an offensive by a coalition headed by Field Marshal Khalifa Haftar. From Ankara's perspective, supporting the Tripoli government is necessary to confront an arc of inimical forces bent on containing Turkey's strategic and economic influence in the Mediterranean and broader Middle East. Haftar's foreign backers likewise see Libya as a key geopolitical battleground and have shown no hesitation to escalate. While Ankara deems its intervention worthwhile as long as it prevents Tripoli's takeover, the costs may rise if as a result the conflict becomes more prolonged and deadly. It therefore should be in Turkey's and Haftar's external supporters' interest to explore areas of mutual accommodation, work toward a ceasefire, and find ways to bring their respective Libyan allies around the table to pursue a compromise that would also meet some of their own core needs.
After six months of stalemated war in the Tripoli outskirts, Haftar-aligned forces started to slowly advance toward the city centre in November 2019 in a push to remove the Serraj government and disarm forces allied with it. Alarmed by this development, officials in Ankara calculated that, by balancing Haftar's military power on the ground, they could create conditions for a ceasefire and negotiated political solution to the Libyan crisis. Starting in January, Turkey reportedly sent around 100 officers and at least 2,000 allied Syrian opposition fighters to Libya, as well as aerial defence and other weapon systems. Ankara's actions in Libya are also motivated by larger goals.
Ankara's actions in Libya are also motivated by larger goals. From Turkey's perspective, Libya intersects with two hostile axes that Ankara must confront. The first is a perceived campaign by the United Arab Emirates (UAE) and Egypt (and to a lesser extent Saudi Arabia) to contain Turkish influence across the Middle East and North Africa. The second is what Turkey sees as an effort by Greece and Cyprus (and, by extension, the EU), as well as Israel, to box it into a small corner of the Mediterranean Sea and thus exclude it from hydrocarbon projects that could also be geopolitically significant. From Ankara's perspective, its Libya policy is closely intertwined with its desire to break through such imposed barriers.
Turkey is not alone, of course, in viewing Libya through the prism of strategic interests. In doing so, it joins a host of other countries – including the UAE, Egypt, and Russia, which are backing Haftar, and Qatar, which backs the Tripoli government.
Publicly, Western countries have criticised Turkish actions, including its violation of the UN arms embargo on Libya. But the same Western governments (with the exception of France) have also expressed tacit sympathy. They, too, want to prevent the Serraj government's collapse. And they, too, hope that Turkey's direct involvement to bolster the government will first stop Haftar's offensive and then compel him to negotiate. Diplomatic initiatives in January, in Moscow and then in Berlin, provided a glimmer of hope that negotiations would indeed begin, but these initiatives faltered, and the resignation of UN Special Representative to Libya Ghassan Salamé further undermined chances of reviving them.
Turkish intervention slowed the advance of Haftar's forces, allowing the Tripoli government's forces to regain some of the territory they lost when the war broke out in April 2019. But it did not halt the war. Haftar's coalition condemned Ankara's actions and recast its own efforts as a war against what it terms "the Turkish occupation". It intensified artillery attacks on Tripoli's port and airport, on the grounds that Turkish officers have been using these sites. At least two Turkish army officers and several dozen pro-Turkey Syrian fighters have been killed, although exact numbers are not available. Meanwhile, pro-government forces lost Sirte, the site of a military base in central Libya that has become an important staging ground for Haftar's forces. Finally, and crucially, Haftar-allied tribal groups shut down the country's oil production and all hydrocarbon exports in January, saying they did not want to see Libya's oil revenues used to pay for Turkish and Turkey-backed forces. This shutdown has cut off the funds that were keeping the Tripoli government afloat. By intervening, Turkey has further enmeshed itself in an escalating conflict with a complex mix of players and stakeholders.
By intervening, Turkey has further enmeshed itself in an escalating conflict with a complex mix of players and stakeholders. As Ankara's allies in Tripoli attempt counterattacks against pro-Haftar strongholds in other parts of the country, Turkey risks being dragged into a war well beyond what it originally signed up for. Further escalation is a distinct risk and could both backfire for Turkey and come at the expense of Libyans at large.
Neither Turkey nor any of Haftar's foreign backers is likely to make one-sided concessions. The choice is between further escalation and a search for mutual accommodation that paves the way for peace among their Libyan allies while meeting as much as possible their own interests. They should pick the latter.
Ankara/Tripoli/Brussels, 30 April 2020
Turkey's Gamble in Libya
By intervening in Libya, Turkey hopes to reset the balance on the ground. But now that Ankara has come out in the open in terms of support, it raises a number of questions. Claudia Gazzini addresses them in this interview.CRISISGROUP
I.Introduction
Turkey's 2 January 2020 decision to intervene openly in Libya to support the UN-recognised, Tripoli-based Government of National Accord (GNA) of Prime Minister Faiez Serraj did not come out of the blue. Turkey had covertly been providing armoured personnel carriers and drones to the government since April 2019, when Field Marshal Khalifa Haftar launched his offensive on the Libyan capital. In November 2019, it signed two security and maritime memoranda of understanding with Tripoli. By moving to open military support, Turkey raised the level of its involvement in the Libyan crisis significantly in an effort to slow the advance of Haftar's military coalition, the Arab-Libyan Armed Forces. Authorities in Tripoli welcomed Turkey's military support as a "life jacket" that has saved them from drowning.
Since January, Ankara has deployed at least one hundred Turkish military officers to help the Serraj government coordinate its war efforts, and transferred shiploads of weapons, military equipment and aerial defences to Tripoli and nearby Misrata. It has used its warships stationed off the Libyan coast as launching pads for missile strikes against Haftar's forces and sent its jets flying through Libyan skies. And it has deployed a contingent of at least 2,000 fighters of the Syrian National Army, a Turkish-backed Syrian rebel group, to support militias loyal to the Tripoli government. If the conflict escalates further, Turkey risks overstretch.
If the conflict escalates further, Turkey risks overstretch. It is simultaneously militarily involved in northern Syria against the People's Protection Units (YPG) – which is linked to the Kurdistan Workers' Party (PKK) – as well as against Russian-backed Syrian government forces.
Turkey is not the first foreign power to intervene in the Libyan conflict, which has already killed over 2,000 people since April 2019, but it is the first to do so openly. Turkey's sometime partner Russia has covertly supported Haftar, as have the United Arab Emirates (UAE) and Egypt, Turkey's foes. These countries are backing Haftar mainly to achieve long-term strategic objectives that transcend Libya. For Haftar's backers in the Gulf, these aims include curbing the role of the Muslim Brotherhood and other Islamist groups that they classify as terrorist. They also include support for like-minded governments that take a firm hand in suppressing Islamist opposition movements. For Russia, they mean establishing itself as a powerful regional player, pushing back against the tumult caused by the 2011 Arab uprisings and getting economic rewards for its trouble. Conversely, for other backers of the anti-Haftar camp, such as Qatar, these goals entail preventing the fall of the Tripoli government and the consequent emergence of a new power structure allied with Doha's regional foes. Turkey's military intervention and deployment of Syrian fighters to Libya has had the short-term result of bolstering government forces in the capital, but that there is no end in sight for the military escalation.
This report lays out Turkey's motivations for militarily backing the Libyan government against the Haftar-led offensive and analyses that support's effects on both the battlefield and the diplomatic front, assessing prospects for de-escalation. It argues that Turkey's military intervention and deployment of Syrian fighters to Libya has had the short-term result of bolstering government forces in the capital, but that there is no end in sight for the military escalation. The report is based on dozens of interviews with Turkish and Libyan officials and experts, as well as representatives of Western and Arab governments.
II.The View from Ankara: Why Turkey Intervened in Libya
When Turkey decided to intervene in the Libyan conflict, its leadership claimed that the main purpose was to rebalance the situation on the ground and force Haftar to the negotiating table. Yet Ankara's objectives in protecting the Serraj government are also part and parcel of its broader aspirations to safeguard its geopolitical interests in the eastern Mediterranean Sea and preserve a sphere of influence in North Africa. Turkey also has vested economic interests in maintaining an ally in Tripoli.
A.Protecting the Tripoli Government
Ankara's decision to intervene in Libya came after slowly advancing Haftar forces, backed by UAE weaponry and Russian private military contractors, started to seriously threaten the Tripoli government's survival by November 2019. Ankara's covert support of the government since the outbreak of hostilities in April 2019 was not enough to turn the tide. Officials in Ankara say it was these "realities on the ground" and the Serraj government's official request for help that led to their decision to intervene. It appears that Turkey and the Serraj government agreed on the formal request to ensure legal cover for Turkish aid. Once Turkey guaranteed it would intervene, Serraj issued the request for help to not just Turkey but four other states as well.
Domestically, President Recep Tayyip Erdoğan relied on two complementary narratives to justify Turkey's intervention in defence of the Tripoli government. One concerns Ottoman imperial history and what are ostensibly hundreds of thousands of Libyans of Ottoman ancestry, by now completely Arabised, whom the president vowed to defend. The other is about legitimacy. Erdoğan has described Haftar as "a putschist" and termed his attack on Tripoli "a coup attempt", backed by various foreign powers hostile to Turkey. In enumerating those powers, Erdoğan has pointed the finger primarily at Egypt and the UAE, but also at Israel, Russia, Saudi Arabia and France.
Ankara officialdom also argues that the Libyan public, including even the public and officials in Haftar-controlled eastern Libya, supports Turkey's military action and opposes Haftar. A senior Turkish official said:
Libyans see that Turkey is their only friend. There are MPs in the east who tell us privately: 'Don't just save the west [of Libya], save us in the east also from Haftar's persecution; we are compelled to publicly appear to support him, but we do not'.
Most importantly, Turkish officials emphasise that their actions in Libya are legitimate and in full compliance with international law. Turkey's special adviser to Libya, Emrullah İşler, explained: "We foresaw there would be criticism [from abroad] of our intervention, so our president told us, 'we will only go to Libya if we are invited'". Prime Minister Serraj made the request on 20 December, calling on the U.S., UK, Italy, Algeria and Turkey, all of which had previously supplied security and anti-terrorism assistance to the Tripoli government, to help fight "foreign mercenaries, armed groups and formations who refuse to recognise the legitimacy of the state, and threaten security and peace in defiance of state sovereignty". Soon afterward, Turkey formalised its military support to Tripoli: on 21 December, the Turkish parliament approved a security cooperation memorandum of understanding that Erdoğan and Serraj had signed on 27 November. On 30 December, Erdoğan sent a request to parliament to approve sending Turkish armed forces to Libya for a period of one year, which the legislators passed on 2 January.
Ankara argues that, since Turkey responded to an invitation, its support for Tripoli does not constitute an illegal external intervention, thus sidestepping the fact that its supply of weapons and military equipment to the Tripoli government, covert or overt, violates the UN arms embargo. Ankara officials say Turkey is merely bolstering the defensive power of Libya's UN-recognised government, which has the right to self-defence but lacks the capacity. In addition, Erdoğan has frequently underlined the legitimacy of Turkey's intervention, compared to that of others.
Officials in Ankara also lament what they term the hypocrisy of other international actors, such as Russia, the UAE, Egypt and France, which officially recognise the Serraj government but provide military aid and thereby indirect legitimacy to the Haftar camp. As a foreign ministry official put it, "if they support an armed attack against the GNA [the government in Tripoli], they should at least officially announce that they no longer recognise the GNA's authority".
Turkish officials also decry as two-faced the positions of Brussels and Washington, which claim to promote democracy and rule of law in the world but are ambivalent about an armed attempt to overthrow Libya's political leadership. They contend that this stance will discredit the West in the eyes of Arab societies. Others in Ankara are convinced that the UAE has been spreading propaganda, accusing Turkey of supporting political and militant Islamists against secular forces, charges that they fear Europeans accept uncritically. Turkish officials also express frustration at Europeans who, they say, without specifying which country, are mistakenly convinced that Haftar can establish strong rule and thus curb migration flows, which they claim is all Europeans care about. Turkey viewed the EU's launch of a naval mission, Operation Irini, to monitor the UN arms embargo as unfair, because the EU will not be monitoring land or air delivery routes, which are used by Haftar's backers, whereas Turkey delivers weapons mainly by sea. Accusations that oil interests are at the core of Western positioning are also rampant in Ankara. As one official put it: "Russia is totally interest-driven. So is the U.S. Trump called Haftar right after 4 April. Why? Because of oil interests. Turkey, on the other hand, is not hypocritical and will end up on the right side of history". Ankara believes that Turkey's military support to Tripoli will convince Haftar that he cannot count on military victory.
Ultimately, Ankara believes that Turkey's military support to Tripoli, by balancing out the forces on the ground, will convince Haftar that he cannot count on military victory and, as a result, will have to accept a negotiated political settlement. As an Ankara official said: "Haftar has no interest in negotiations and, without Turkey's presence, he would have stopped the offensive only if the Tripoli government had surrendered and accepted his terms". He added: "Due to the Turkish involvement, he saw that it would not be possible [for him] to get easy results".
Turkish officials underscore that they intervened to force Haftar to the negotiating table and say they are willing to support the Tripoli-based forces indefinitely. In February, Ankara officials exuded confidence that Turkey would do "whatever is necessary" to prevent Haftar from taking Tripoli: "Either his backers tell Haftar he must engage in negotiations and accept a political settlement, or the war will be prolonged because Turkey will not back down from defending Tripoli". Some officials have called on the U.S. to exercise its leverage over Egypt and the UAE to stop their military and financial support of Haftar's operations. If Haftar attempts an all-out attack on Tripoli, they say, Ankara is ready to deploy its own offensive forces.
B.Strategic Ambitions
Ankara's decision to protect the Tripoli government from military defeat is part and parcel of Turkey's geostrategic ambitions, which it increasingly advances, including by projecting military power. This stance has its roots in a relatively new conception of national defence, in which the Turkish "homeland" (vatan) no longer solely denotes land but also sea, or the "blue homeland" (mavi vatan), an expression first used by a navy admiral, Ramazan Cem Gürdeniz, in 2006. It was popularised in March 2019 when the Turkish navy named an exercise in the eastern Mediterranean "Mavi Vatan". Turkey's ruling coalition of the Justice and Development Party (AK Party) and the Nationalist Action Party (MHP) is aligned around this more assertive regional foreign policy, which also reinforces Turkish nationalism and helps the Ankara leadership maintain domestic support.
1.The maritime jurisdiction dispute in the eastern Mediterranean
In keeping with the "blue homeland" concept, Erdoğan signed a Memorandum of Understanding "on the delimitation of the maritime jurisdiction areas in the Mediterranean" with Serraj on 27 November 2019; the Turkish parliament ratified it the following week. Turkey had long sought this agreement as a critical tool to begin redrawing maritime borders in the eastern Mediterranean and mitigate what it sees as disproportionate advantages accruing to two of Ankara's historical foes – Greece and the Republic of Cyprus.
Turkish officials claim there is no connection between Turkey's Libya intervention and this maritime pact, and that it is "merely a coincidence" that Erdoğan and Serraj signed it on the same day they inked the security cooperation deal. Many Turkish experts, however, agree that the sequencing of events suggests that the maritime deal was a gateway for increasing Turkish military support. At the time, public debate focused on the maritime deal, largely neglecting the security agreement, which parliament took longer to ratify. Opposition parties that voted in favour of the maritime deal subsequently criticised the government for linking it to its decision to send Turkish troops to Libya, which they opposed.
The maritime border agreement establishes an 18.6 nautical mile (35km) maritime boundary between Turkey and Libya. In line with this agreement, both Turkey and Libya claim for themselves cone-shaped Economic Exclusive Zones (EEZs) respectively north and south of the boundary line. Most of the Turkish EEZ and part of the Libyan EEZ overlap with waters Athens considers part of Greece's continental shelf.
Map of Maritime Delimitation AreasCRISISGROUP
In the eyes of Turkish officials and public opinion, the maritime agreement with Tripoli was a strategic win, and voices across the political spectrum lauded its conclusion.
For over a decade, Ankara has sought maritime boundary delimitation agreements with Egypt and Libya that would challenge Athens' assignment of large maritime jurisdiction areas to Greek islands and Cyprus, leaving a narrow strip of water and seabed to Turkey. Turkish officials and experts have long contended that the Greece-claimed continental shelf and its EEZ amount to an "imprisonment" of Turkey, "the country with the longest coast" in the Mediterranean. In 2011, the Arab uprisings interrupted Turkish plans to sign agreements with Muammar al-Qadhafi's Libya and Hosni Mubarak's Egypt that would have staked Ankara's own claims.
The Cyprus Republic's EEZ agreements with Israel (2010), Lebanon (2007) and Egypt (2003) for natural gas exploration and drilling follow Athens' demarcation lines.
In 2019, the stakes rose with the discovery of large natural gas reserves off the shores of Cyprus. The big find led in January 2020 to the signing of the EastMed Pipeline Project agreement by Israel, Greece and Cyprus, bypassing Turkey, to transport natural gas from the eastern Mediterranean to Europe via Greece. Rising regional tensions and unsettled disputes further complicate the picture.
Rising regional tensions and unsettled disputes further complicate the picture. Turkey's relations with Egypt have significantly worsened since the 2013 coup against President Mohamed Morsi, a Muslim Brotherhood member whom it supported, while its ties with Israel have soured since 2010. Moreover, Turkey does not recognise the Republic of Cyprus. Decades of maritime delimitation negotiations with Greece about the Aegean have proven fruitless. Libya was left as the only coastal country with which Turkey still enjoys good relations, making it a critical potential ally if Ankara were to advance its maritime claims. For its part, Tripoli needed Turkish military support.
No country other than Libya accepts the legality of Turkey's delimitation scheme, and the likelihood of international oil companies agreeing to carry out exploration activities in "disputed waters" is low. Turkey is therefore unlikely to derive financial gain from its move in the foreseeable future. Yet the agreement can help Ankara thwart other states' projects that would in effect exclude Turkey from the eastern Mediterranean and reduce its influence.
From Turkey's point of view, the new agreement achieves two objectives. In the short term, it can raise the cost of, and delay through lawsuits, the construction of the 1,900km (1,180 mile) eastern Mediterranean natural gas pipeline that Greece, Israel and Cyprus want to develop, rendering it unviable. In the long term, it lays the groundwork for forcing Egypt and Israel to backtrack on their EEZ agreements with Greece. Ankara hopes that they would then sign new maritime delimitation agreements with Turkey, which would grant them larger areas of jurisdiction than their existing deals with Greece do, at the expense of Athens' claims.
2.Contrasting hostile regional environment
Turkey's new assertiveness aims not only to contain long-time adversaries Greece and Cyprus, but also to counter a coalition of Arab countries hostile to Turkey, which includes Egypt, the UAE and Saudi Arabia, Haftar's main external backers. These countries staunchly oppose Muslim Brotherhood-related groups that gained political strength in the 2011 Arab uprisings and received support from Turkey's ruling AK Party. In Libya, Brotherhood elements are part of the Tripoli government, although they do not predominate. But their presence has led Ankara to view Libya as yet another case where its regional rivals are trying to exclude the Brotherhood from governance.
In a broader sense, Turkey's activism in Libya is about sending a powerful signal to actors seeking to constrain it. In the words of an Ankara-based analyst:
There is a sense that we are boxed in with no place to move. We need to find new allies, deepen [relationships with] those we have and create space that we can be in. Turkey is following a [regional] trend in its power projection, in order not to lose ground.
An expert on Turkey's regional policies with close ties to the government said, referring to Turkey's military activism: "Turkey acts like this [when it is cornered by a coalition and left with no other choice. In the East Med, this became urgent after the natural gas pipeline project came into play". Ankara has a similar drive to wield hard power on the ground in Syria and the Horn of Africa, in order to prevent exclusion from perceived designs that would curb Turkish influence.
3.Economic interests
Economic interests also play a role in the making of Ankara's Libya policy. Turkey has long sought to expand the market for its consumer goods and secure opportunities for its construction companies, including in Libya. With access to various other Middle Eastern and North African economies curtailed due to diplomatic rifts, Turkey sees potential for its building and other business moguls in Libya.
Turkey hopes that reinforced ties between the two countries in the wake of the bilateral security and maritime agreements will create further economic windfalls. Underscoring such expectations, the same day that Ankara unveiled its intention to intervene militarily in support of the Tripoli government, Turkey's independent Industrialist and Businessmen Association (MÜSİAD) announced that it hoped to boost exports to Libya by over 500 per cent, reaching around $10 billion compared to $1.49 billion in 2018. Turkey's defence industry, which is providing most of the weapons shipped to the pro-government forces, will likely account for a sizeable portion of these exports.
Turkey is also seeking to recoup business losses that its companies have suffered in Libya since 2011. For example, of the estimated 100 construction contracts awarded to Turkish companies during the Qadhafi era, many could not move forward after the start of the 2011 conflict, leaving building projects incomplete at a value of $19 billion. Turkish construction companies contend that they have already spent $2 billion in equipment and other costs toward these projects, and therefore consider this amount a debt that the Libyan state owes them. Likewise, the Turkish Petroleum Corporation sank more than $180 million into Libya before the conflict, and from 2011 onward was unable to make its drilling investment productive.
Turkey is not the only country with pending incomplete and unpaid contracts awarded during the Qadhafi era, when Libya signed more than $100 billion worth of contracts with foreign companies. But Turkey is the only country so far to make progress in its efforts to obtain compensation. In April 2019, Ankara and the Serraj government established a working group to agree on compensation for these past contracts and establish financial guarantees for future Turkish investments. Turkey is reportedly seeking to formalise a memorandum of understanding, still in draft form, which envisages $500 million in compensation for lost machinery and equipment, another $1.2 billion for debts and a further $1 billion as a letter of guarantee against future purchases.
It is not known how exactly the Libyan government will make such payments and to whom. Some sources in Libya claim that discussions are under way between Libyan and Turkish officials to deposit a total of $4 billion in a Turkish bank. It is unclear whether this sum is solely aimed at covering the abovementioned compensation package or if the additional $2 billion deposited would serve as financial guarantee for future acquisitions, such as the purchase of the military equipment Turkey is providing. Other Libyans are sceptical that this financial scheme exists, or that other such designs will crop up. Instead, they claim that there is no plan to add further funds to Libyan public deposits in Turkey, which according to them stood at around $1.5 billion in 2019. They claim that the Tripoli government has spent less than half this amount to cover the purchase of Turkish military equipment for its war effort since April 2019. The question of who pays for Turkish military support to Libya is clouded with mystery.
Aside from these figures, the question of who pays for Turkish military support to Libya is clouded with mystery. Most of it is most certainly paid directly by Tripoli, but Libyan sources close to the establishment in Ankara allege that the GNA is not the only entity footing the bill. According to a Libyan businessman close to Tripoli and to Turkish officials, "Turkey itself shoulders part of the costs, and Doha also contributes". Qatar has bankrolled various anti-Haftar armed groups and politicians in Tripoli over the years, and it has also funded the supply of defence equipment to Tripoli-based forces allied with the Serraj government, mainly via Turkey, following the breakout of hostilities in 2019.
III.Is Turkey Achieving the Results It Intended?
To a certain extent, and for the time being, Turkey has rebalanced the battlefield: Ankara's military involvement has managed to slow down the advance of Haftar's forces, in some areas even forcing them to retreat, and to avert the Serraj government's fall. As long as Turkey's allied government in Tripoli remains in power, Ankara considers its immediate geostrategic and economic interests protected or at least not forfeited.
Turkey's intervention has not brought an end to the conflict, however, nor has it opened the door to negotiations between Libya's rival political and military factions. Quite the contrary: the war around the Libyan capital has intensified, peace talks are nowhere on the horizon, and tensions between Ankara and some capitals – including Abu Dhabi, Cairo and Paris – have risen. In the meantime, the Tripoli government's financial situation has worsened appreciably after pro-Haftar tribes cut oil production and thus Tripoli's only major revenue stream.
A.Diplomatic Front
At first, it looked as though Turkey was right to expect that its intervention in Libya would compel Haftar to accept a political settlement. On 8 January, Presidents Erdoğan and Putin issued a sudden joint call for a ceasefire in Libya. The two leaders invited Libyan factions to stop military operations starting on 12 January and return to political negotiations. In subsequent days, both Haftar's coalition and the Tripoli government publicly expressed support for a ceasefire. Fighting in Tripoli diminished measurably. Optimism was short-lived, as the ensuing diplomatic initiatives to broker a ceasefire floundered.
Optimism was short-lived, however, as the ensuing diplomatic initiatives to broker a ceasefire floundered. Moscow and Ankara tried to leverage their influence over their respective Libyan allies but failed, primarily because Haftar refused to sign on. In a 13 January meeting in Moscow, Haftar rebuffed a seven-point ceasefire agreement drafted by Turkey and Russia. Only Serraj signed.
The Russian-Turkish initiative jolted the UN and other foreign powers into convening a diplomatic conference on Libya in Berlin for 19 January, following months of protracted, difficult consultations among foreign stakeholders in the Libyan conflict. European capitals, in particular, feared that Ankara and Moscow intended to carve out respective zones of influence in Libya and propose a settlement that would sideline them. At the Berlin conference, after initially rejecting a ceasefire and allegedly under pressure from Egyptian representatives, Haftar eventually agreed to appoint five military officers to take part in subsequent UN-mediated talks with military officers designated by the Tripoli government. The military-to military talks were part of a three-track negotiation package (the other two tracks were political and financial) that the UN proposed at the Berlin conference, UN Security Council Resolution 2510 endorsed, and the event's international participants, including Turkey and Haftar backers such as the UAE, Egypt and Russia, committed to support.
The two sides failed to reach an agreement, however, after two rounds of Geneva-based negotiations in February. The Haftar coalition's delegation insisted that a ceasefire should be contingent on, among other things, the surrender of the Tripoli government's military forces, the handover of key military bases in the capital to Haftar's forces and the withdrawal of Turkish and Syrian troops from Libya, which to Tripoli was a non-starter. For its part, Tripoli demanded the withdrawal of Haftar's forces from Tripoli and the return of families to their homes in residential areas affected by fighting. Likewise, the UN-mediated political negotiations, also in Geneva, collapsed in late February before they even started when more than half of the fifty participants from both sides of the military and political divide boycotted them. As for the financial track, negotiations took place but proved inconsequential. Even if dates were to be set for military and political talks, the odds are high that both sides would either keep boycotting them or stick to their respective, irreconcilable demands.
Overall, the resumption of hostilities since mid-February, the continuous flow of weapons to both sides and increasingly difficult diplomatic conditions suggest that negotiations are unlikely to succeed. Officially, the UN is still pursuing the three-track talks, but no negotiation took place in March and none is scheduled for April. Travel restrictions imposed to contain the spread of COVID-19 add to the difficulties, although they are not the primary reason for the impasse in consultations. Even if dates were to be set for military and political talks, the odds are high that both sides would either keep boycotting them or stick to their respective, irreconcilable demands. Meanwhile, clashes and attacks in the Tripoli area have intensified, while the sudden resignation on 2 March of the UN Secretary-General's Special Representative for Libya, Ghassan Salamé, the talks' chief architect, deals a further blow to mediation attempts. In addition, global developments, such as the onset of the coronavirus crisis and a sharp drop in oil prices, have shifted attention away from Libya and reduced the international community's diplomatic engagement with the conflict.
B.Battlefield Dynamics
Since January, Turkey has reportedly deployed approximately 100 army officers to Libya. According to Turkish and Libyan sources, their role is primarily to coordinate the Tripoli government's war efforts and train its allied local forces. The latter include Libyan army officers who have remained loyal to Tripoli and refused to join Haftar-led troops, but the majority belong to militias formed in the wake of the Qadhafi regime's fall and who are on the Tripoli government's payroll.
Turkey has also upped its supply of military equipment and weaponry to Tripoli government-allied forces. Until January, Ankara had been providing combat drones, rockets and armoured vehicles, deploying Turkish technicians to operate this equipment and train Libyan fighters in its use. Between January and March, at least four cargo ships transporting military equipment from Turkey docked in Tripoli and Misrata, reportedly escorted by Turkish naval vessels. What exactly they were carrying is not known, but Libyans with close ties to the Tripoli authorities claim that their load represents a sizeable qualitative and quantitative increase in military equipment.
In February, sources in Tripoli said aerial defence equipment, namely the medium-range surface-to-air missile systems that Turkish forces have installed in the Tripoli and Misrata airports, had made the biggest impact of any upgrade in Turkish assistance to date. Turkish officials concur that this type of support has saved lives. A Western diplomat, speaking in February, expressed tacit sympathy for Turkey's provision of this equipment, which has effectively brought air and drone strikes on Tripoli to a halt:
When you land in Tripoli airport now, you can actually see these air defence systems. Thanks to these, Haftar's aviation and the drones he used to bomb Tripoli can no longer fly over the capital. We have to thank Turkey for that.
By April, Turkey had further increased its military exposure in Libya by tapping into its navy and air force. According to Libyan sources, Ankara has deployed two warships off the western Libyan coast to provide cover for the Tripoli government forces' ground operations. In early April, one of these vessels fired surface-to-air missiles at military assets of Haftar-led forces. The Turkish air force has also become active in Libya's skies, so far mainly for intelligence and deterrence purposes.
But weapons deliveries to Haftar's forces have also continued. According to aviation analysts, more than a hundred cargo flights from Jordan, Egypt, the UAE and UAE-controlled bases in Eritrea landed in Benghazi between late January and the end of February. Analysts speculate that these were carrying "hundreds of tons worth of equipment" to support Haftar's assault on Tripoli. While Turkey's intervention arguably prevented the Tripoli government's imminent fall, Haftar forces, far from stepping back, have intensified their offensive.
While Turkey's intervention arguably prevented the Tripoli government's imminent fall, Haftar forces, far from stepping back, have intensified their offensive. In January, they reconquered the coastal city of Sirte in central Libya. It was the pro-Haftar coalition's most significant territorial gain since the outbreak of hostilities in April 2019.
By mid-February, heavy fighting had resumed in Tripoli as well. Haftar's forces pounded the city with missiles, as Turkish air defence systems forced the field marshal's planes and drones to halt operations. Haftar-aligned sources claimed that his forces were targeting Turkish positions in the capital, but several rockets clearly hit residential neighbourhoods, killing civilians. On 18 February, a missile launched by Haftar forces from positions near the airport road, allegedly aimed at a Turkish ship, struck Tripoli's only functioning port. Subsequent on-site verifications confirmed that the missile had not hit any vessel but had damaged a warehouse. Nevertheless, military sources in Tripoli confirmed that a Turkish ship had departed only minutes before the missile struck, killing two Turkish officers in the port. In late February, Haftar forces fired over a hundred rockets on Tripoli's Mitiga airport over a three-day span, claiming to be targeting an operations centre set up by the Turkish military. Shelling and further missile strikes hammered the capital, including densely populated residential areas and hospitals, in late March and early April, killing at least five civilians including women and children.
While fighting in the capital proceeded, in April Turkish-backed government forces scored successes in other parts of western Libya. They targeted supply routes from eastern Libya to Haftar's strongholds south of Tripoli, interrupting the flow of fuel, food and weapons to the field marshal's loyalists. On 14 April, they marched into the coastal towns of Sabratha and Sorman, which had been under the nominal control of pro-Haftar security forces for over a year. On 18 April, they advanced toward Tarhuna, Haftar's most important base in western Libya and the site of the operations rooms for the assault on Tripoli. (Allegedly, the foreign private security contractors backing Haftar forces are also based there.) Tripoli government forces bombarded and surrounded Tarhuna, but they stopped short of entering the town.
In spite of these military gains, financial constraints may challenge the sustainability of Tripoli's defence down the line. Haftar-allied tribesmen have forced the closure of Libya's oilfields and export terminals to increase pressure on the Tripoli government, saying they did not want to see Libyan oil revenues, which accrue to the Tripoli-based Central Bank, used to fund Turkey's military intervention and Syrian fighters. Their action cut Libya off from all its oil money, leaving the Tripoli government without resources to cover public expenditures. As of mid-April, the shortfall amounted to over $4 billion. Although Tripoli-based authorities say they have sufficient reserves to pay public-sector salaries for up to a year, foreign diplomats expressed scepticism that they will be able to sustain payments for more than several months.
Beyond this date, the Serraj government may suffer difficulties in paying personnel across the country, including in Haftar-controlled eastern Libya, where most public-sector employees remain on Tripoli's payroll. The pro-Haftar coalition benefits financially from Russian-printed cash, which it uses to cover part of the expenditures of the east-based government with which it is allied. But it does not have access to oil revenues, which according to UN resolutions can accrue only to Tripoli. The Haftar coalition's calculation may be that the Tripoli government will be forced to capitulate if it runs out of funds; or, alternatively, that Tripoli's financial distress will either open the door to independent oil sales by its rivals or force new UN-backed arrangements to share Libya's oil revenues between Tripoli and the east-based authorities. None of these outcomes would align with Turkey's stated interests.
C.The Syrian Factor and Public Opinion
The deployment of thousands of Syrian fighters is particularly controversial in Libya, stirring vocal opposition within pro-Haftar tribal groups and other constituencies, who refer to them as "terrorists". Haftar's foreign backers echo these views. According to a UAE official, the direct Turkish military intervention was not only a hit to the Berlin process and a violation of UN Security Council resolutions but "led to a big escalation in violence, especially by repositioning foreign terrorist fighters from Syria to Libya and affording weapons and drones to militias in Tripoli". UAE officials are also concerned that the provision of weapons and financial support to these fighters will make Libya a base for groups that they consider terrorist and could, they say, threaten neighbouring and European countries. Meanwhile, Turkey's allies in western Libya have largely welcomed Ankara's assistance with open arms, without questioning its form or the nationality of the fighters who have been sent. In the words of a businessman in Misrata:
We were ready to accept whoever was willing to help us, as long as they allowed us to push back Haftar and his men. Turkey offered help and Syrian fighters joined the fight. So be it. Better this than nothing.
Nevertheless, not everyone in western Libya is uncritical of the deployment of Syrian combatants. Tripoli government officials say they were caught by surprise when the Syrians began to arrive in late December, having expected only Turkish army officers. Some fighters on the ground in Tripoli expressed reservations, or "unease", about the deployment as well. One of them said: "while we wouldn't have had any problem with Turkish soldiers, we see these Syrian fighters but don't really know what their ideological inclination is or their objective".
Speaking in early February, Ankara officials denied any knowledge of these deployments. Questioned on the issue, a Turkish official said, referring to the Tripoli authorities, "maybe the Accord government invited them". Another said, tongue in cheek, "just like Russia is not aware [of its nationals in Libya], Turkey is not aware of the Syrians". The reference is to officials in Moscow denying their role in the dispatch of the Russian private military company Wagner Group, whose personnel are operating in Libya on Haftar's side. By late February, however, President Erdoğan had turned vocal about Syrian rebels supporting the Turkish military in Libya, although he also referred to a private Russian company in parallel. From Ankara's perspective, there is a silver lining in international criticism of the deployment of Syrians.
From Ankara's perspective, there is a silver lining in international criticism of the deployment of Syrians. "Before Syrian combatants went to Libya, the international community wasn't talking about the foreign fighters there. Now attention is drawn to this issue", a Turkish official said, referring to Russian and Sudanese fighters whom "the international community has been overlooking".
The matter has stirred some debate in Turkey. Leading opposition parties have been critical of the deployment of Syrian combatants. A Libyan analyst pointed out that the Syrians have been serving a practical purpose: they translate from Arabic into Turkish for Turkish officers. Turkish analysts have claimed that deploying Syrian fighters can help keep the Turkish death toll lower. Erdoğan has further deflected criticism by inviting the opposition to question the presence of Sudanese, Russians and other non-Libyan fighters supporting Haftar's side.
Irrespective of the debate about the Syrian fighters, Turkey's intervention in Libya has little buy-in among ordinary Turkish citizens. While the intervention fell off the agenda due to the Idlib escalation in January-February, and the COVID-19 pandemic thereafter, many observers worry that Turkey could get bogged down in an unwinnable war.
Libyans who prior to Turkey's intervention were sitting on the fence and did not claim allegiance to either side in the war also have criticised Turkey's intervention. In the words of one such individual, the main problem is how Turkey has essentially taken charge of Tripoli's war:
There is a big difference between the way Haftar uses his foreign military support and what the Tripoli government is doing with Turkey. The Haftar camp taps into his foreign backers and gets them to give him what he needs. In the eyes of the Libyan public, Haftar retains the role of the commander. But the Government of National Accord is doing quite the opposite. Serraj is officially telling Turkish officers 'you are welcome to Libya' and 'go ahead please, lead this war for us'. The Turks have the driver's seat in the war. The Turkish officers are perceived as directing the GNA's war. This is completely unacceptable to us Libyans.
Among Libyans, even "those who wanted Turkey involved, did not want Turkey this much involved", another said. Libyans who are critical of Serraj and Turkey have said they are baffled by how much Erdoğan publicly slams Haftar, "as if it is his or Turkey's own war, and not one between Libyans". They are likewise concerned that Ankara, by constantly demonising the field marshal, ends up underestimating the considerable popular and tribal backing he enjoys.
IV.A Way Forward
Four months since the official announcement of its intervention in Libya, Turkey has succeeded in preventing Tripoli's takeover by Haftar's forces. Yet odds remain poor that the Libyan war will end in the coming months, especially since global concerns over the COVID-19 pandemic have disrupted diplomatic initiatives aimed at pressing Libyan parties to accept peace talks.
Looking ahead, Turkey will have to make some difficult choices. For one, it will have to gauge how much military support to Libya it can afford, financially and politically. If fighting continues or escalates further, Ankara may have to scale up both military supplies and personnel just to maintain the balance it helped create. Recruiting foot soldiers may become harder for both sides, due to the COVID-19 outbreak. An official in Tripoli said: "Some Turks have asked to leave Libya, and some Syrians are demanding the same". (Foreign fighters on Haftar's side will face the same challenge.) If Turkish fatalities in Libya rise, the deaths will surely feed the intervention's unpopularity within Turkish society. As Turkey's economic conditions deteriorate, it is likely that opposition parties will also further question the financial costs of the deployment in Libya. Although Ankara is betting on winning the hearts and minds of Arabs antagonistic to monarchies and coups, it may have neither the capacity nor the influence to rally popular support in the region.
Ankara will also have to re-evaluate the extent to which it will be able to use its strategic involvement in Libya and alliance with the Tripoli-based government to rebalance regional relations. Although Ankara is betting on winning the hearts and minds of Arabs antagonistic to monarchies and coups, it may have neither the capacity nor the influence to rally popular support in the region. All that being said, and for the time being at least, Ankara seems to be convinced that Turkey's core geostrategic and economic interests would be undermined if it were to pull back military support from the Tripoli government.
Turkey is, of course, only one of many foreign parties that have intervened in Libya's war. As Crisis Group has emphasised in the past, any such foreign military intervention inevitably damages prospects for a political solution. In particular, by supporting their respective local allies and feeding the warring sides' conviction that they can be victorious, Turkey and other foreign powers competing in Libya have discouraged compromise.
A wiser course would be for all foreign backers to stop pouring fuel on the fire. Instead, they ought to try to bring the two warring sides together, press them to accept a ceasefire and embark on negotiations. At the current juncture, a ceasefire would require concessions from Turkey and the Tripoli-based authorities, such as agreeing to halt any further offensives while Haftar's forces and their foreign supporters would need to desist from strikes on Tripoli. These preliminary steps could lay the groundwork for more comprehensive arrangements, including removal of military forces and heavy artillery from residential areas, departure of foreign fighters, and possibly agreement on a ceasefire monitoring mechanism. Any comprehensive political agreement will need to accommodate the two warring parties' primary goals.
Beyond that, any comprehensive political agreement will need to accommodate the two warring parties' primary goals: for Haftar backers, these are disempowering militias, ensuring transparent management and distribution of Libya's oil revenues and securing appointment of a new unity government with buy-in from the east-based authorities. For those standing behind Tripoli, the goals are ensuring civilian oversight over security forces and warding off a power grab by Haftar or any other military leader.
The foreign powers that have become involved in Libya have been vague about their red lines, and their interest in compromise may well change with time and events, both in Libya and beyond. But some broad conclusions appear possible. Ankara in particular likely will insist on a solution that maintains a key role for its allies currently part of the Tripoli government in a viable power-sharing agreement that also helps cement Turkish influence, provides Ankara with assurances that its maritime deal will remain intact until and unless a democratically elected Libyan government declares otherwise, and pursues compensation for Turkish companies that operated in Libya prior to 2011. Any prospective resolution will need to accommodate the equally critical interests of Haftar's supporters.
Likewise, any prospective resolution will need to accommodate the equally critical interests of Haftar's supporters, to ensure that they are on board. In particular, they likely will want a reset of the international governing arrangements for Libya, including a new UN-backed government that is not dominated by pro-Muslim Brotherhood and/or pro-Turkish representatives as well as security arrangements that make room for Haftar's forces.
To reconcile these reciprocal interests, both sides will need to make concessions. Ankara will have to accept that a future unity government might not be explicitly pro-Turkey and that interim security arrangements should include Haftar-led forces. On the other hand, Haftar's backers will have to accept that politicians and military officials who have been on the opposite side will be part of the transitional governing and security arrangements. All should agree to stop using foreign fighters in Libya and refrain from actions that fuel the war.
V.Conclusion
By intervening militarily in the Libyan conflict, Ankara hoped to help the UN-backed Tripoli government stand its ground against Haftar's offensive and to speed up the political process. This decision was driven by Ankara's concerns that a Haftar victory would result in strategic losses for Turkey in North Africa and the eastern Mediterranean. To some extent, the gambit paid off: the Turkish intervention contained Haftar's forces' advance into Tripoli. But it also incurred undeniable costs. It spurred a strong counter-mobilisation and triggered an escalatory cycle that, far from promoting a political settlement, prolongs and exacerbates an already deadly war. To break it, external supporters of local warring parties should seek mutual accommodation and encourage their allies to agree to a ceasefire. If all involved foreign parties seek ways to bring their respective Libyan allies around the table to pursue compromise, they may find ways forward that better meet their own interests as well.
Ankara/Tripoli/Brussels, 30 April 2020
Related Tags
Notes
More for you
COMMENTARY / MIDDLE EAST & NORTH AFRICA
Also available in العربية
CONTACT USSUBSCRIBE TO OUR NEWSLETTER
Connect with Us
© 2020 Crisis Group