Navy to Punish Fired USS Roosevelt Captain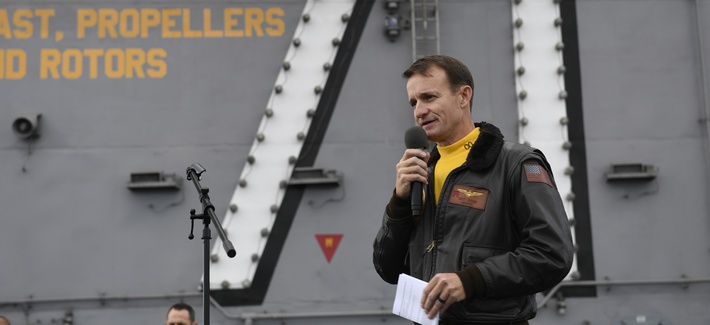 U.S. NAVY / MASS COMMUNICATION SPECIALIST
4:47 PM ET
In a reversal, the service's top officer says further investigation revealed lapses in Capt. Brett Crozier's judgment and actions aboard his COVID-stricken ship.
In a reversal, Capt. Brett Crozier will not be reinstated as commander of the aircraft carrier Theodore Roosevelt. Instead, he, the ship's air wing commander, and its chief of medical operations will be punished for their failure to properly react to the spread of COVID-19 aboard the ship earlier this year, the Navy's top officer said Friday.
Crozier was fired on April 4 by then-acting Navy Secretary Thomas Modly after Crozier sent an email begging for help in getting his crew off their infected ship. The email was leaked to the press and caused public outrage at Navy leaders and Trump administration officials. At the time, Modly said he lost confidence in Crozier for breaching the chain of command to plead for help that was, in fact, already arriving.
On Friday, Chief of Naval Operations Adm. Michael Gilday essentially confirmed that characterization of Crozier's email and actions, and said his new decision is based upon a broader investigation. The Navy released a redacted version of the investigation's finding on Friday.
"Had I known then what I know now, I would have called for his removal," the CNO said of the captain.
Gilday said that before Crozier sent the email, the captain already failed in his primary job: to keep his crew safe. He said the CO moved too slowly to quarantine sailors while they were at sea and evacuate sailors upon reaching Guam, describing the carrier's command team as in "almost paralysis." He said that soon after Crozier requested 1,000 beds ashore, Naval Base Guam and the local government and hotel industry made some 2,400 beds available — yet Crozier failed to make and execute a plan to swiftly move sailors.
"I was not impressed by the slow egress off the ship," nor by Crozier's decision to lift quarantine in the aft section of the ship, Gilday said. These and other decisions by the CO put the crew's "comfort before safety," he said.
Gilday denied that Crozier's March 30 email, which leaked to the San Francisco Chronicle and exploded into public view, was not the reason for his decision. But he said the email was all about what Crozier "needed, and not what he was doing." In general, Gilday said, Crozier did not demonstrate timely effective, and full communication up the chain of command.
Gilday said that he would direct Pacific Fleet commander Adm. John Aquilino to read the investigation's final report and take appropriate "administrative action" against Crozier, the commander of the carrier's air wing, and the ship's chief medical officer.
In his endorsement of the investigation's findings, Gilday wrote, "It is clear to me that following this investigation, Capt. Crozier did not act according to the standards I expect of our commanding officers — to adapt in the face of adversity, exercise ingenuity and creativity in crisis, demonstrate resilience, communicate effectively up the chain of command, and to take bold and appropriate action early and often. His actions and inactions in the timeframe before sending the email felt well short of what I expect from our officers in command."
Gilday further wrote, "Captain Crozier's performance during this unprecedented crisis fell short in several key ways. Specifically, during the ships transit to Guam captain Crozier took some steps to slow spread of COVID-19 throughout his shift, but he did not ensure physical distancing was implemented on board…
"During the critical initial 72 hours Theodore Roosevelt was inport Guam before sending his email, he did not plan for and egress sailors off the ship and onto the base fast enough. If there were obstacles to expeditious egress, he did not aggressively seek solutions." Instead, Gilday said, Crozier wrongly tried to find cozier housing and did not communicate the urgency of his concerns properly.
Gilday also wrote that the staff of Strike Group 9, embarked upon and with operational control of the Roosevelt, was partially to blame for poor planning and execution of a response to the outbreak.
At Friday's press conference in the Pentagon, Navy Secretary Kenneth Braithwaite, on the job just over two weeks, said he supported the investigation's findings and Gilday's decisions. He added that Guam's governor, Lou Guerrero, had been awarded the Distinguished Service Medal for her work in supporting the Roosevelt during the COVID outbreak. Braithwaite said he had no communication with anyone at the White House about the investigation, which was sent directly to Defense Secretary Mark Esper.
Esper was briefed on the decision Friday, a Pentagon spokesman said: "Secretary Esper believes the investigation to have been thorough and fair and supports the Navy's decisions based on their findings."
A partial timeline of events:
March 22: The first case of COVID-19 is discovered aboard the carrier.
March 29: The carrier puts into Guam for what would become a months-long stay.
March 30: Capt. Brett Crozier sends an email to his staff and to several other officers asking for urgent help in finding accommodations ashore where his crew could quarantine while they worked to disinfect the ship.
April 2: CNO Gilday directs Vice Chief of Naval Operations Adm. Robert Burke to "conduct an investigation into the circumstances and the climate across the entire Pacific Fleet to help determine what may have contributed to this breakdown in the chain of command."
April 4: Then-acting Navy Secretary Thomas Modly, who regarded Crozier's letter as an impermissible breach of the chain of command, orders the captain relieved of his command.
April 5: Modly, who has flown 18 hours from from Washington, D.C., to Guam, delivers a bizarre speech denigrating Crozier to his former crew aboard the Roosevelt, and immediately leaves to fly back.
April 7: Modly resigns.
May 21: The Roosevelt departs Guam and returns to sea.
Bradley Peniston is deputy editor of Defense One. A national security journalist for two decades, he helped launch Military.com, served as managing editor of Defense News, and was editor of Armed Forces Journal. His books include No Higher Honor: Saving the USS Samuel B. Roberts in the Persian … FULL BIO
© 2020 by Government Media Executive Group LLC. All rights reserved.