The Dollar Collapse is Now Getting Serious
Gains Pains & Capital
January 22, 2021From the desk of Graham SummersPick Up Graham's Best-Selling Book Which Predicted The Crisis in 2017.Find Out What's Coming For the Fed and the Markets Here     The Dollar Collapse is Now Getting Serious

The Biden administration has yet to finish its first week in office, but it already has a MAJOR problem on its hands.That problem is the U.S. dollar.

The greenback has declined over 13% since its March 2020. That's a significant decline to begin with. However, what's particularly concerning is the fact that the U.S. dollar continues to plunge without ever staging a significant rally.  Put another way, this freefall is occurring with little if any breaks.


We are currently seeing a dead cat bounce off of CRITICAL support (red line in the chart below). However, once we take out that line, (and we will soon) we're in VERY serious trouble.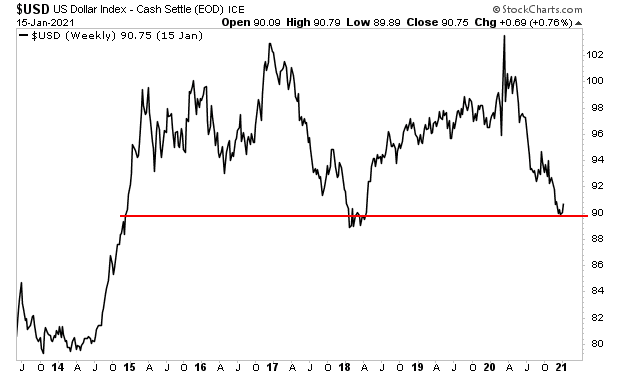 Below this level, there are only TWO lines of support left for the U.S. dollar: support established during the 2012-2014 debt crisis in Europe, and support established by the 2008 crisis.Put another way, the ONLY time in history that the U.S. doll fell to these levels was when a major Black Swan event was taking place in the global financial system.
Anything below these levels and we are talking about ALL TIME LOWS here for the greenback. Think a U.S. dollar crash.Bear in mind, this is the situation BEFORE the Biden administration implements its intended $2 trillion stimulus program along with its $2 trillion infrastructure program. Throw in the various climate charge, reparations and other social spending programs that Biden and his allies have been talking about and you've got the makings of an inflationary typhoon.   

Graham Summers    
Chief Market Strategist    
Phoenix Capital Research    

Disclaimer:Disclaimer: The information contained on this email is for strategy. The information on the site is not a complete description of the securities, markets or developments discussed. Information and opinions regarding individual securities do not mean that a security is recommended or suitable for a particular investor. Prior to making any investment decision, you are advised to consult with your broker, investment advisor or professional to determine the suitability of any investment.

Information has been obtained from sources considered reliable, but its accuracy and completeness are not guaranteed. Phoenix Capital Research and its officers, directors, employees, agents and/or affiliates may have executed, or may in the future execute, transactions in any of the securities or derivatives of any securities discussed on this email.

Phoenix Capital Research is not responsible for the content
Phoenix Capital Management, Inc
PO Box 2912
Alexandria, Virginia 22301
United States
(832) 857-0331