February 10, 2021From the desk of Graham SummersPick Up Graham's Best-Selling Book Which Predicted The Crisis in 2017.Find Out What's Coming For the Fed and the Markets Here Never Before in History Has This HappenedThe inflationary storm clouds continue to form on the horizon.Yesterday I noted that the U.S. is printing money at an extraordinary pace.How extraordinary?The Fed alone will print $1.4 trillion in the next 12 months. This comes on the heels of the $3 TRILLION it has already printed in the last year.The Fed is not alone here.The Biden administration is pushing the "pedal to the metal" in terms of stimulus. It is about to pass a $1.9 trillion stimulus plan. Bloomberg notes that this will be the second largest injection of federal cash in U.S. history. The only one larger cash injection occurred was the first COVID-19 Stimulus plan (the CARES act) which was launched at the beginning of the pandemic.We're now on the tail end of the pandemic and we're about to print another $1.9 trillion in stimulus. Bloomberg notes that the Biden administration wants to spend $2 trillion on climate change and $1.5 trillion on manufacturing and childcare.These are staggering amounts of money. Never before in history has the U.S. printed this much money.Add it all up and the U.S. will print an amount of money greater than the GDP of Japan, the third largest economy in the world.All of this is going to unleash an inflationary storm.Commodities have just broken out of a 10+ year bear market.
Gold was the first to figure this out.
Then Copper.
Now it's Oil's turn.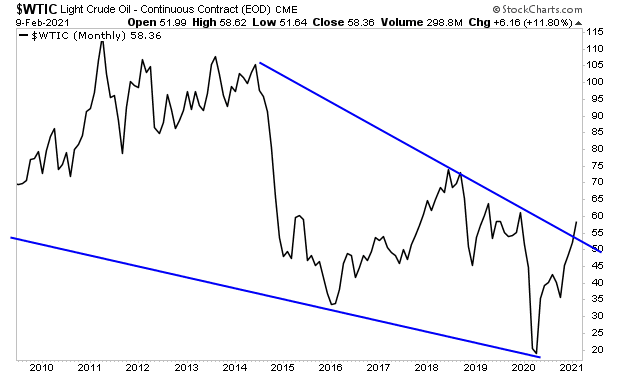 All of these charts are SCREAMING that inflation is coming. And as usual most investors are asleep at the wheel.Those who are properly prepared. however, will make literal fortunes.With that in mind, I alerted subscribers of my Private Wealth Advisorynewsletter to several investments designed to explode higher based on hot inflation in 2021.Already we're up 122% on one of them. 46% on another and 44% on another.And by the time the smoke clears, I expect them ALL to be AT LEAST triple digit winners.If you're looking for this kind of precise guidance on how to invest in the markets… where the biggest opportunities are… and how to find unique picks with EXPLOSIVE potential, I strongly urge you to take out a trial subscription to my weekly newsletter Private Wealth Advisory.In the last three months alone, Private Wealth Advisory subscribers have locked in TWENTY SIX STRAIGHT WINNERS (26) winners… 25 of which were double digit winners.This winning streak continues. We just opened THREE trades last week to profit from the market's next major move.As I write this they are it is already EXPLODING higher.To find out what they are… and join us in turning this insanity into a period of PROFITS, not pain… CLICK HERE NOW!!!We extended this offer based on the market's bounce last week…But this is IT… no more extensions. Today is the last day this offer will be available to the general public.To lock in one of the remaining slots…CLICK HERE NOW!!!Best Regards

Graham Summers
Chief Market Strategist
Phoenix Capital Research Disclaimer:Disclaimer: The information contained on this email is for marketing purposes only. Nothing contained in this email is intended to be, nor shall it be construed as, investment advice by Phoenix Capital Research or any of its affiliates, nor is it to be relied upon in making any investment or other decision. Neither the information nor any opinion expressed on this email constitutes and offer to buy or sell any security or instrument or participate in any particular trading strategy. The information on the site is not a complete description of the securities, markets or developments discussed. Information and opinions regarding individual securities do not mean that a security is recommended or suitable for a particular investor. Prior to making any investment decision, you are advised to consult with your broker, investment advisor or other appropriate tax or financial professional to determine the suitability of any investment.

Opinions and estimates expressed on this site constitute Phoenix Capital Research's judgment as of the date appearing on the opinion or estimate and are subject to change without notice. This information may not reflect events occurring after the date or time of publication. Phoenix Capital Research is not obligated to continue to offer information or opinions regarding any security, instrument or service.

Information has been obtained from sources considered reliable, but its accuracy and completeness are not guaranteed. Phoenix Capital Research and its officers, directors, employees, agents and/or affiliates may have executed, or may in the future execute, transactions in any of the securities or derivatives of any securities discussed on this email.

Past performance is not necessarily a guide to future performance and is no guarantee of future results. Securities products are not FDIC insured, are not guaranteed by any bank and involve investment risk, including possible loss of entire value. Phoenix Capital Research, Phoenix Capital Management, Inc and Graham Summers shall not be responsible or have any liability for investment decisions based upon, or the results obtained from, the information provided.

Phoenix Capital Research is not responsible for the content of other emails to which this one may be linked and reserves the right to remove such links.
Phoenix Capital Management, Inc and the Phoenix Capital Research Logo are registered trademarks of Phoenix Capital Research. Phoenix Capital Management, Inc – PO BOX 2912, Alexandria, VA 22301If you no longer wish to receive our emails, click the link below:
Unsubscribe
Phoenix Capital Management, Inc
PO Box 2912
Alexandria, Virginia 22301
United States
(832) 857-0331