BAD TIMING: REJECTS EU & US OFFER TO HOLD DIRECT TALKS ON REVIVING 2015 NUCLEAR DEAL
Covid cases fall across UK to last October's levels, statistics office reports
26 Feb, 2021 15:06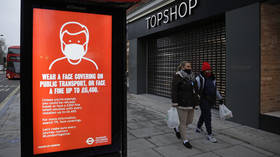 Covid rates are now at the same levels in the UK as they were in October. © AP Photo/Matt Dunham
Follow RT onCovid-19 levels have fallen across the UK to rates similar to mid-October 2020, the Office for National Statistics (ONS) reported Friday, with slightly more than 421,000 cases in the community for the week ending February 19.
The weekly ONS snapshot said that one-in-145 people in England have the virus compared to one-in-115 the week before. In Northern Ireland, it is one-in-95 compared to one-in-105 previously. In Wales, it is one-in 205 from one-in-125 before, and in Scotland one-in 225 compared to one-in-180.
The ONS said these levels of infection in the community are similar to rates reported in mid-October, before the four nations of the UK tightened lockdown rules for a second time and prior to when the more contagious mutant strain took hold initially in the southeast of England.
The agency also said on Friday that the R number – the average number of secondary infections produced by a single infected person – was between 0.6 and 0.9 for the week ending February 19, an indication that Covid-19 rates were shrinking.ALSO ON RT.COMNearly 14% in England have Covid antibodies from past infection or vaccination, new study says
The ONS results are based on tests from people whether or not they had symptoms and do not include people staying in hospitals, care homes and/or other institutional settings.
So far, the UK has reported more than 122,000 deaths of people within 28 days of having tested positive for coronavirus and some 4.15 million cases of infection. More than 18.6 million people so far have had a first dose of one of three vaccines approved for use in the UK, and more than 700,000 have received a second.
If you like this story, share it with a friend!
Trends:Coronavirus in UK newsJoin RT UK on Telegramby TaboolaPromoted LinksYou May LikeAffordable, easy, secure. Start taking card payments with SumUp today.SumUp'Black supremacist'? Anti-racism media silent after Tucker Carlson exposes bigoted views of Biden's DOJ civil rights pickTwo billion people claim to be his followers. But who is the real Jesus?Y-Jesus.comFROM OUR PARTNERSNew York dad-to-be killed by exploding gender reveal deviceElon Musk's Boring Company Calls For People To Help Dig Up AustinChinese Military Network Behind the World's Third-Largest Cell Phone Maker
Subscribe to RT newsletter to get stories the mainstream media won't tell youSubscribePodcastsAll podcasts
© Autonomous Nonprofit Organization "TV-Novosti", 2005–2021. All rights reserved.