Belgian city of Ghent trains single mothers to be childcare workers
COMMENTSBy Elena Cavallone • 04/03/2021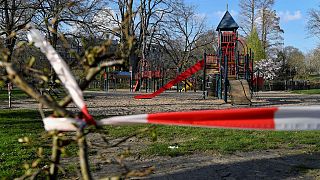 Copyright JOHN THYS/AFP
The city of Ghent is training single mothers as childcare workers at no cost using EU funds aimed at fighting child poverty.ADVERTISEMENTSCROLL TO CONTINUE WITH CONTENT
The project, implemented by the Belgian city and managed by the King Baudouin Foundation, helps unemployed women with children to gain vocational skills, whilst simultaneously having their children looked after.ADVERTISING
Participants are trained by job coaches who teach them how to deal with children's needs. They are also helped with personal empowerment, which according to one of the project's managers, Bjorn Martens, is key to overall development.https://7d09b25db0415bc879364c9f92c92270.safeframe.googlesyndication.com/safeframe/1-0-37/html/container.html
"The parents bring their children to the childcare centre, but because of this project they can grow as a person as well," Martens explained to Euronews.
"It is not only about professional skills, but also personal skills, and the job coach works on these two areas. Actually, every conversation with the coach starts with: how are you?"
Herrat, a single mother who is one of the trainees, told Euronews that she came from Ghana with a baby girl to start a new life and feels lucky to have become involved in the project.SPONSORED CONTENTUsing biomimicry for cleaner waterAd by Total
"They teach us a lot of things. In the beginning, I didn't know all of this. I thought it was going to be easy with children, but then I realised it was a lot. And when you break through and you finish your exams it gives you some self-confidence that you can do a lot. I feel confident about that and I think I have changed and grown," she said.
Thanks to this project, crèches in Ghents are gaining an extra pair of hands and the children also benefit from socialising rather than staying at home. The training lasts around two years and can lead to recruitment at the same facility or elsewhere.
Many of the mothers on the programme are not from Belgium, so they are supported by the staff when dealing with personal admin matters.
"That [admin support] is very important because it's hard. All these practical things are in Dutch. A lot of people don't know the language very well and that's hard. So it facilitates their starting and establishes trust. I think trust is very important," Tineke Von Craenenbroeck, a manager at one of the childcare centres told Euronews.
So far, 14 mothers have taken part in the training sessions that conclude with exams in June. The project involves 32 childcare centres that host around 1,200 children. In the future, coordinators hope to reach as many people as possible.
SHARE THIS ARTICLE
YOU MIGHT ALSO LIKE
MORE ABOUT
https://7d09b25db0415bc879364c9f92c92270.safeframe.googlesyndication.com/safeframe/1-0-37/html/container.html
Advertisementhttps://cdn.vuukle.com/widgets/index.html?amp=false&apiKey=1feb6d34-f2ca-4219-bff0-28be03a6d8da&host=euronews.com&articleId=1404722&globalLang=en&img=https%3A%2F%2Fstatic.euronews.com%2Farticles%2Fstories%2F05%2F42%2F14%2F82%2F368x207_cmsv2_5339b2b6-4dff-5590-af06-ca69ddbb31e6-5421482.jpg&lang=en&tags=Unemployment%2CChildren%2CEuropean%20Union&title=belgian%20city%20of%20ghent%20trains%20single%20mothers%20to%20be%20childcare%20workers&url=https%3A%2F%2Fwww.euronews.com%2F2021%2F03%2F04%2Fbelgian-city-of-ghent-trains-single-mothers-be-childcare-workers&darkMode=false&emotesEnabled=true&d=false&refHost=www.euronews.com&l_d=false&totWideImg=false&link=https%3A%2F%2F%5Burl%5D&hideArticles=false&maxChars=3000&commentsToLoad=5&toxicityLimit=80&spamLimit=90&gr=false&hideCommentBox=false&hideCommentBoxWithButton=false&hideCommentsWidget=false&wpSync=false&isCustomText=false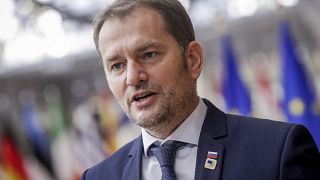 Type 3 or more characters for results.
Browse today's tags
COVID-19European UnionCataloniaCatalonia independence challengeItalyVaccineSputnik VEuropean ParliamentRussiapandemic
Copyright © euronews 2021
Type 3 or more characters for results.
TOP TAGS
EuropeWorldBusinessSportCultureLivingSci-techTravelVideoAll ProgrammesCoronavirusFootball for friendshipCry like a boyPodcastsHere we grow: SpainClimateAngola 360Destination DubaiBrexitDepth of FieldTotalVisit Bulgaria
English Français Deutsch Italiano Español Português Русский Türkçe Ελληνικά Magyar فارسی العربية Shqip Română