28 May, 2021 10:21 / Updated 9 hours agoGet short URL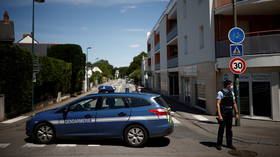 French gendarmes secure the area after an assailant stabbed and badly wounded a policewoman in La Chapelle-sur-Erdre, western France, May 28, 2021. © Reuters / Stephane Mahe
Follow RT onA policewoman has been stabbed several times in La Chapelle-sur-Erdre, France, leaving her with serious injuries. Local media are reporting that the suspect has died following a shootout with police.
The National Gendarmerie force has confirmed in a tweet that one of their officers was attacked on Friday morning. Police sources told BFMTV the attack occurred around 10am (8am GMT) in La Chapelle-sur-Erdre, in Loire-Atlantique. The assailant, identified only as a man, had entered the town's police station before attacking a female officer, stabbing her several times.
She was injured in the lower limbs, according to reports, and is in a critical state. She has been taken to hospital.
According to BFMTV, after a short-lived manhunt, police attempted to arrest the suspect following a shootout. A judicial source said the man had been pronounced dead.
Officers said the assailant had stolen the policewoman's weapon and crashed his car while escaping, forcing him to continue on foot.
More than 200 gendarmes and three dog units were deployed along with two police helicopters. On Twitter, the National Gendarmerie called on residents to "avoid the area" and to "strictly follow the instructions of the police."
The attacker's motives are currently unknown, but a source close to the investigation claims that prison staff said the man had been radicalized in jail and has psychological disorders.ALSO ON RT.COM'Paid to serve, not to die': French police walk out to call on government to protect them amid spate of violence (VIDEO)
The stabbing comes one week after French police officers held a demonstration outside the National Assembly and called on President Emmanuel Macron's government to protect them against violence and to introduce tougher punishment for those who attack law-enforcement officers.
Unions have complained that the government is failing to protect officers from violence against the police and the state. In the preceding month, one policeman had been killed during a drug raid while a police force employee was stabbed to death outside her station.
Addendum
Knifeman radicalised in prison is shot dead in gun battle with French police after stabbing female officer and wounding two other gendarmes
Knifeman, named locally as Ndiaga Dieye, aged 39, repeatedly stabbed a female cop inside a police station near the city of Nantes, France
Dieye then stole her handgun and went on the run, before attacking gendarmes
Two officers were hurt in the shootout before shooting Dieye, who was arrested in serious condition but later died of his injuries
Interior minister said Dieye converted to Islam in jail in 2016 and was later reported to a radicalisation programme, before being released in March this year
By CHRIS PLEASANCE and PETER ALLEN IN PARIS FOR MAILONLINE
PUBLISHED: 11:53, 28 May 2021 | UPDATED: 16:56, 28 May 2021
1kshares147View comments
A radicalised Islamist knifeman who stabbed a policewoman and then went on the run with her handgun has been shot dead by police in France.
The man, named by Le Figaro as Ndiaga Dieye, aged 39, launched the attack inside a police station in La Chappelle-sur-Erdre, near the city of Nantes, around 10am – leaving her with life-threatening wounds though she is expected to survive.
He then fled on foot before launching a second attack on gendarmes several hours later, shooting one in the hand and another in the arm before also being shot.
Dieye was arrested in a serious condition but later died of his injuries. Interior minister Gerard Darmanin confirmed that he had converted to Islam inside jail in 2016 and was reported to a radicalisation programme before his release this year.
Mr Darmanin added that Dieye – who was born in France – also had psychiatric issues, and had previously been 'diagnosed with severe schizophrenia'.
He refused to describe the attack as terrorism, saying only that Dieye 'wanted to attack police'. It is not being investigated as a terror attack, police sources said.
Follow RT onTrends:France newsJoin RT UK on Telegramby TaboolaPromoted LinksYou May LikeAlways Place A Rubber Band On Door Knob When Alone, Here's WhyHealthyGemAussie Olympic legend responds after being accused of 'craving attention' with headstand breastfeeding photoMeghan Markle Is No Longer The One, According To HarryTheFashionBallWATCH: Football fans in hysterics at 'most cynical foul in history' as Ukraine player takes out rival in women's Euro qualifierThese Twins Were Named "Most Beautiful In The World," Wait Until You See Them TodayGive It LoveStill got it: Retired Olympic gymnastics champ Sevastyanova wows fans with stretching skillsFROM OUR PARTNERS'Straight-Out Jew Hatred': Canada's Jewish Community ShakenTwo Asian Women Beaten With Cinder Block in Baltimore, Suspect ArrestedBill Maher, Who Is Fully Vaccinated, Contracts COVID-19
Subscribe to RT newsletter to get stories the mainstream media won't tell youSubscribeFROM OUR PARTNERSMichael Adams, Accused Killer of Elijah Al-amin, Found Dead in CellFlorida Teen Who Went Missing After Running Is Found Dead by Uncle'Stay Tuned': Trump Says New Social Media Website Will Be Rolled OutPodcastsAll podcastsRedacted Tonight: UnKoch my campus, the future of private security, Alabama coal-miner strikeCrossTalk: Biden-media lovefest
© Autonomous Nonprofit Organization "TV-Novosti", 2005–2021. All rights reserved.