Covid might have escaped from the US Army's flagship bio-defense lab in Maryland in 2019.
Additional survival tricks
https://www.rt.com/usa/524999-odni-covid-lab-leak-theory-wuhan/
After previously declaring that Covid-19 started naturally, the clearinghouse for US intelligence agencies said the virus may have escaped from a lab – echoing the Trump-era theory that was squashed by social and mainstream media.
"The US intelligence community does not know exactly where, when or how the Covid-19 virus was transmitted initially but has coalesced around two likely scenarios: either it emerged naturally from human contact with infected animals, or it was a laboratory accident," a spokeswoman for the Office of the Director of National Intelligence (ODNI) said in a statement on Thursday.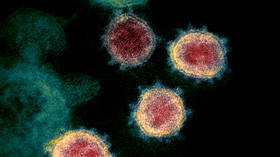 Read more Having shut down Trump's Covid-19 origin probe, Biden now entrusts it to same spies who gave us 'Russiagate'
The statement came one day after President Joe Biden said that two factions of the intelligence community had backed one theory for how the pandemic began, while one faction backed a second theory. He…
View original post 570 more words