Advertisement Sign InSubscribe Politics Literature Arts Ideas
The Weird Success of Guy Burgess
Reviewed:
Stalin's Englishman: Guy Burgess, the Cold War, and the Cambridge Spy Ring by Andrew Lownie St. Martin's, 433 pp., $29.99
Guy Burgess: The Spy Who Knew Everyone by Stewart Purvis and Jeff Hulbert London: Biteback, 470 pp., £25.00
One of the oddities about Guy Burgess, the most colorful of the so-called Cambridge spies, was that in his usual state of extreme slovenliness, with food stains all over his rumpled suits and the stink of raw garlic and alcohol permanently on his breath, he always insisted on wearing his Old Etonian tie. He wore it in protest marches as a student at Cambridge; as a government official and BBC program director, trawling in his spare time for rough trade in the bars and public toilets of London; and even among the comrades in Moscow, after he exiled himself there in 1951. It is an oddity, because old boys of the most privileged private boarding school in England don't normally advertise their status in this manner. The superiority of Old Etonians is taken for granted: they know who is who. To wear the light blue and black OE tie is, not to put too fine a point on it, really not done.
Like his choice of buying a secondhand gold Rolls-Royce, there was something distinctly vulgar about this flaunting of the old school tie. Indeed, not being quite a proper gentleman, despite his elite education at Lockers Park prep school and Eton, and membership in the finest London clubs, was something most people who disliked Burgess held against him. Joseph Alsop disapproved when they met at the British embassy in Washington in 1940 because Burgess neglected to wear socks. When the Foreign Office decided—bizarrely, considering Burgess's reputation as a sloppy, indiscreet, anti-American lush—to send him to the Washington embassy after the war, one British diplomat objected: "We can't have that man. He has filthy fingernails." Maurice Bowra, warden of Wadham College, Oxford, put it a little more graphically: "Shit in his fingernails and cock-cheese behind his ears."
And yet it is a common claim that Burgess's career as a Soviet mole inside the British establishment was an abject example of class privilege. Burgess, like his fellow spies Kim Philby, Anthony Blunt, and Donald Maclean, was barely vetted before getting sensitive jobs in the British government or the intelligence services, despite many examples of appalling behavior, a history of left-wing activism at university, and several instances of drunken boasting of being a Russian spy. The right connections, a discreet word in the appropriate ear, lots of charm when it was needed—these were enough to shield even the decidedly louche Burgess from serious scrutiny.
There has been a great deal of speculation about why the Cambridge spies, all of them children of privilege, embarked on their lives as Soviet agents. This question has spawned a literary cottage industry, a bit like the obsession with the Mitfords or the Bloomsbury group, and mainly for the same reason. When Burgess was living out the latter years of his life in Moscow, he said that the thing he missed most about London was gossip. As he put it to the actress Coral Browne, who visited him there: "The comrades, tho' splendid in every way of course, don't gossip in quite the same way about quite the same people and subjects." All accounts of the Cambridge spies are heavily larded with gossip, about high life and low, hence their enduring fascination in Britain.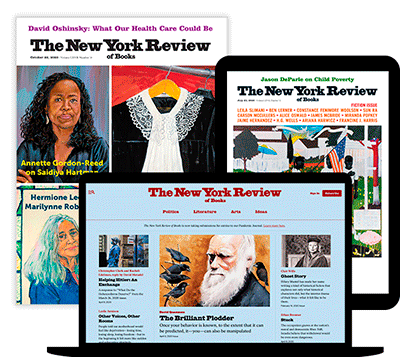 Continue reading
for just $1 an issue.
Choose a Digital subscription or our best deal—All Access—that includes print and digital issues, full archive access, and the NYR App!View Offers
---
Or register for a free account to read just this article. Register.
Already a subscriber? Sign in
More by Ian BurumaArt of a Degenerate World
September 27, 2018 issue V.S. Naipaul (1932–2018)
September 27, 2018 issue V.S. Naipaul, Poet of the Displaced
August 13, 2018 Ian Buruma
Ian Buruma is the author of numerous books, including Murder in Amsterdam: The Death of Theo Van Gogh and the Limits of Tolerance, Year Zero: A History of 1945, and, most recently, A Tokyo Romance.
This Issue
December 22, 2016
Zadie Smith On Optimism and Despair Thomas Powers The Private Heisenberg Robert Cottrell Russia, NATO, Trump: The Shadow World All Contents
Read Next Simon Raven Two for the Money May 14, 1964 issue Larry McMurtry The Star Attraction January 10, 2013 issue Kirkus Reviews Short Reviews March 9, 1972 issue Eric L. McKitrick Reconstructing Andrew Johnson May 17, 1990 issue Kirkus Reviews Short Reviews April 4, 1974 issue Peter Gay Napoleon Against Himself June 25, 1964 issue Freeman Dyson Winner April 30, 1981 issue Martin Malia Catherine Was Great April 8, 1965 issue
Save $50 on an inspired pairing!
Get both The New York Review AND The Paris Review at one low price.See offer
Already a subscriber? Sign in
Subscribe to our Newsletters
Best of The New York Review, plus books, events, and other items of interest. Or, see all newsletter options here.
About UsArchiveClassifiedsAdvertisingHelp/FAQNewsletters Shop Books