Did Gold Just Give Us a Taste of What's Coming For Stocks?InboxG
Gains Pains & Capitalto me
1 hour agoDetails

August 09, 2021From the desk of Graham SummersPick Up Graham's Best-Selling Book.Find Out What's Coming For the Fed and the Markets Here Did Gold Just Give Us a Taste of What's Coming For Stocks?Gold collapsed overnight, dropping over $100 per ounce as some $4 billion worth of gold contracts were sold. The precious metal has since rebounded, but the impact of the drop has done considerable technical damage to the precious metal. This kind of panic selling has investors asking, "are stocks next?"One of the key drivers of stocks prices since the March 2020 bottom has been the Fed's interventions. The Fed spent a total of $3 trillion between March and June 2020. It briefly dipped between June and July 2020 but has since increased at a steady pace courtesy of the Fed's $120 billion per month Quantitative Easing (QE) program.As I write Monday morning, the Fed's balance sheet is now north of $8.2 trillion.
However, all signs point to the Fed reducing these interventions going forward.With jobs numbers like those from July (900K+ jobs were created), the unemployment rate down to 5.4% again, and inflation roaring (CPI is clocking in over 5%), the Fed is effectively out of reasons to continue its month interventions at the current pace.Add to this the fact that numerous Fed officials are calling for a taper to QE and even rate hikes, and it's clear the Fed is on the verge of announcing that it will be reducing its money printing very soon.This would mean stocks losing considerable support from the Fed. Again, the Fed has spent over $4 trillion supporting the markets since the March 2020. But by the look of things, that will be ending soon.So was the collapse in gold a taste of what's coming for stocks shortly when the Fed finally takes off "the training wheels?"After that comes the next big question… will trigger the next crisis?To determine that I use my Bear Market Trigger.If you're unfamiliar with the Bear Market Trigger, it has caught every major bear market in the last 20+ years.I've identified the previous signals on the chart below. Using this trigger you'd have avoided 90% of the carnage during the Tech Bust and the Great Financial Crisis of 2008.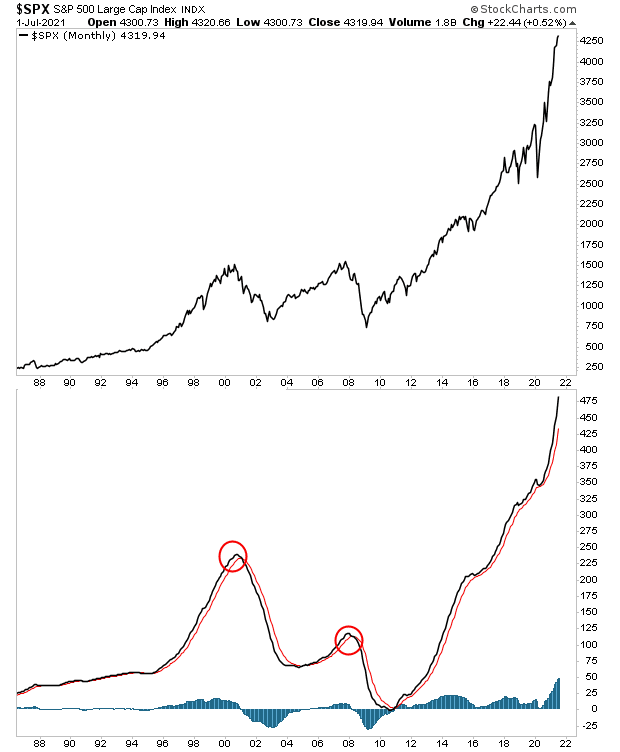 We came darn close to triggering this signal during the COVID-19 meltdown, but managed to just avoid it by the fact that stocks closed April 2020 up. Had April been a down month we would have a confirmed signal.How does this signal work? And is it close to triggering a new signal?