This Ratio Is Warning Us That a Bloodbath is Coming!InboxG
Gains Pains & Capitalto me
1 hour agoDetails

August 11, 2021From the desk of Graham SummersPick Up Graham's Best-Selling Book.Find Out What's Coming For the Fed and the Markets Here This Ratio Is Warning Us That a Bloodbath is Coming!Yesterday we looked at two of the market's internals for signs of what's happening "under the hood" in the markets.They were high yields credit and breadth. And both are warning stocks are ready to roll over.Today I'd like to look at another signal from the market, this time a ratio between the stock market and the long-term Treasuries as represented by the long-term Treasury ETF (TLT). TLT and the S&P 500 have a somewhat symbiotic relationship. The reason for this is that the bull market in bonds (meaning yields continue to fall) are what many investors use to justify paying higher multiples for stocks.Put another way, the bull market in stocks, is very much supported by the bull market in long-term Treasury bonds. So, the two asset classes tend to have something of an inverse correlation.You can see this in the below chart: historically since stock prices bottomed in 2009, the ratio between the S&P 500 and TLT has maintained a well-defined uptrend. Moreover, anytime this ratio has broken out of this uptrend (as it did in late 2018 or early 2020 illustrated by the red circles in the chart below), historically there has been a sharp reversal.
Which brings us to today, once again this ratio has broken out of its uptrend, this time to the upside. This means that stocks have been outperforming TLT by an extraordinary amount. It also suggests we will see a reversion back to the channel in the near future.
In terms of where this reversion would move to, the 20-month moving average (MMA) has served as a line of great significance over the last 12 years. I've placed the line on the below chart.

Again, this is just one more warning that stocks are extremely overstretched to the upside. So we can expect a significant correction in the near future.After that comes the next big question… will this trigger the next crisis?To determine that I use my Bear Market Trigger.If you're unfamiliar with the Bear Market Trigger, it has caught every major bear market in the last 20+ years.I've identified the previous signals on the chart below. Using this trigger you'd have avoided 90% of the carnage during the Tech Bust and the Great Financial Crisis of 2008.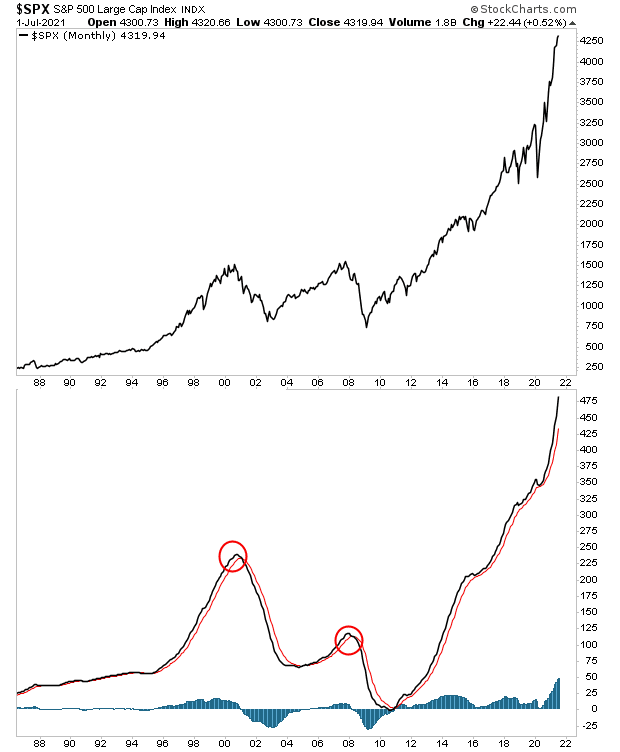 We came darn close to triggering this signal during the COVID-19 meltdown, but managed to just avoid it by the fact that stocks closed April 2020 up. Had April been a down month we would have a confirmed signal.How does this signal work? And is it close to triggering a new signal?To find out, you'd need to take out a trial subscription to Private Wealth Advisory.A SIX MONTH Private Wealth Advisory subscription includes: 1) TWENTY SIX (26) weekly issues of Private Wealth Advisory, each running 15-25 pages long. 2) Real-time TRADE ALERTS telling you when to buy and sell 3) A copy of my best-selling book, The Everything Bubble: the Endgame For Central Bank Policy. 4) A copy of The Bear Market Trigger: The Secret Signal That Has Called Every Crisis in the Last 20 Years And best of all, you can try it out for 30 days for just $9.99. If you find it's not what you're looking for, just drop us a line and we'll cancel your subscription. You won't pay another cent!And the book, reports and ideas you collect during that time are yours to keep.Frankly, this is a ridiculous amount of material to offer for just $9.99, which is why today is the last day this offer will be available to the general public.To lock in one of the remaining slots…CLICK HERE NOW!!!Best Regards

Graham Summers
Chief Market Strategist
Phoenix Capital Research Disclaimer:Disclaimer: The information contained on this email is for marketing purposes only. Nothing contained in this email is intended to be, nor shall it be construed as, investment advice by Phoenix Capital Research or any of its affiliates, nor is it to be relied upon in making any investment or other decision. Neither the information nor any opinion expressed on this email constitutes and offer to buy or sell any security or instrument or participate in any particular trading strategy. The information on the site is not a complete description of the securities, markets or developments discussed. Information and opinions regarding individual securities do not mean that a security is recommended or suitable for a particular investor. Prior to making any investment decision, you are advised to consult with your broker, investment advisor or other appropriate tax or financial professional to determine the suitability of any investment.

Opinions and estimates expressed on this site constitute Phoenix Capital Research's judgment as of the date appearing on the opinion or estimate and are subject to change without notice. This information may not reflect events occurring after the date or time of publication. Phoenix Capital Research is not obligated to continue to offer information or opinions regarding any security, instrument or service.

Information has been obtained from sources considered reliable, but its accuracy and completeness are not guaranteed. Phoenix Capital Research and its officers, directors, employees, agents and/or affiliates may have executed, or may in the future execute, transactions in any of the securities or derivatives of any securities discussed on this email.

Past performance is not necessarily a guide to future performance and is no guarantee of future results. Securities products are not FDIC insured, are not guaranteed by any bank and involve investment risk, including possible loss of entire value. Phoenix Capital Research, Phoenix Capital Management, Inc and Graham Summers shall not be responsible or have any liability for investment decisions based upon, or the results obtained from, the information provided.

Phoenix Capital Research is not responsible for the content of other emails to which this one may be linked and reserves the right to remove such links.
Phoenix Capital Management, Inc and the Phoenix Capital Research Logo are registered trademarks of Phoenix Capital Research. Phoenix Capital Management, Inc – PO BOX 6487, Charlottesville, VA 22906If you no longer wish to receive our emails, click the link below:
Unsubscribe
Phoenix Capital Management, Inc
PO Box 6487
Charlottesville, Virginia 22906
United States
(832) 857-0331