The Great Debt Crisis Of Our Lives Might Finally Be Here!Inbox
GGains Pains & Capitalto me
1 hour agoDetails
October 14, 2021
The Great Debt Crisis Of Our Lives Might Finally Be Here!
By Graham Summers, MBA
The financial system is in MAJOR trouble.
The single most important assets in the financial system are U.S. Treasuries or U.S. government debt. And of these bonds, the single most important one is the 10-Year U.S. Treasury.
The yield on this bond represents the "risk free" rate of return against which all risk assets (stocks, commodities, real estate) are valued. And by the look of things, its rising to a truly dangerous level.
See for yourself.
As you can see, the yield on the U.S. Treasury is about to break out of its 30+ year downtrend.
You'll note that the yield has only done this ONCE in the last 40 years (in 2018 to be precise). The reason that happened was because the Fed was RAISING interest rates at a pace of four times per year while also SHRINKING its balance sheet by $500 billion.
This time around, if the yield breaks upwards from current levels, it will have happened at a time when the Fed has interest rates at ZERO and is GROWING its balance sheet by over $1.4 TRILLION per year.
Put another way, if bond yields rise today, breaking their 30+ year downtrend, they will be doing so at a time when the Fed is engaged in EXTRAORDINARY levels of easing.
What can the Fed do then… cut rates BELOW zero or spend even MORE money on QE? That only makes things worse since the reason yields are rising is because of inflation… which more easing would only make worse.
Put another way, the U.S. could be just weeks away from a legitimate debt crisis. And this time around the Fed is cornered to a degree not seen before.
We might finally be at the point when the below chart hits.
So how to we trade this to insure we preserve our capital… while also scoring MASSIVE returns from the collapse?
To do that, you NEED to use my Bear Market Trigger.
The Bear Market Trigger has caught every major bear market in the last 20+ years.
I've identified the previous signals on the chart below. Using this trigger you'd have avoided 90% of the carnage during the Tech Bust and the Great Financial Crisis of 2008.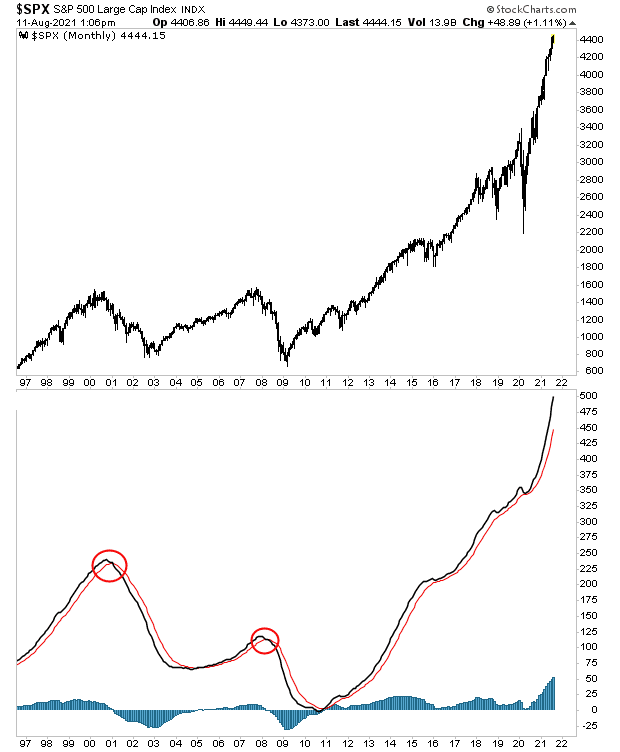 How does this signal work? And is it close to triggering a new signal? And what trades should you make to profit from the coming collapse?