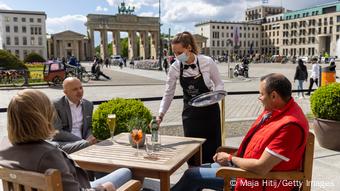 The war in Ukraine and inflation have Germans concerned about their standard of living. Those who have the least are likely to suffer the most.
Stroll through Berlin's most Instagrammable neighborhoods and you might not know that inflation is rising, costs are soaring, and the largest war in Europe since World War Two is unfolding just two borders over. Bars and restaurants are packed, and lines for clubs are long, as locals and tourists alike make the most of the summer months.
NATURE AND ENVIRONMENT | 23.06.2022

Real prices for leisure activities and goods are up, but orders of avocado toast and artisanal bread do not seem to be down. That is partly due to income, with the higher earners who tend to consume these kinds of commodities able — or willing — to absorb the few euros more that many businesses have tacked onto sales this year.
The price of everything has gone up," Stephanie Lynch, a barista at Blaue Bohne, a coffee roaster in Berlin's popular Friedrichshain neighborhood, told DW. "Literally everything we use here, the price has gone up: the paper cups, the cardboard, the bags we use to put the coffee into. Everything."
After years of holding prices steady, Lynch said the cafe did one round of price hikes to reflect earlier interruptions to supply chains, such as pandemic restrictions, a bad coffee crop in Brazil, and last year's days-long blockage of the Suez Canal.
Inflation bites consumers
Inflation is running at nearly 8%, compared to the same time last year, according to Germany's Federal Statistics Office. Consumer energy and food prices are up more than 38% and 11%, respectively.
That may still be manageable for drinkers of small-batch roasted espresso, but the lower you go on the income ladder, the harder it is to keep up.
"Of course, the consequences of the current crisis are directly felt," Markus Grabka, a senior researcher at the German Institute for Economic Research, told DW. "Low-income households are, for example, harder hit by rising energy costs than those with middle or higher incomes."
The food staples — cooking oil, flour, meat, milk, and eggs — are all up by high double digits. In all, food costs may be €250 ($263) more per person this year, according to a study by Allianz Trade, an insurer.
The added burden is heavier on those who already struggle to make ends meet. More than 560,000 retirees in Germany need a government top-up because their pensions are too low to get them over the poverty line. Rising food and energy costs take an even bigger bite out of their already smaller pie.