Cristiano Ronaldo denies €14.7m tax evasion in Madrid court
Ronaldo has denied he evaded tax or hid details of his income from the authorities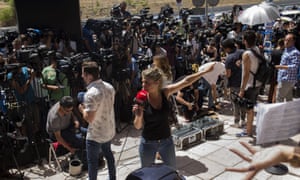 In a rare attack of camera-shyness, Cristiano Ronaldo hid from the 200 journalists waiting outside the Madrid court where he is under investigation for tax evasion and then, having promised to make a statement, snuck back out without a word.
The Real Madrid and Portugal forward spent 90 minutes in court being questioned by judge Mónica Ferrer Gómez over allegations that from 2011 to 2014 he defrauded the Spanish treasury of €14.7m in taxes.
And the Spanish media reported that Ronaldo argued with the judge during the behind-closed-doors hearing, saying:
"If I wasn't called Cristiano Ronaldo, I wouldn't be sat here."
Ronaldo denied any wrongdoing
"The Spanish treasury knows every detail about my income, because it's been given to them; I never concealed anything and I never tried to evade taxes," the player told the court, according to a statement 
"I always make my tax returns on a voluntary basis because I think we all have to declare and pay taxes based on our income.
"Those who know me know what I ask my advisers to do: have everything up date and paid promptly, because I do not want any problems."
"This is the time to let justice run its course. I believe in justice and I hope that, in this case, once, again, there will be a fair decision," Ronaldo said.
"In order to avoid any unnecessary pressure, or any contribution to a parallel trial, I've decided I won't make any more statements on this subject until the decision is made."
Independent
Some "fair facts" about CR7